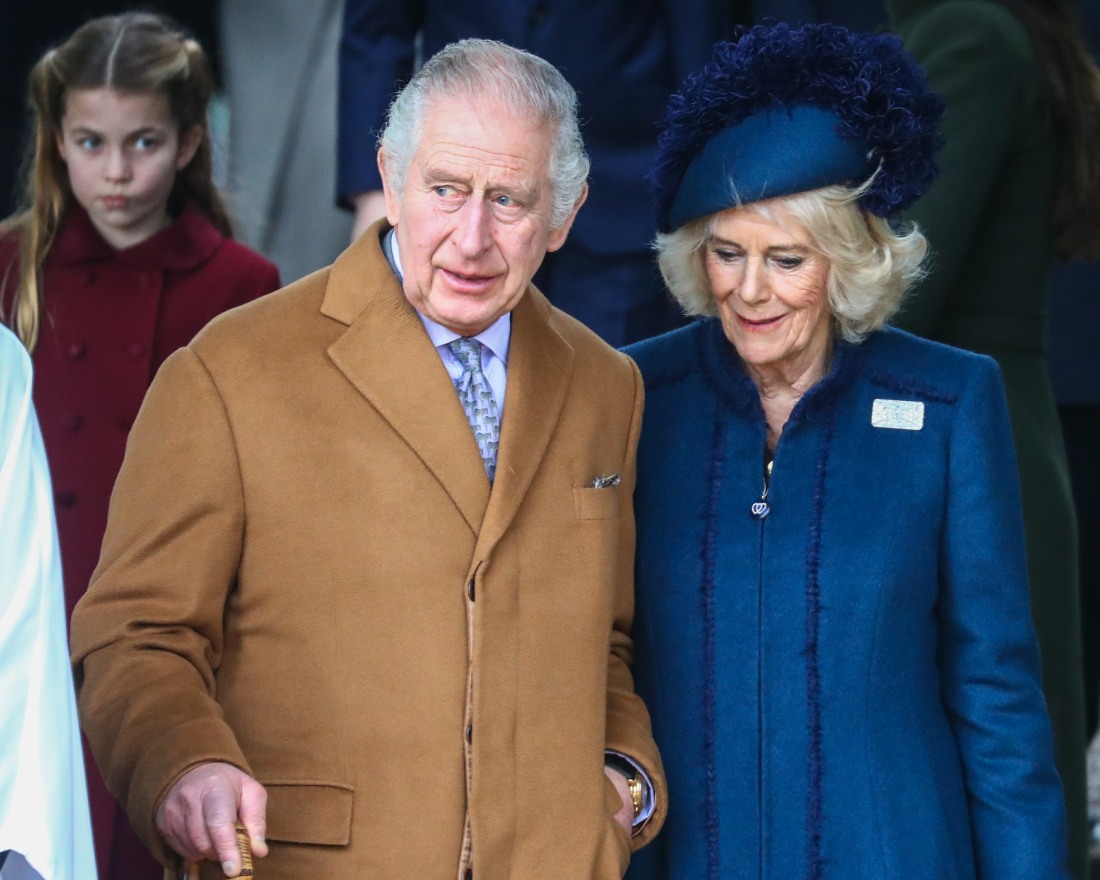 King Charles likes Sandringham and he started taking over the private property years before his mother died. Charles brought back the "royal Christmas at Sandringham" tradition this year, after the pandemic wrecked a lot of royal traditions. I was surprised to see that Charles and Camilla stayed in Sandringham through New Year's, and they went to St. Mary Magdalene Church in Sandringham on New Year's Day. Surprisingly, they were joined by any other family members – I wonder if the Wessexes decamped right after Christmas, and God knows where William and Kate were on NYE. Anyway, when QEII was around, she would stay at Sandringham through early-to-mid February. She would work – sort of – but she based herself out of Norfolk through the anniversary of her father's death. As it turns out, Charles and Camilla do not plan to keep up with that particular tradition – they're headed to Scotland.
The King and Queen Consort will begin the New Year with a romantic break at their "marital home" in the first of several permanent changes to the monarch's calendar. Having stuck with tradition by choosing to spend Christmas at Sandringham with other members of the Royal family, His Majesty and the Queen Consort will break with the late Queen's habit of remaining in Norfolk until February. Instead, they will head to Birkhall on the Balmoral estate, possibly in time for Hogmanay, where they will prepare for a busy year that will include the first coronation since 1953.

The King's diary for 2023 is rapidly filling up, with annual traditions like Royal Ascot, the Royal Maundy Service and the Braemar Games already inked in, but there will be subtle changes to other regular events, including garden parties and public access to Royal residences. The first of those changes will be the January stay at Birkhall, the King's favourite home, and the place he is also likely to visit to recharge his batteries after the coronation on May 6.

A Royal source said that while the late Queen stayed at Sandringham until the anniversary of her father's death in February each year, "the King and Queen Consort will move to Birkhall and Balmoral. Birkhall is what they consider to be their marital home".

Scotland is where the King has always been happiest, and as well as staying at Balmoral in the summer, where monarchs have taken their annual break since the reign of Queen Victoria, His Majesty is expected to spend time at the Castle of Mey, his late grandmother's former home on the north coast.

The King's genuine love of Scotland is being welcomed in Downing Street, where Rishi Sunak is seeking to head off continued attempts by Nicola Sturgeon to force a referendum on Scottish independence. Scotland's affection for the Queen, who subtly let it be known that she was in favour of the status quo before the 2014 referendum, was a powerful weapon for those who wanted to preserve the Union.
Yes, I suspect that the trip to Scotland is politically motivated more than anything else. I mean, Charles does enjoy Scotland and he loves Birkhall and Castle Mey, but Scotland in January? It's pure politics. Y'all know Camilla's creaky old bones would much rather be in a sunnier and warmer climate. Still, I guess it's interesting that Charles is "breaking from tradition" by not staying at Sandringham up until Valentine's Day.
The Telegraph also says that Charles will go on holiday following his coronation, but then he'll be back in time for Trooping the Colour in June. Most of the events being put on the king's schedule are just church visits and the kinds of annual events he's always attended already, like Ascot and services around Easter. The palace is just trying to make it sound like Charles is booked and busy, when really he's already building in about two months of vacation in the first six months of the year.
Photos courtesy of Getty, Avalon Red, Cover Images.