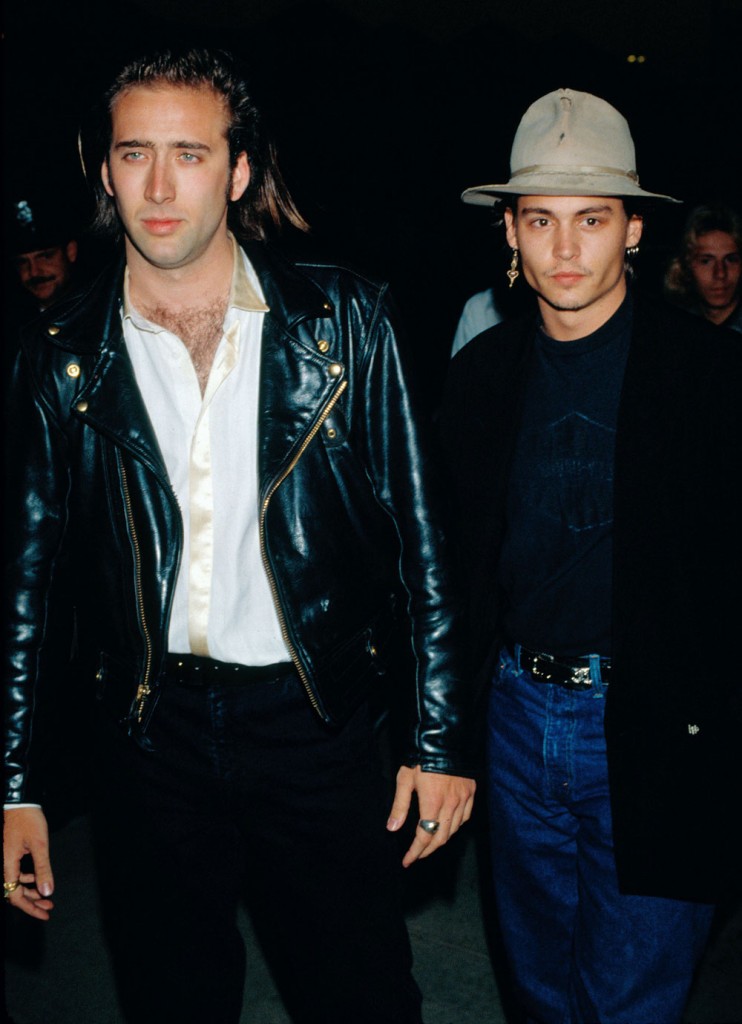 Johnny Depp and Nicolas Cage in 1989. They were so hot! Credit: Gary Lewis/Bauergriffinonline
The National Enquirer has a story this week that could possibly be made up, but given Johnny Depp's reputation as an all-around nice, generous guy I want to think it's true. Nicolas Cage, who is now over six million in debt to the US government, is almost solely responsible for helping Johnny Depp get his start in show business. Johnny credits Cage with his phenomenal career because Cage is the person who first encouraged him to get into acting. The two were buddies in LA in early 80s, and Cage told Depp, then a musician, that he should give acting a try. The rest is history. According to the Enquirer, Depp heard about Cage's money problems and gave him a call telling him he would help him out.
When bighearted Johnny, 46, learned of Nic's troubles, he offered to give him "whatever he needs" to take care of his cash-flow woes, said a friend of Johnny's.

"Johnny called Nic and basically told him, 'Look, don't worry. I'll help you. You just let me know, all right?'" revealed the friend.

Nic, 4, was touched by the generous offer, but he has so far refused it.

"Johnny has always felt he owes a great debt to Nic, and now he's ready to repay it – if Nic wants him to," the source countinued.

Johnny was a down-on-his-luck guitar player with a rock 'n roll band in the early '80s when his first wife, a makeup artist, introduced him to Nic. Over a game of Monopoly, Nic suggested the struggling musician try acting.

Johnny later recalled in an interview: "I met (Nic's) agent, and she sent me to read for a movie ("Nightmare on Elm street") and they hired me."…

"Johnny has never forgotten what Nic did for him," added the source.
[From The National Enquirer, print edition, November 23, 2009]
Cage could probably really use the help. Most of his luxury properties around the world are being auctioned off to pay his debts. TMZ reported yesterday that two of his homes in New Orleans are now up for auction.
In contrast to Cage's lavish lifestyle, Johnny Depp lives a relatively low-key life with his longterm partner, Vanessa Paradis, and two children in the south of France. Depp has his share of high-end purchases, though. He owns a 45 acre island in the Bahamas and has wine-making facilities on his French estate. He can afford it. Depp made $72 million in 2007 alone.