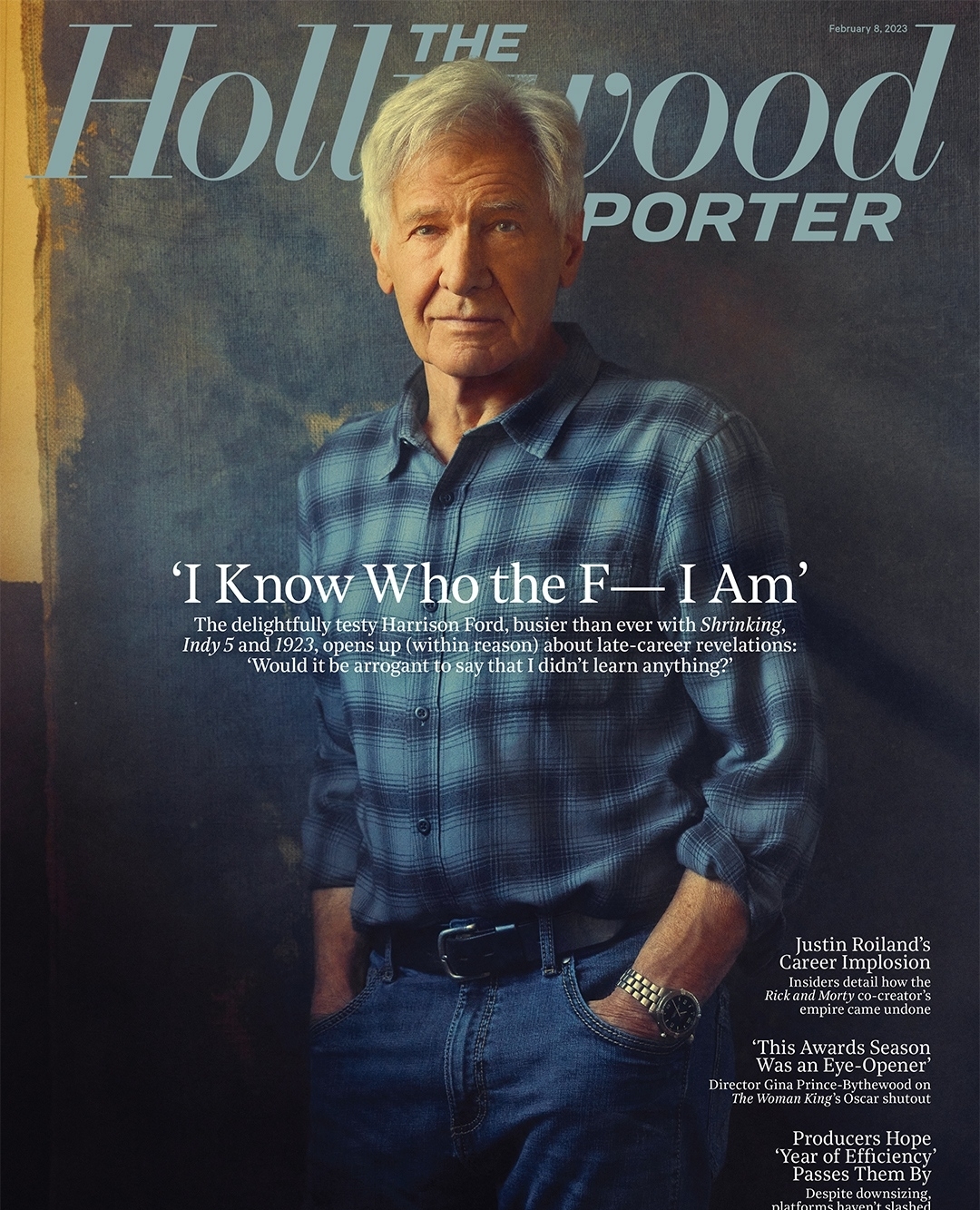 Harrison Ford has a bunch of stuff out this year, from his AppleTV series, Shrinking, to the latest Indiana Jones movie, to 1923 with Helen Mirren. Ford is 80 years old and he's entered a weirdly busy phase of his late-stage career. He covers the latest issue of the Hollywood Reporter, and it struck me that this is the first magazine profile I've read of his in years, perhaps even more than a decade. Harrison Ford still promotes his movies and goes on press junkets, but he rarely sits down with a magazine reporter and submits himself to one-on-one questioning like this. He seems annoyed at various points of the interview, but he's also just… blunt, honest, direct. I like that. You can read the whole piece here. Some highlights:
Why he's got so many projects out this year: "The simplest answer is probably the most truthful: After two years of sitting on my ass during COVID, and waiting quite a few years for Indiana Jones to start, I had not done as much work as I wanted to and I wanted to do different things. So [Shrinking] came along, and then, very quickly after that, 1923 came along. I took the job without a script on both of them, on faith that the people who created the projects were going to deliver me a good script. I really didn't realize how much work 1923 was going to be, and I absolutely feel it's worth it. I'm excited to do another season of both.

Whether he learned anything on Shrinking: "Would it be arrogant to say that I didn't learn anything? Well, look, I really didn't learn anything. It's about being in the room where it happens and being appropriate to the circumstances and welcoming the opportunity to generate something with a little spontaneity and a measure of truth.

His view on therapy: "My opinion is not of the profession, it's of the practitioner. There are all kinds of therapy. I'm sure many of them are useful to many people. I'm not anti-therapy for anybody — except for myself. I know who the f–k I am at this point.

His fans think he has social anxiety disorder. "Sh-t. That sounds like something a psychiatrist would say, not a casual observer. No. I don't have a social anxiety disorder. I have an abhorrence of boring situations. I was shy when I first went onstage — I wasn't shy, I was f–king terrified. My knees would shake so badly, you could see it from the back of the theater. But that's not social anxiety. That's being unfamiliar with the territory. I was able to talk myself through that and then enjoy the experience of being onstage and telling a story with collaborators.

How he gets through things he doesn't want to do: "I just buckle down and do it. There are things I don't love doing, but I want to be gracious about it, and I don't want to shove it into somebody's face that I don't like doing it. They might be having a great time. Like you might be having a great time right now, or you could be having a terrible time and are preparing to write some nasty sh-t and I would never know. I'm just here to do my job, and my job, at the moment, is to help sell the product. This is what they really pay me for. The acting I'd do for free.

What changes he made after his nearly fatal plane crash in 2015: "I changed a lot of things in my life. My wife does not fly with me in vintage airplanes anymore — she will in others. I certainly don't want to have to recover from that kind of accident again. It was really hard on my family and it was hard on me. I went back to flying. I know what happened. So that's part of the reason [I went back]. There was a mechanical issue with the airplane I could not have known about or attended to in any way. So in the words of the great philosopher Jimmy Buffett: Sh-t happens.

He doesn't have a vanity production company: "I don't even know what a f–king producer does anymore. Or why we need 36 of them around."

Whether he's surprised to still be acting: "I think it's the place I feel most useful. It's what I know the most about. I lost my chops as a carpenter. I haven't ever played fiddle. But I feel comfortable wrestling with how to make behavior out of words on a page and tell a story, and I'm still excited about the prospect of telling a story. I think this is a service occupation — telling stories. We need it. Whether it's drawing on caves or religious tenets, we love telling stories…I like playing an old guy. If I wasn't having a good time, I would stop doing it.

Whether he thinks he'll ever get an Oscar, or whether he even cares: (Ford shakes his head.) If I did a movie that had Oscar ambition, that was an Oscar-type movie, then yeah — I'd want the film to be recognized for its quality. If I were given an Oscar, I would be grateful and appropriate. I'm trying to artfully skirt this — I don't want to campaign for it.
I don't think he's being coy about anything – he would appreciate being part of an Oscar-baity film, but he has no interest in campaigning and he wouldn't play that particular game. He never had ambitions beyond being a successful working actor and doing interesting projects. He knows who he is, he's comfortable in his own skin, he's a real movie star with mystery and charisma. I love the fact that he's doing all of this stuff because he was bored to tears during the pandemic too.
Cover & IG courtesy of THR.