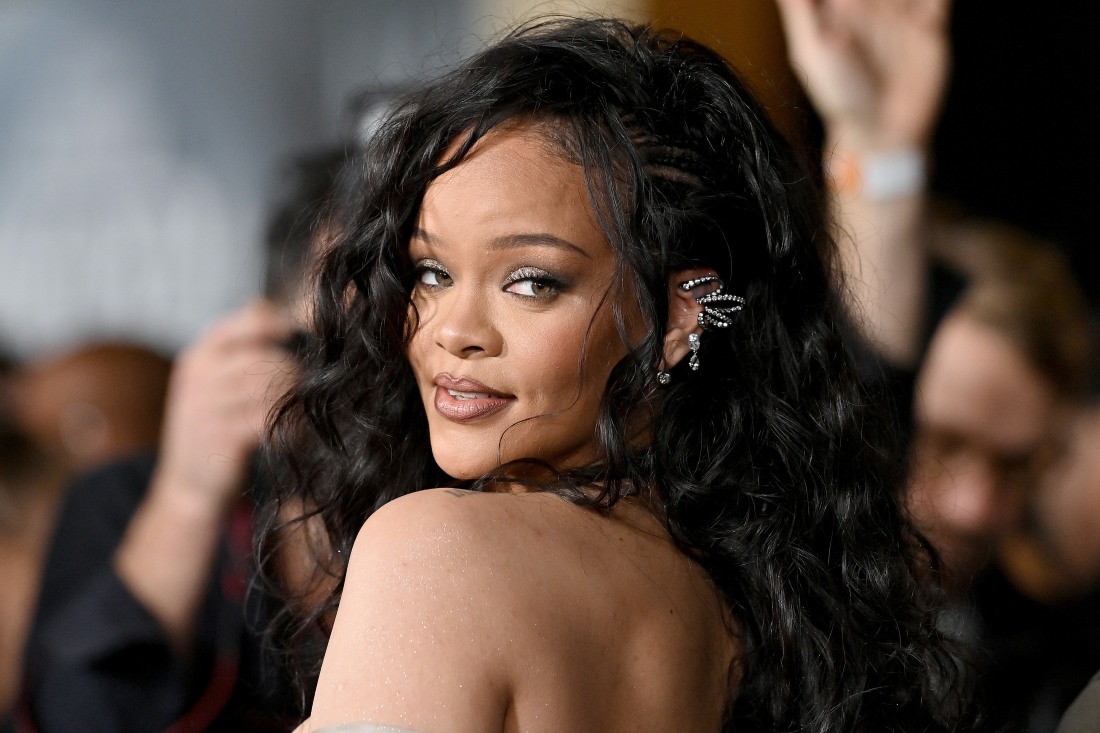 The Super Bowl is happening on Sunday. Wait, let me look up who's playing… Chiefs versus the Eagles. That should be good (I have no idea). I'm mostly looking forward to the music, and I'm getting hyped for Rihanna's Half-Time show. Usually, days before the Super Bowl, the Half-Time act gives an exclusive interview as part of the NFL sponsorship, and that's what happened on Thursday. Rihanna gave an interview, and iTunes dropped this magnificent trailer for her Half-Time show:
It actually gave me chills? "I was just a little island girl flying kites at the cemetery…" is so evocative. This will be Rihanna's first time on stage in five years, and this is something Rihanna always swore she wouldn't do. In 2019, Rihanna was asked by Vogue if she would ever do the Half-Time show and she said: "I couldn't dare do that. For what? Who gains from that? Not my people. I just couldn't be a sellout. I couldn't be an enabler. There's things within that organization that I do not agree with at all, and I was not about to go and be of service to them in any way." Crash-cut to 2023, with Jay-Z's Roc Nation partnering with the NFL, and here she is. Some highlights from Rihanna's interview:
She forgot about her birthday: "Sunday, now that's the one. I've been so focused on the Super Bowl I totally forgot that my birthday's coming up. I totally forgot about Valentine's Day."

The Super Bowl is an "entertainer's dream." "The Super Bowl is one of the biggest stages in the world; it's an entertainer's dream to be on a stage like that. But it's nerve-racking. You want to get it right. You know, everybody's watching. And they're rooting for you. And I want to get it right."

She keeps changing the set list: Rihanna explained how curating the setlist for the halftime show has been the most difficult aspect of it, noting that it's changed roughly "39 times" already. When asked what fans can expect from the performance, Rih said, "It's going to be a celebration of my catalog in the best way that we could." She added that it's changed so many times because of the inherent time crunch that comes with the halftime show. "You're trying to cram 17 years of work into 13 minutes, so it's difficult, and some songs we had to lose because of that, but that's okay."

She's also going to focus on her Bajan & Caribbean roots: "[Caribbean culture] is a big part of why this is important for me to do this show. Representation: representing for immigrants, representing for my country of Barbados, representing for Black women everywhere. I think that's really important. That's key, for people to see the possibilities." Apple Music also released a teaser for the show after the interview, which featured glimpses of Bajan culture and are sure to be present during the show.
It's kind of crazy to think that Rihanna hasn't done any of this in five years, and that the set list wasn't finalized weeks ago, and that Rihanna just had a baby last year. I'm just saying… while I'm excited about the Half-Time show, I also think that there's a good chance it will end up kind of messy! We'll see.
Photos courtesy of Getty, Cover Images, Backgrid.