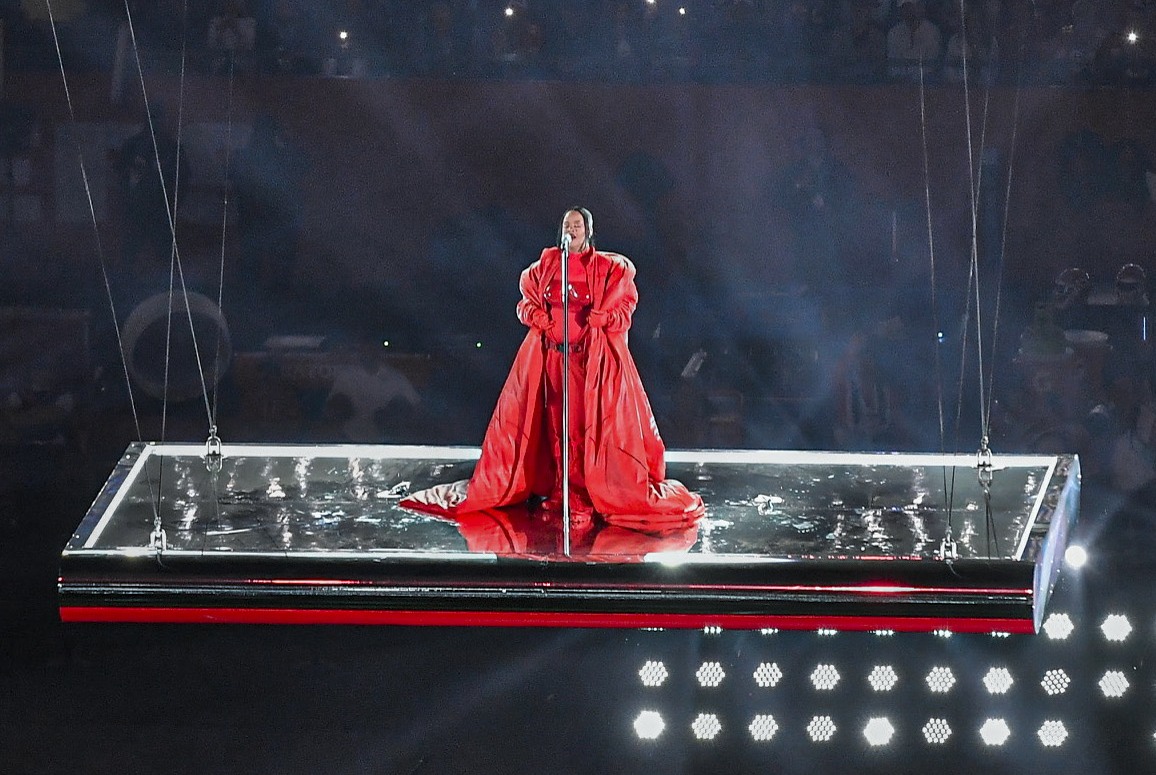 We go through this every year, and every year, I guess people are hearing it for the first time. The NFL doesn't pay their Halftime performers. All of those times Beyonce performed at the Super Bowl, she didn't get paid. Maroon 5 didn't get paid. Coldplay didn't get paid. Rihanna didn't get paid for performing this year. The NFL will pick up expenses, especially for the staging, the pyrotechnics and the dancers. But Rihanna didn't pick up a fat check from the NFL for her Halftime performance:
Rihanna may have put in the work, work, work, work, work at the Super Bowl LVII halftime show, but, as is customary for the mid-game spectacle, she did so for free. Though the famed halftime show often attracts the biggest names in music (everyone from Beyoncé to Bruce Springsteen has graced the stage), there's actually no paycheck involved for the headlining act.

"We do not pay the artists," an NFL spokesperson told Forbes in 2016. "We cover expenses and production costs."

Brian McCarthy, the NFL's vice president of communications, confirmed to Newsweek that the league does cover "all costs associated with the show" — and while artists don't receive an appearance fee, they are paid union scale, which is a minimum wage guaranteed by a union contract.

For many, the exposure and the chance to perform before increasingly large crowds is well worth the journey; last year's Super Bowl was watched by 112.3 million viewers, according to Nielsen and streaming data from NBC, and this year's match-up was poised to pull in even higher ratings, the Los Angeles Times reported.

Artists often see a boost in sales immediately after the show, as well as the chance to increase their social media followings. In a moment that's since gone viral, Rihanna also touched up her makeup using a compact from her Fenty Beauty brand. She also topped off her beauty look with a new liquid lipstick, called the "MVP," that launched online during halftime.
Yeah, the exposure is a big deal, even for already well-established artists. This year, Apple Music was the main sponsor of the Halftime show, and sales of Rihanna's (old) hits have gone though the roof. She's also getting a huge spike in streams on Spotify. AND her Fenty beauty line has seen an immediate spike in sales too. According to Variety, Rihanna's Spotify streams spiked 640% in the US, and Apple Music reports a 331% spike in listeners.
Photos courtesy of Getty, Cover Images.

Rihanna performs at halftime during Super Bowl LVII Where: Glendale, Arizona, United States When: 12 Feb 2023 Credit: TheNews2/Cover Images
Rihanna performs at halftime during Super Bowl LVII Where: Glendale, USA, United States When: 12 Feb 2023 Credit: TheNews2/Cover Images