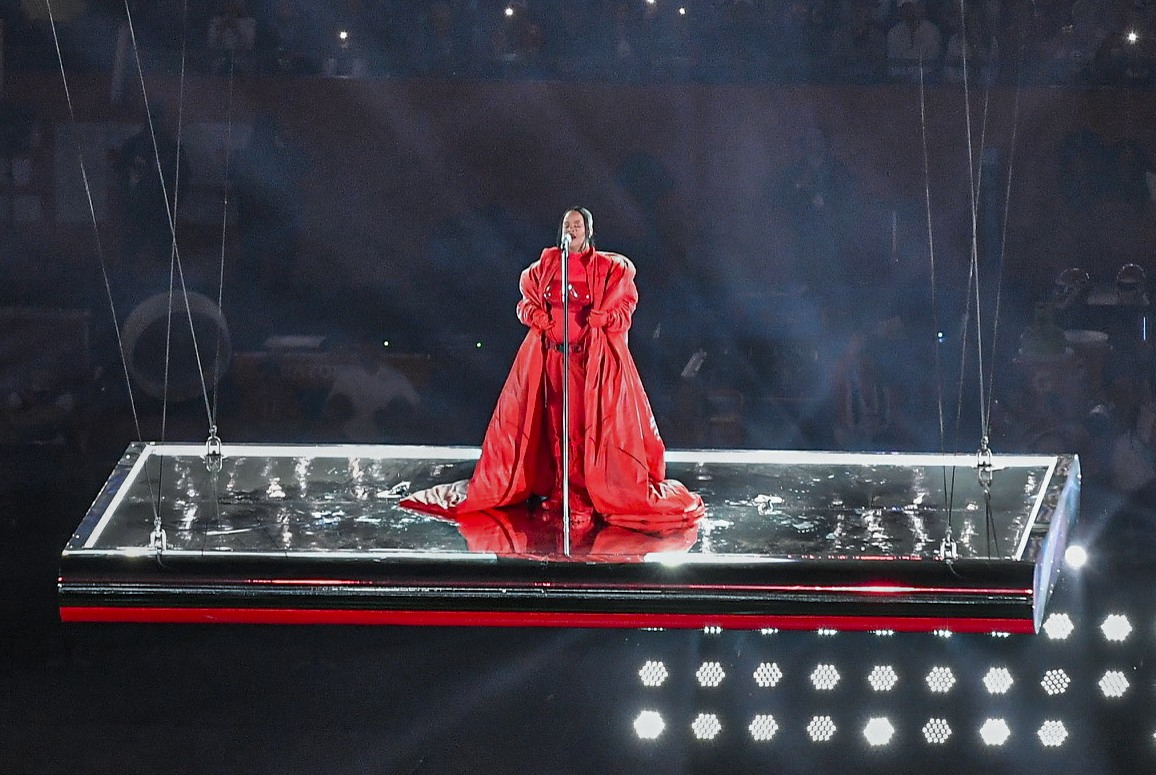 First off, that was a pregnancy confirmation for Rihanna at the Super Bowl Halftime Show. Shortly after the show, Rihanna's rep confirmed that Rihanna is expecting again. She just welcomed Baby Boy Fenty in May of last year! She got pregnant again right away, damn.
So, I'm sure Rihanna's pregnancy affected the staging and choreography of the Halftime Show, but even without the pregnancy, I'm not sure she would have chosen to do much differently. Unlike many Halftime shows in recent memory, Rihanna didn't throw everything and the kitchen sink into this sh-t. There were no guest-stars – Rihanna knew she was enough. There wasn't a ton of choreography for Rihanna – she let her dancers take care of that. There weren't elaborate costume changes – Rihanna said she's not doing all of that. What we got was a simplified, almost elegant stage set-up with floating Plexiglass platforms and a very basic red-and-white color scheme. It worked… in my opinion.
The thing that occurred to me is… I bet the NFL is very happy about this. She kept it simple, there was no vulgarity, no crazy moments overshadowing the game, yet she delivered a memorable performance. Considering all of the (completely justified) sh-t she's talked about the NFL, I wonder if they were shocked that she kept everything (relatively) wholesome. She's even being praised by NFL moms for being a glowing example of pregnancy and motherhood.
Also, the fact that she whipped out a Fenty compact and checked her makeup mid-performance? She said, I'm a billionaire now, be grateful you're getting this.
Rihanna checks her makeup in the middle of the #SuperBowl halftime show. pic.twitter.com/HHICnGAQXb

— Pop Base (@PopBase) February 13, 2023
Photos courtesy of Cover Images, Getty.

Rihanna performs at halftime during Super Bowl LVII Where: Glendale, Arizona, United States When: 12 Feb 2023 Credit: TheNews2/Cover Images
Rihanna performs at halftime during Super Bowl LVII Where: Glendale, USA, United States When: 12 Feb 2023 Credit: TheNews2/Cover Images