Does owning something make you an expert? People assume, say, you know everything about films if you own a theater. So it makes sense that people want to know Paul Rudd's views on candy because he and Jeffrey Dean Morgan own Samuel's Sweet Shop in upstate New York. But they've been public with the fact they bought it after the owner died to keep it open for the community and don't have a hand in running it. Still, guilt by association and now inquiring minds want to know: what's good, Paul? Afterall, he does eat at his own shop. And they sell a sampler bag that's supposedly filled with Paul's favorites. So what's top of Paul's list? Hot Tamales, Mike and Ikes, white Tic Tacs and anything chocolate.
The next time you watch one of Paul Rudd's movies, try pairing it with one of his favorite candies.

In this week's PEOPLE cover story, the Ant-Man and the Wasp: Quantumania star, 53, says that he has "the candy taste of a seven-year-old child."

"The long tube of bottle caps? I can't get them because I'll eat the whole tube of bottle caps, or I'll eat the entire tube of the fruit Mentos," says the actor, who owns Samuel's Sweet Shop in Rhinebeck, N.Y. with Jeffrey Dean Morgan. "They're amazing."

The Only Murders in the Building actor lists his favorite candies as Hot Tamales and Mike and Ikes. But he's also "way down with" chocolate.

"I'll tell you what is a really unheralded candy that is another one of my all-time faves: the white Tic Tac. There's a little hint of vanilla or something in it that is really low-key fantastic," Rudd tells PEOPLE. "Everyone knows the orange Tic Tacs — they crush, they're so damn great. But white? If you had to go, 'Which one do you like better?'—that's a real Sophie's choice for me."
Needless to say, I'm with Paul on the you had me at chocolate part. I rarely like a spicy candy, so I'll leave the Hot Tamales to him. Mike and Ikes are fine. Unfortunately, the only time I ever eat them is when someone discovers them after years of neglect so they're practically petrified. But I'm not sure that isn't the general state of a Mike and Ike normally. Combined with popcorn, they do have a certain appeal. I'll lose many readers here, but I'll take a Good and Plenty over a Mike and Ike. If we want to talk underrated: Red Vines. I know they aren't undervalued because everyone eats them, but people eat them because they're there. Next time you're chomping on one, think of how much joy it's bringing you in that moment. And don't bring a Red Vine v. Twizzler debate here. I won't have my post sullied with that nonsense.
I love that Paul's going to the mat for white Tic Tacs. I'll do them one better and flat out pick white over orange. In general, though, people never give Tic Tacs credit. But this is why we love Paul, he stands up for the unsung candy. Everyone knows the chocolate celebrities. Snickers has movie star spokesperson money. Three Musketeers is carrying Dumas' reputation atop its whipped mouse center. Reese's has decades of smug assurance knowing how delicious they are. And along comes Marvel's Ant-Man to collect the wax covered pieces of hardened jelly stuck to the underside of the chair, hold them aloft and say hey. You know what? You're pretty good, too, buddy.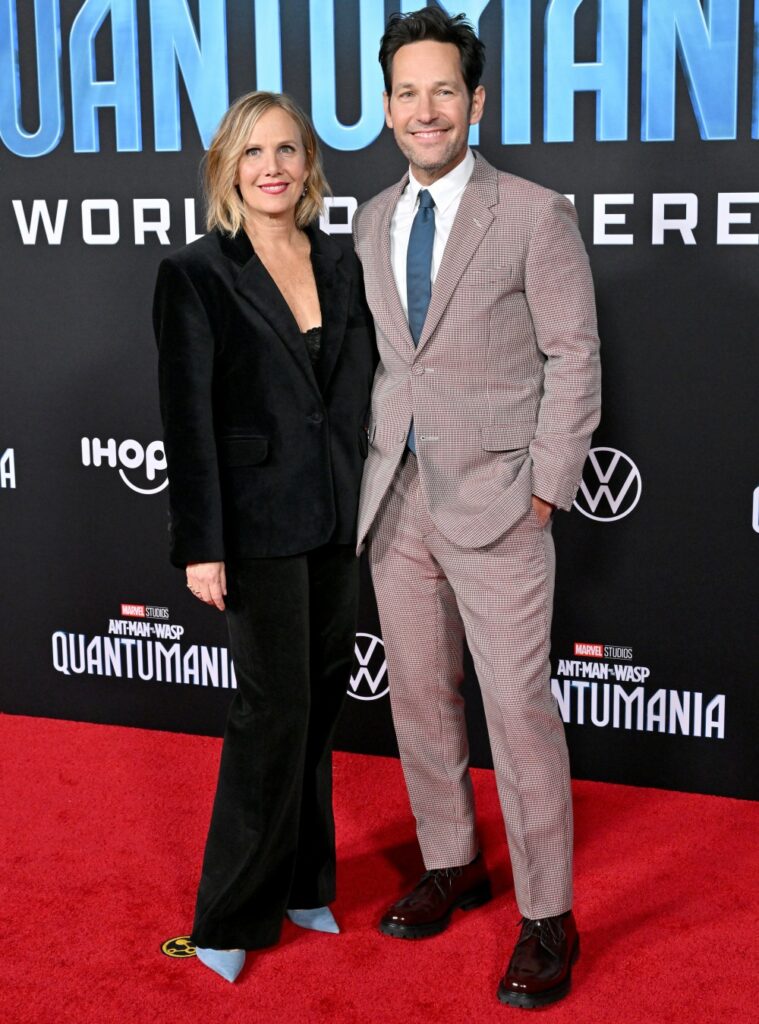 Los Angeles premiere of Marvel Studios' 'Ant-Man and the Wasp: Quantumania' at Regency Village Theatre Featuring: Julie Yaeger, Paul Rudd Where: Los Angeles, California, United States When: 06 Feb 2023 Credit: BauerGriffin/INSTARimages
Photo credit: Instagram, Getty Images and Cover Images