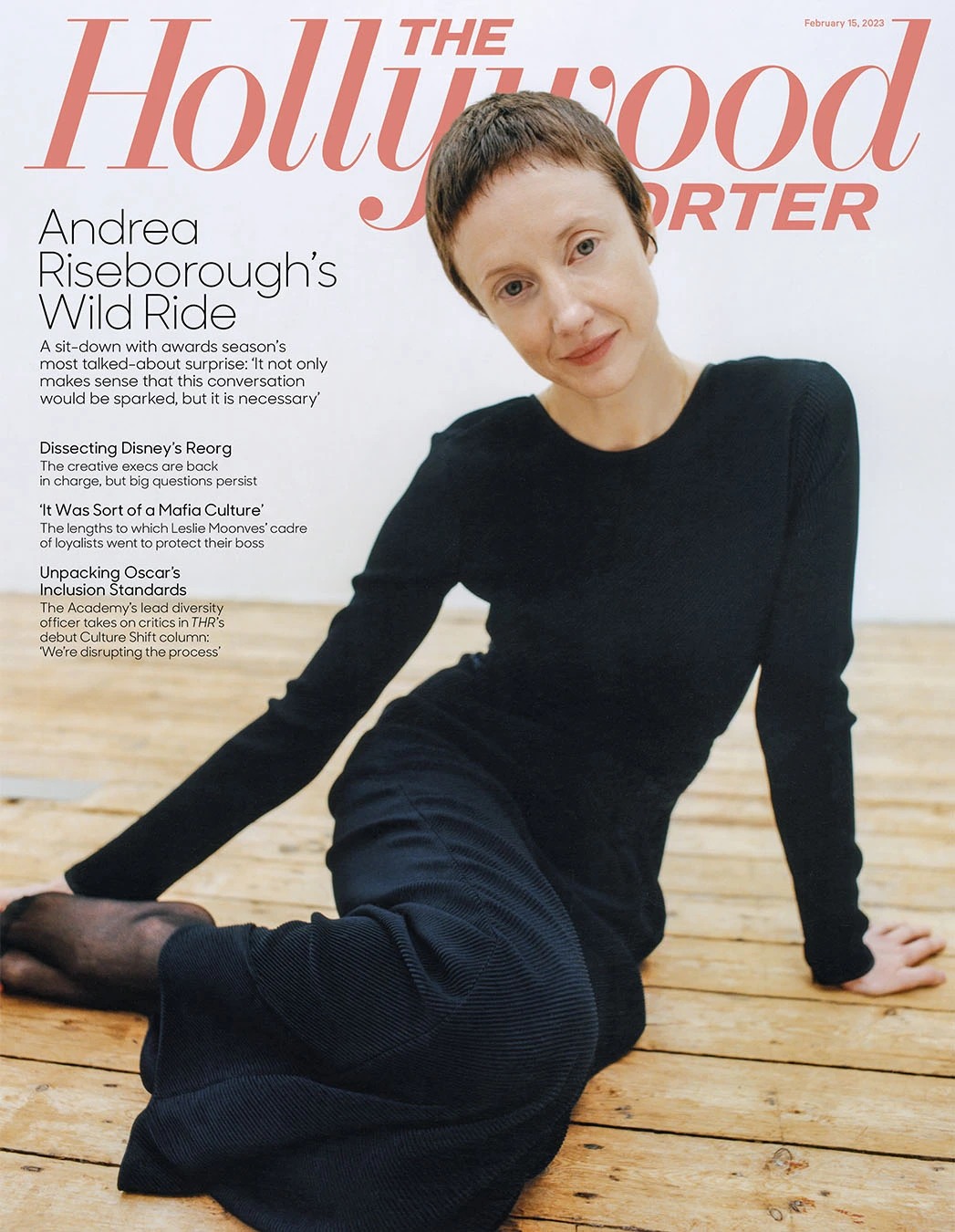 There were questions about whether Andrea Riseborough would end up Oscar-campaigning whatsoever now that she's nominated. Here's the answer – she is. Andrea covers this week's issue of the Hollywood Reporter, and this is her first interview since she was surprisingly nominated for Best Actress for her role in To Leslie. The campaign for Andrea clearly broke some of AMPAS's rules, and there was a quickie investigation and nothing came of it beyond a promise to update some of the social media rules for campaigns. Andrea clearly had the backing of a who's who of powerful white women in Hollywood, many of whom were spurred on by Mary McCormack (who is married to the director of To Leslie). This THR piece revealed something I didn't know though – that Andrea's agent was involved in the Oscar-campaign shenanigans too. Oh, and I learned that To Leslie was only a 19-day shoot! For goodness sake. In this interview, Andrea just tries to keep it low-key, but yeah… she and Ana de Armas shouldn't have been nominated, I'll just say that. Some highlights:
Whether she's happy about her Oscar nom: "I don't know what I know. I think once I have time to process everything, I might understand it a bit better. It's been confusing. And it's wonderful the film's getting seen. I suppose it's a really bright ray of light. When any of us engage in anything, we want for that piece of work to be absorbed in some way. You can't control how people absorb it."

Reading the 'To Leslie' script: "Sometimes you read something and you think, 'Oh, this is that one important story for them.' That was clear on the page. It was a celebration of somebody — in all of the glorious and horrible moments." It called to mind some of her favorite films — gritty, character-driven pieces from the early 1970s like Wanda and The Panic in Needle Park. "Those magical pieces of cinema that, even when you get to the end of the film, leave you completely hanging and aren't necessarily conclusive in any way."

No money for marketing: With virtually no marketing spend from Momentum, the critical darling — ]To Leslie' currently boasts a 97 percent Rotten Tomatoes rating — sank like a rock. "It's always disappointing when traction is not capitalized on," says Riseborough. Marc Maron is less diplomatic in his assessment: "There was no possibility of any more visibility because this distributor was awful and remained awful."

The campaign: Behind the scenes, Riseborough reps and publicists mounted a grassroots awards gambit on her behalf. Also key to the effort was Jason Weinberg, who manages both Riseborough's and McCormack's acting careers and who has guided many other starry clients — including Penélope Cruz, Christina Ricci, Jean Smart and Connie Britton — to awards. The microbudget campaign, self-financed by Riseborough and Morris, had no money for billboards, bus or trade ads but covered the $20,000 fee to screen the movie on the Academy website.

Everything amped up while Riseborough went to Budapest to film 'Lee': Meanwhile, Morris, McCormack and Weinberg spent the normally dead weeks around the holidays plundering their Rolodexes. "We think you will love it," went one email blast from McCormack. "We feel so strongly about beautiful films being seen whether or not they have millions and millions to spend on publicity."

Whether or not she believed she would get the Oscar nom: "There was a lot of chatter beforehand in those few days leading up to [the nomination]. But the very realistic part of me that has been doing this for 20 years didn't think this would happen. I don't think that you dare to allow yourself to imagine that that would happen to something that you shot in 19 days."

Marc Maron on Riseborough's nom: "I was thrilled. I was thrilled for her, and I was thrilled for the movie. It's upsetting in retrospect that this experience has to be so loaded and toxic and challenged. A few highly paid consultants for big-money campaigns for big studios got blindsided and then started a bunch of sh-t. Andrea, she's in it for the work, dude. I mean, if that's not clear from this woman's career — that she's the real deal and she does it for the work — then you're not looking at her correctly. But now that she's targeted and at the center of this fake controversy, I hope it works in her favor."

After the backlash, Riseborough tried a new talking point: She says she is "coming to terms with what the nomination means, for me and for others." Of the debate her nomination has elicited, she writes, "It not only makes sense that this conversation would be sparked, but it is necessary. The film industry is abhorrently unequal in terms of opportunity. I'm mindful not to speak for the experience of other people because they are better placed to speak, and I want to listen." Regarding the impact the controversy has had on her campaign, she says: "I am grateful for the conversation because it must be had. It has deeply impacted me."
Part of me actually feels sorry for her because I'm pretty sure she never meant to take Viola's place or take Danielle's place. In Andrea's mind, she was promoting an indie film she was proud of, and she was happy that so many powerful people were screening it. That being said, it's hard to see how her Oscar nomination doesn't have an asterisk, regardless of whatever tone-deaf sh-t Marc Maron says. This wasn't just highly-paid consultants getting mad that their clients weren't Oscar-nominated, this was yet another example of white folks exclusively supporting other white folks. Where were Charlize, Gwyneth, Cate and Helen Hunt when it came time to host screenings or post about The Woman King or Till? Maron is doing Riseborough no favors, just as Mary McCormack did her no favors.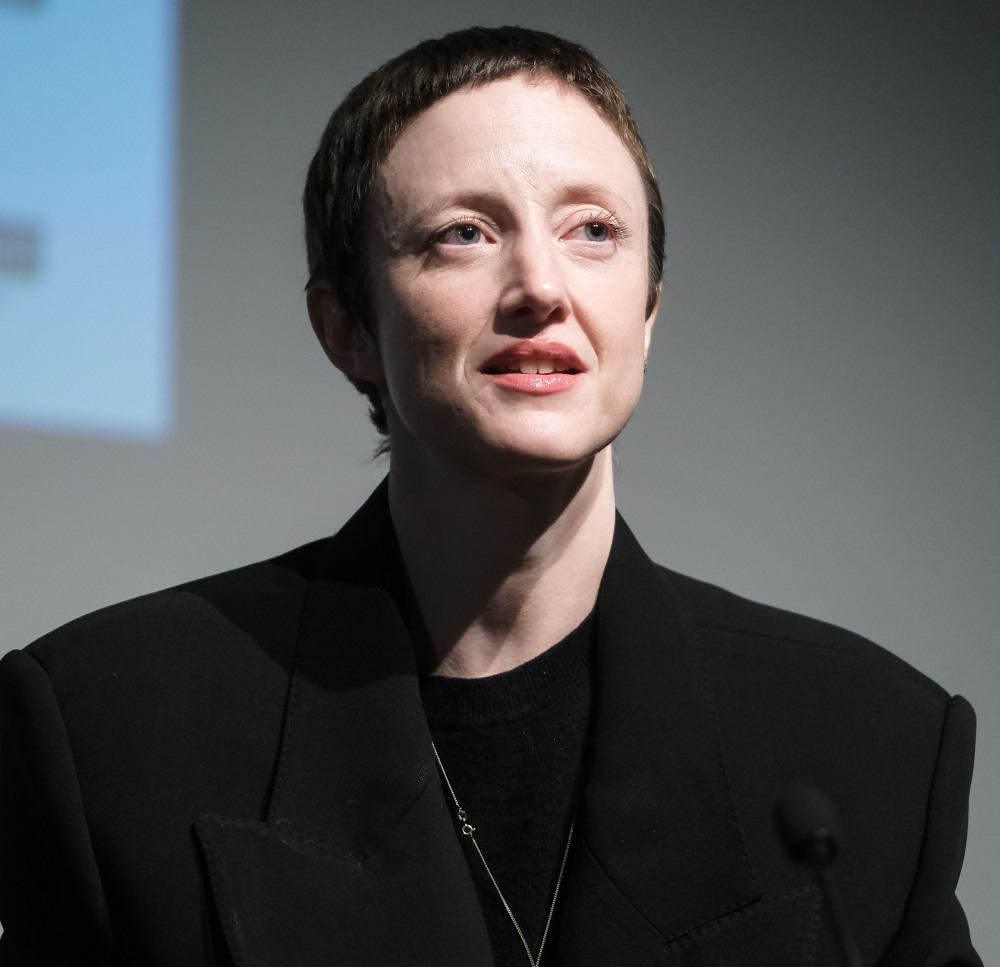 Cover courtesy of THR, additional photos courtesy of Backgrid, Avalon Red, 'To Leslie'.