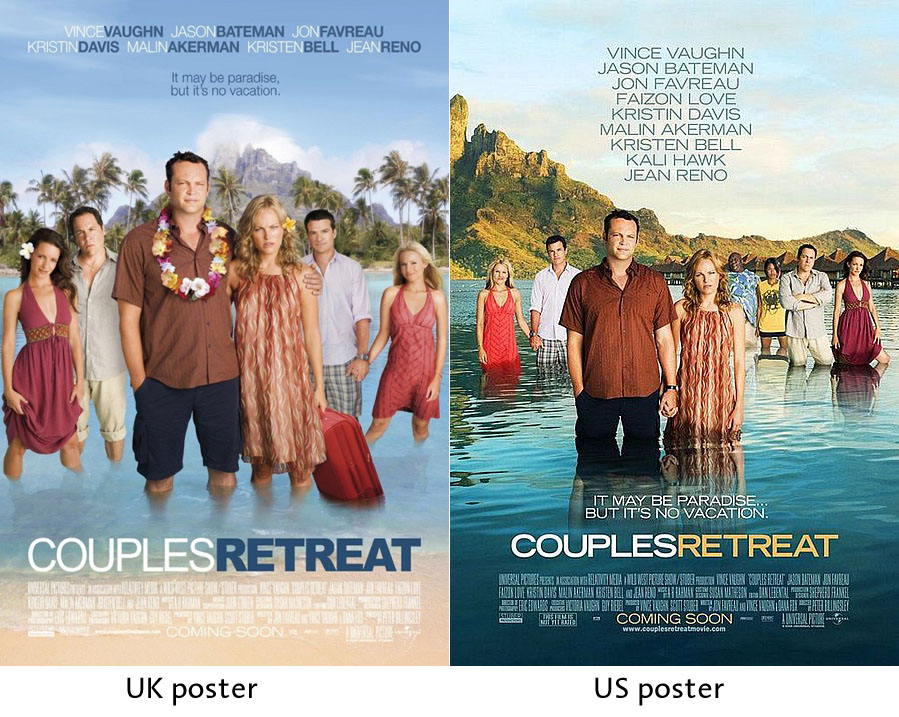 There's some controversy over differences between the US and UK versions of the poster for the Vince Vaughn movie Couples Retreat. The film was out in America in early October and did very well at the box office, earning $102 million domestically. It seems to have opened in the UK on October 14, so I'm not sure why this news is coming out now and maybe The Daily Mail is just belatedly noticing. The film features four couples on vacation together, including one minority couple played by Faizon Love and Kali Hawk. According to people who have seen the film, Love and Hawk are featured just as much as the other couples.
In the US version of the poster for the film all eight people are shown and billed, albeit with Love and Hawk in the back. In the UK version just six people are shown and listed, with Love and Hawk removed. Universal has apologized for the difference and explained that they wanted "to simplify the poster to actors who are most recognisable in international markets." They also promise not to use the six-person poster for additional markets. (Couples Retreat opens in the Netherlands, Spain, and Italy later this month, among other countries.)
The makers of a hit Hollywood film are at the centre of a race controversy after removing two black actors from a poster being used to promote it in Britain.
The American advert for Couples Retreat, a comedy starring Vince Vaughn and Kristin Davis, show all eight principal actors – six of whom are white and two black.
But the poster in Britain, where the film is on general release, omits actors Faizon Love and Kali Hawk.

Couples Retreat, about four couples who go on holiday together and receive therapy to improve their relationships, has taken more than £70 million at the box office worldwide since it opened last month.

A spokesman for makers Universal Pictures confirmed the poster had been changed to 'simplify' it for the UK and international market outside America. The studio said it regretted causing offence and has abandoned plans to use the revised poster in other countries.

Mail on Sunday film critic Jason Solomons said: 'We don't cater much for the black cinema-going audience in this country, which is a great shame, so it seems strange that when there are black stars in a major feature film this fact isn't promoted. And, in terms of business decisions, this seems a pretty counter-productive one.'

Caspar Salmon, a 29-year-old translator from London who has seen the film, has complained to Universal. He said in a letter to the film company: 'My hackles are up. I would like to ask what the thinking was behind this move to gaz-ump [Love and Hawk] from the promotional material.'
[From Mail on Sunday via Huffington Post]
Is this subtle racism or just an innocent gaffe? The revised posted is more visually striking because you can see the couples' faces. It's hard to fit that many people in there. Plus the two actors they removed aren't as well known. They are the only African American couple in there, though, and it does seem strange that they're the ones that were cut. It seems more interesting to have four couples instead of just three, and I've heard some buzz over the fact that Faizon Love shows his bare butt in one scene.
Couples Retreat star Kali Hawk has sort-of addressed this controversy on her Twitter account. She responded to a tweet from someone who wrote "I can never understand racism," with "Thank U! I'm touched that so many people care :)"
Here's the trailer. It looks mildly funny, but it got creamed by critics. It has just a 12% aggregate rating on Rotten Tomatoes.