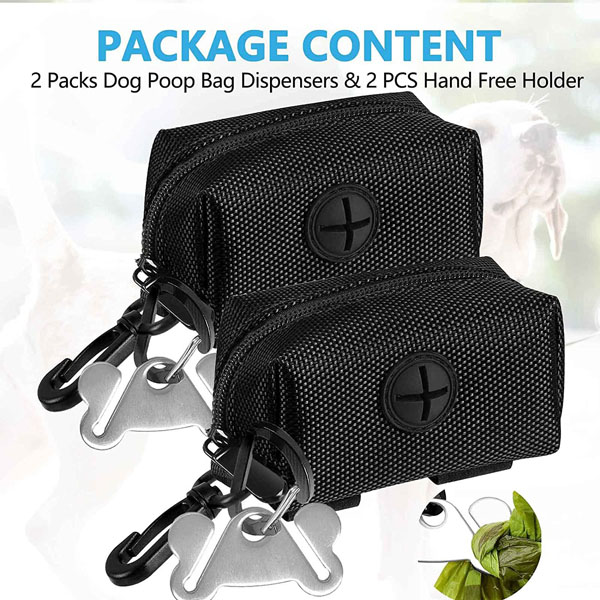 From CB: Most of my recent purchases are products for my dog. I like the fabric dog waste bag dispensers at PetSmart but my dog chews them up when I leave him alone with his leash (I don't do that anymore) and they're expensive at $10 and up. I ordered this two pack of dog waste bag holders for just $13. They come with two carabiners and metal clips that you can use to hold the bags when they're full. I also got my dog this fishbone chew toy in medium and it's plenty big for him. (He's a German Shepherd and is almost full size now at 9 months.) I've bought much more expensive chew bones that's he's not interested in, but he loves this one. Here are some more things Hecate and I are looking at on Amazon.
A glow booster you can wear on its own or under makeup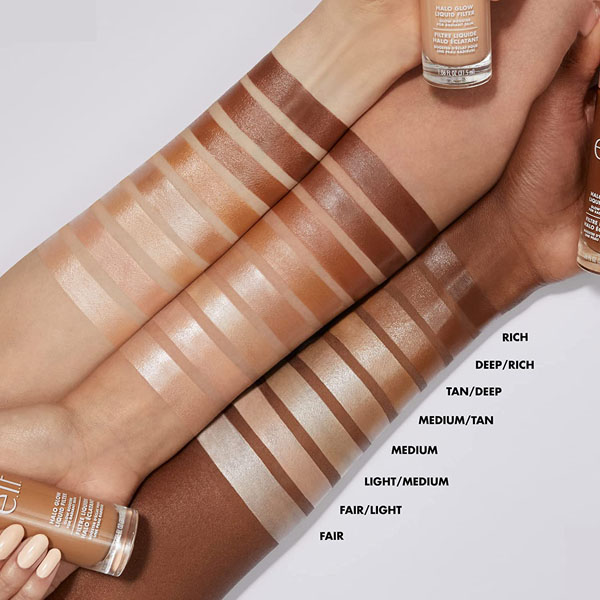 From CB: Elf Halo Glow liquid filter is said to be a dupe for the much pricier Charlotte Tillbury Flawless Filter. It's just $15 and comes in 8 different colors. This has 68 ratings, 4.4 stars and an A on Fakespot. People say it gives their skin a dewy, healthy, natural look. "I love this. I've always wanted to try the Charlotte Tilbury flawless filter but didn't like the price. So when I found out elf had a dupe, I bought it straight away and it's not let me down! Blends seamlessly and gives the perfect natural glow!" "This arrived while I had flu and was feeling and looking crap. I mixed a tiny amount with my moisturiser and applied, and it's turned my skin from looking grey to having the sort of glow you get after a facial."
An inexpensive sewing kit would make a great gift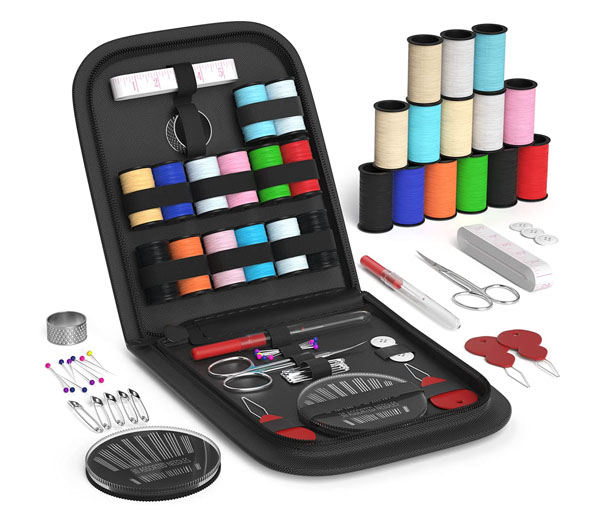 From CB: My son could use a sewing kit for college. So many are just the bare minimum but this one has 30 needles, 14 spools of thread, scissors, a thimble, measuring tape, ripper and more. It's under $6 for that version! There's also a large version with even more tools for $9. This has over 34,000 ratings, 4.5 stars and the same score on ReviewMeta. People say it has just what you need for repairs. "I love this little kit. It's super helpful and has everything I need!" "I've had it for about 8 months now and in that time I've used it to sew multiple buttons back on to things and fix holes in multiple shirts and nightgowns."
An angled eyebrow pencil for a more polished look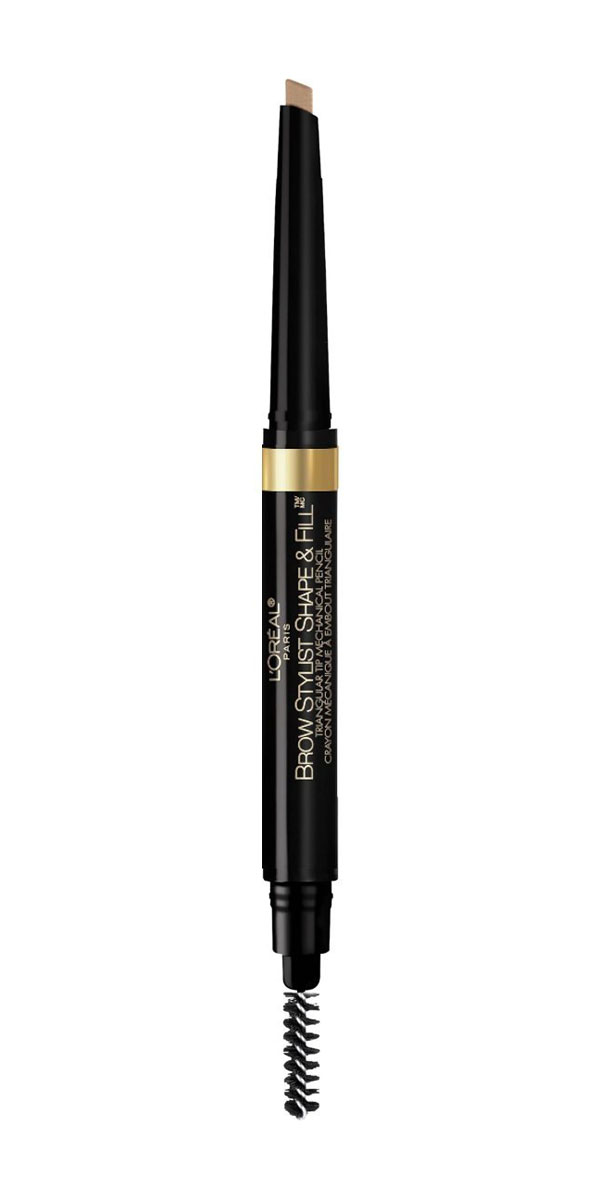 From CB: I keep wanting to change up my eyebrow makeup so they look more defined without being overdrawn. An eyebrow tutorial I viewed recommended Anastasia Beverly Hills Brow Definer. That's $26. L'Oreal Paris Brow Stylist is now under $9 and there's a coupon to make it just $8. This has over 3,700 ratings, 4.7 stars and the same score on ReviewMeta. People say it's a dupe for more expensive brands. "I bought Benefit goof proof brow pencil many times until I discovered this one that is almost identical and is more than half the price. You can't go wrong. It is so easy to use and blends well." "This is the best brow pencil I have found. It's quick and easy to use and it fills in any sparse areas quite naturally. I love it!"
A dryer lint brush kit for getting in hard to reach places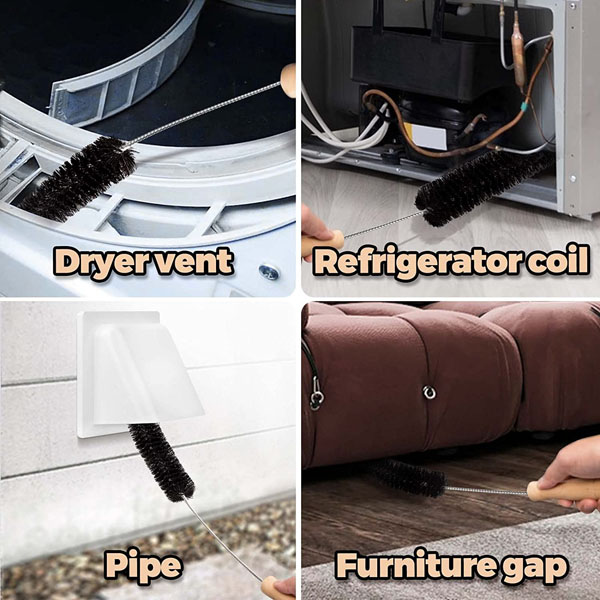 From CB: I've anecdotally heard of at least one family who suffered a house fire due to dryer lint. More commonly though, it can accumulate and make your clothes smell musty and your dryer take longer. This dryer lint brush helps clean out trapped lint from the vents in front loading dryers. It's also useful for dusting in areas you can't reach. You get two brushes for under $9. This has 28,000 ratings, 4.2 stars and a B on Fakespot. People say it really works and that they're surprised how much lint it gets out. "I had to tell you I had a doubt that this may not work. But after trying it and seeing how much lint it actually drew out of my dryer was incredible. It's easy to use." "I was amazed with the amount of lint that this brush pulled out of my dryer. I will be using it regularly."
A hair powder to fill in thinning areas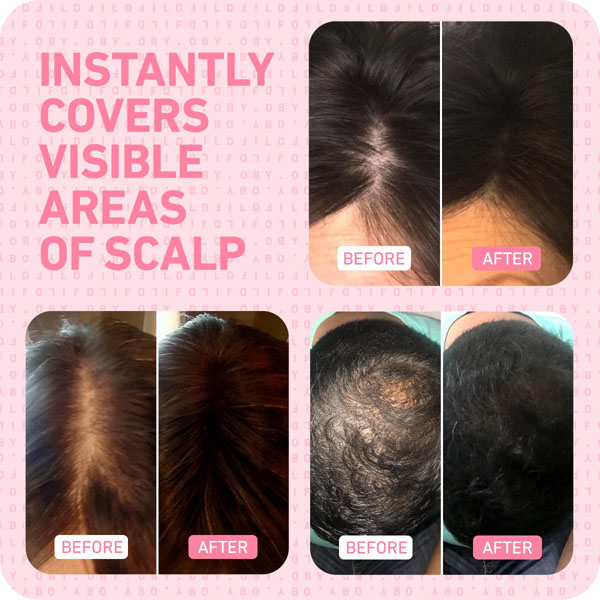 From Hecate: I've mentioned before that I have two thinning spots at my temples. I'm trying a series of things to fill them in but while that witchcraft takes effect, I found this Boldify hair powder. I like it because it's so easy to use. The little sponge that's attached to the bottom of the jar collects just enough powder. So when you dab it on your spot, it only comes off where you dab. It doesn't dust around the area. It does just what it says, fills in the thinning area so it's not so noticeable. I got my color match right on the first try, too. They have 13 different shades to choose from, though. A .14 oz jar costs $18 but it'll last you forever. It has over 12,000 reviews with 4.4 stars that ReviewMeta confirmed. Customers love how long the color stays on their scalp, "this lasts a lot longer than I thought it would! I put it in my hair during the day, ended up staying out overnight, came home the next day and it was still mostly there!! Very happy with this!" and it doesn't clump, " I feel that it covers nicely without being chalky. I've had no issues with sweating, etc." It's good for root touch up between colorings as well.
A heated neck and shoulder wrap feels like a warm hug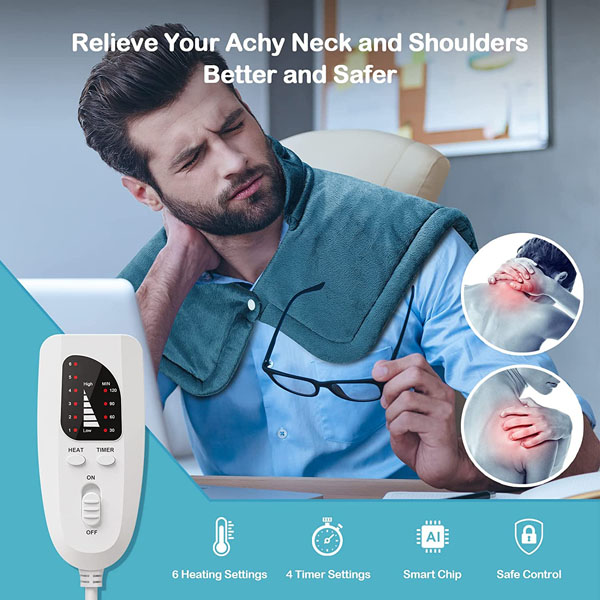 From Hecate: I'm jealous just looking at this. It's a heated weighted caplet for your neck and shoulders. Like a personal spa treatment whenever you want. It's two pounds so it works like a weighted blanket to relax tense shoulders and neck and six different levels of heat to soothe the muscles that need it. And it's all wrapped in a soft microfiber velvety cover. Normally this is $70 but it's on sale for $45 this week. It has over 3,000 reviews with 4.5 stars and a 9.2 out of 10 from The Review Index. People who bought it said it works very quickly on the problem areas, "I'm in a moderate amount of pain every day. The day it was delivered I used it and after about an hour I felt relief. This heating pad stays in place, quickly heats to the setting you choose, and is very soft." Others say they love how it stays exactly where you need it, "Having severe neck arthritis, I was finding it difficult to keep heat around my neck and shoulders. This works very well. The unit is very soft and the neck opening is very sufficient in size when I snap the sides together." It comes in blue or gray options.
Refillable perfume atomizers for spritzing on the go​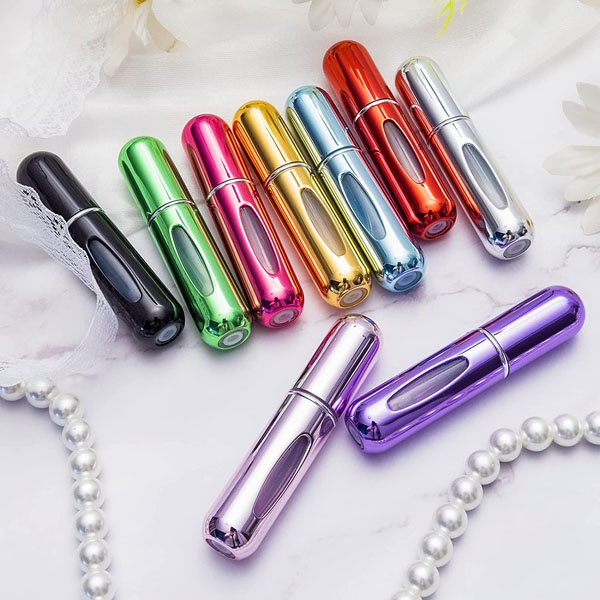 From Hecate: Those fancy perfume spray bottles look amazing on a vanity display, but they are a pain to take anywhere. These little refillable perfume bottles have you covered. They're great for storage solutions, purses and travel in general. They're easy to fill with any atomizer, they're sleek and come in different colors so you can keep track of which scent is in which tube. And they come 4 5 ml tubes for $8 (or five for $9). They have over 10,000 reviews and ReviewMeta gave them 4.5 Stars. This person said they were smaller than what they expected, but they're refillable, so that shouldn't be an issue, "The vials were smaller than I expected, but they were super easy to fill from my original perfume bottle." This smart person said there's no reason to limit these to just perfume, "I'm traveling for the first time in 12 years and squeezing everything into one bag and a carry on. This works for perfume, but I had the great idea of using it for things like my setting spray for when I travel."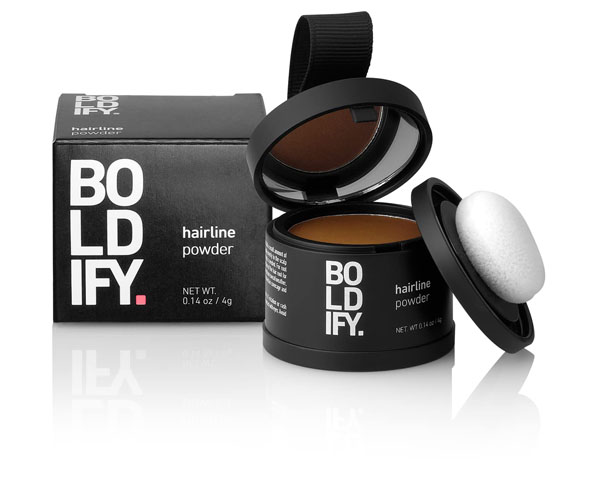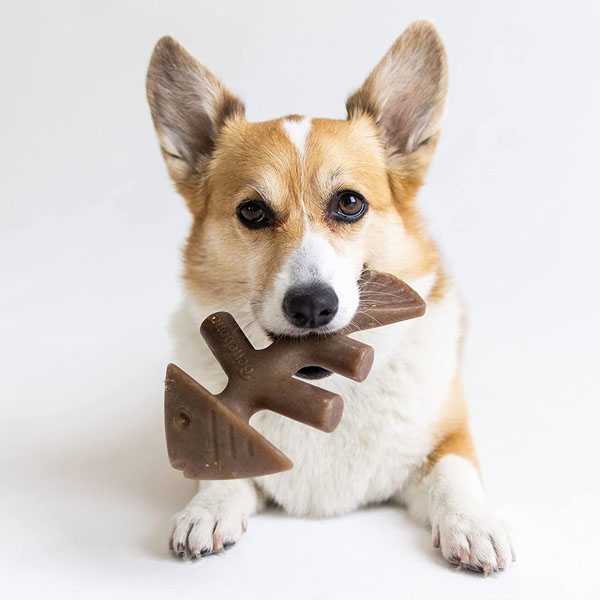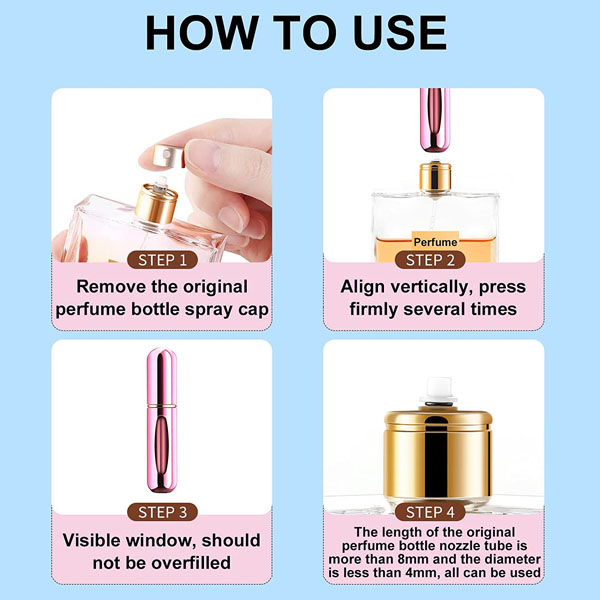 Thanks for reading and commenting on our affiliate post! If you make any purchases through these links we get a small percentage and appreciate it.