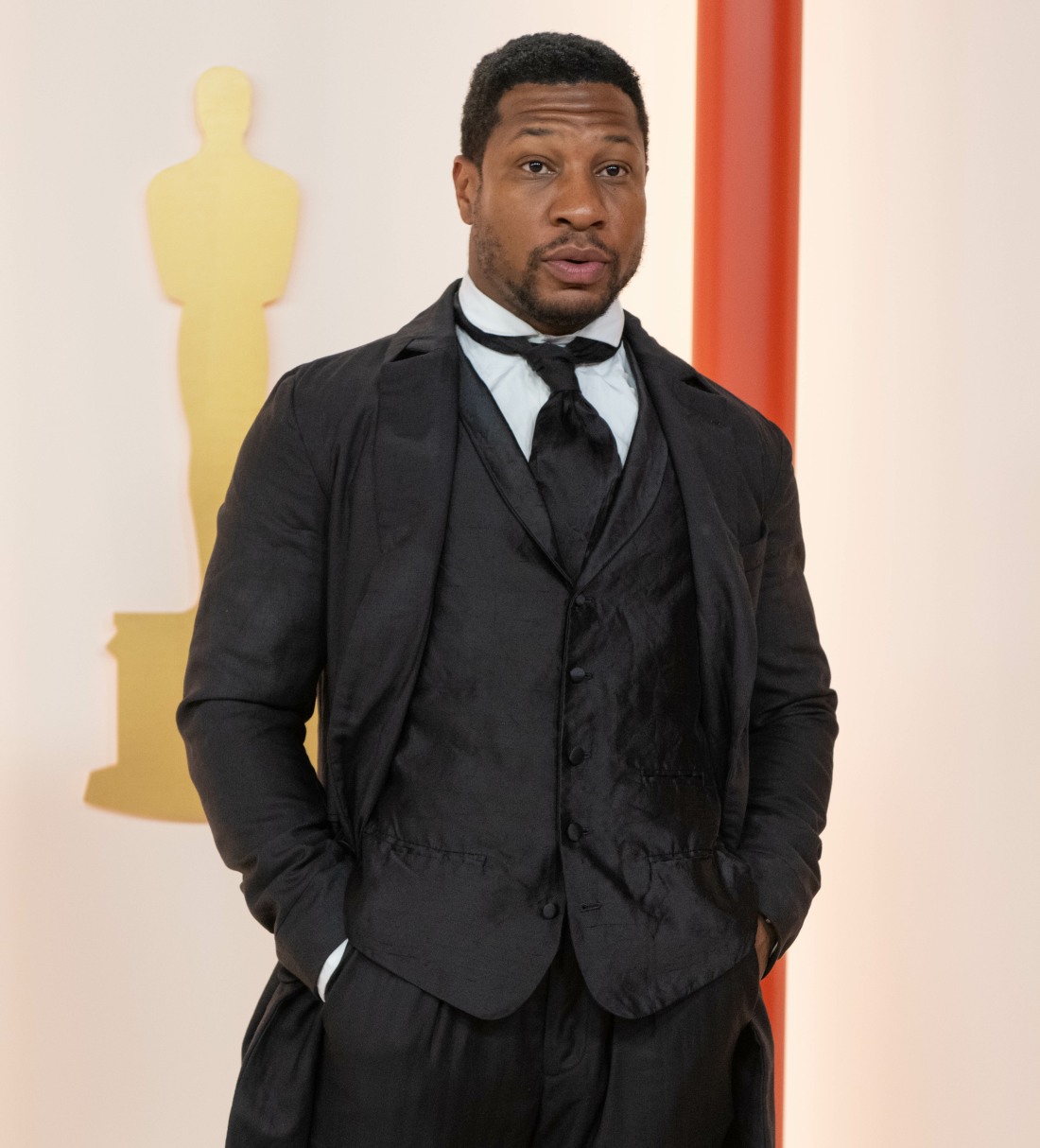 I didn't know much about Jonathan Majors before his big PR push this year, as he began promoting Creed III, his Marvel role as Kang (in the latest Ant-Man movie) and his Sundance hit Magazine Dreams. Majors has been around for a while, but this year has been his major breakout and breakthrough. He covered Ebony, he covered Men's Health, he did the international promotional blitz for Creed III and he presented at the Oscars. Like, everything was going well and he had "arrived." And now this – Majors was arrested in New York over the weekend for brutally assaulting his girlfriend.
Jonathan Majors, star of Creed III and Ant-Man and the Wasp: Quantumania, was arrested Saturday in New York City for an alleged domestic dispute, according to police.

According to a statement from the NYPD given to PEOPLE, "On Saturday, March 25, 2023 at approximately 1114 hours, police responded to 911 call inside of an apartment located in the vicinity of West 22nd Street and 8th Avenue, within the confines of the 10 Precinct."

"A preliminary investigation determined that a 33-year-old male was involved in a domestic dispute with a 30-year-old female. The victim informed police she was assaulted. Officers placed the 33-year-old male into custody without incident. The victim sustained minor injuries to her head and neck and was removed to an area hospital in stable condition."

Majors was identified by the police and was listed as charged with strangulation, assault, and harassment. The victim was not identified.

A rep for Majors told PEOPLE, "He has done nothing wrong. We look forward to clearing his name and clearing this up."
TMZ had additional details about the assault. Majors was in a taxi with his girlfriend, and they were returning home from a bar in Brooklyn. His girlfriend tried to look at Majors' phone because it appeared another woman was texting him. Majors then "allegedly grabbed her hand and allegedly slapped her. We're also told the alleged victim claims he put his hands around her neck during this. Our sources say the woman was dropped off somewhere and that JM spent the night elsewhere. It appears the girlfriend went to police the following morning (Sat.) and reported a crime." TMZ also reports that Majors was released without bail on Saturday night and he's been charged with misdemeanor assault, aggravated harassment, attempted assault and harassment. This is… awful. This poor woman.
After this news came out, the New York acting community began gossiping and… I mean, these are all rumors, totally unsubstantiated, but it seems like people in Jonathan Majors' social circle are not at all surprised that he was arrested for battery and assault. Allegedly, it was just a matter of time and there are more victims out there.
On Sunday, Majors' lawyer issued another statement claiming that there's video footage from the taxi and "two written statements from the woman recanting these allegations." His lawyer also claimed that Majors' girlfriend is "having an emotional crisis." One of two things is happening: Majors has an entire team around him, including the full weight of Marvel, and they are all trying to sully his victim before the case gets going. OR they've offered her a significant amount of money to recant. This is insane.
smth we'll inevitably see is all the cishet men who were calling jonathan majors a gay demon trying to destroy masculinity bc he wore pink and heeled boots now defend him like their life depends on it just bc he brutalized a woman pic.twitter.com/AY89gmMADR

— tender green life 🔋 (@computercart) March 26, 2023
Photos courtesy of Avalon Red.

Jonathan Majors at Creed III film premiere at Cineworld Leicester Square in London, UK, 15 February 2023,Image: 756345895, License: Rights-managed, Restrictions: , Model Release: no, Credit line: James Shaw / Avalon
HOLLYWOOD, CALIFORNIA – FEBRUARY 27: Jonathan Majors attends the Los Angeles Premiere of "CREED III" at TCL Chinese Theatre on February 27, 2023 in Hollywood, California.,Image: 759431241, License: Rights-managed, Restrictions: , Model Release: no, Pictured: Jonathan Majors, Credit line: Jeffrey Mayer / Avalon
Jonathan Majors arrives on the red carpet of The 95th Oscars® at the Dolby® Theatre at Ovation Hollywood on Sunday, March 12, 2023.,Image: 762316040, License: Rights-managed, Restrictions: , Model Release: no, Credit line: – / Avalon