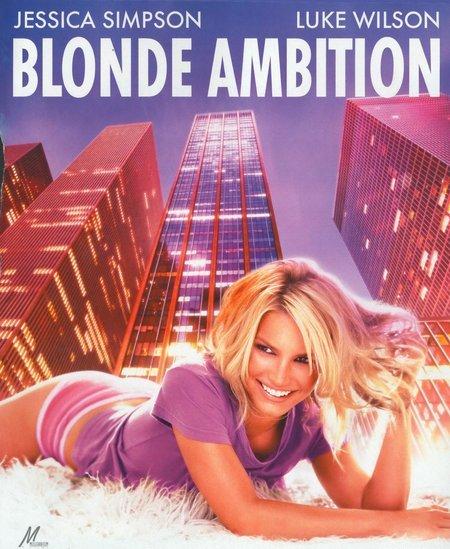 Jessica Simpson's career – and life in general – seem to be headed for the $4.99 bin at Walmart. While her younger sister Ashlee's career has gone reasonably well in the last year, Jessica's has tanked since she divorced Nick Lachey. To be fair, Ashlee's career never hit the sane high point as Jessica's, and she seems to have established a slightly lower profile, but more stable image. Instead of working her way out of her career slump, Jessica has been in a string of B, C, and now D movies. Her latest effort, "Blonde Ambition," is an all-time low: the studio that made it has decided not to even waste anymore of their time and money by releasing the movie to theaters. Instead they're saving themselves the embarrassment and making "Blonde Ambition" a straight-to-DVD release. So that pretty much puts it in the same ranks as 'Honey I Blew Up the Kids," and the even better 'Honey We Shrunk Ourselves." Congrats, Jessica, you are our generation's Rick Moranis. It was only a matter of time.
Maybe Jessica Simpson should stick with reality television – her latest attempt at big screen success won't even make it to the big screen. Blonde Ambition, as Us first reported in August, is going straight to DVD.

A January 22 release date has been confirmed for the romantic comedy costarring Luke Wilson. "The movie is absolutely horrible," a source told Us in August. "It's just a bomb, mainly because of Jessica's acting."

"It's definitely a theatrical release," Simpson's rep insisted at the time. It's now selling for less than retail.
[From Us]
It's really unfair to do that to Luke Wilson's career. You know he was only in your movie as a pity actor Jessica. I never thought I'd say this, but you should take a piece of advice from the Paris Hilton School of Celebrity. Some people are famous for their talent, some for their brains, and some for their bodies. And some are famous just for being famous. Your career was going best when you did a little bit of reality TV and made a lot of appearances at clubs and trendy restaurants. Your most valuable asset is your fame, not your talent. Work what you've got left.
Here's the "Blonde Ambition" trailer. Viewer discretion is advised. Because it sucks.