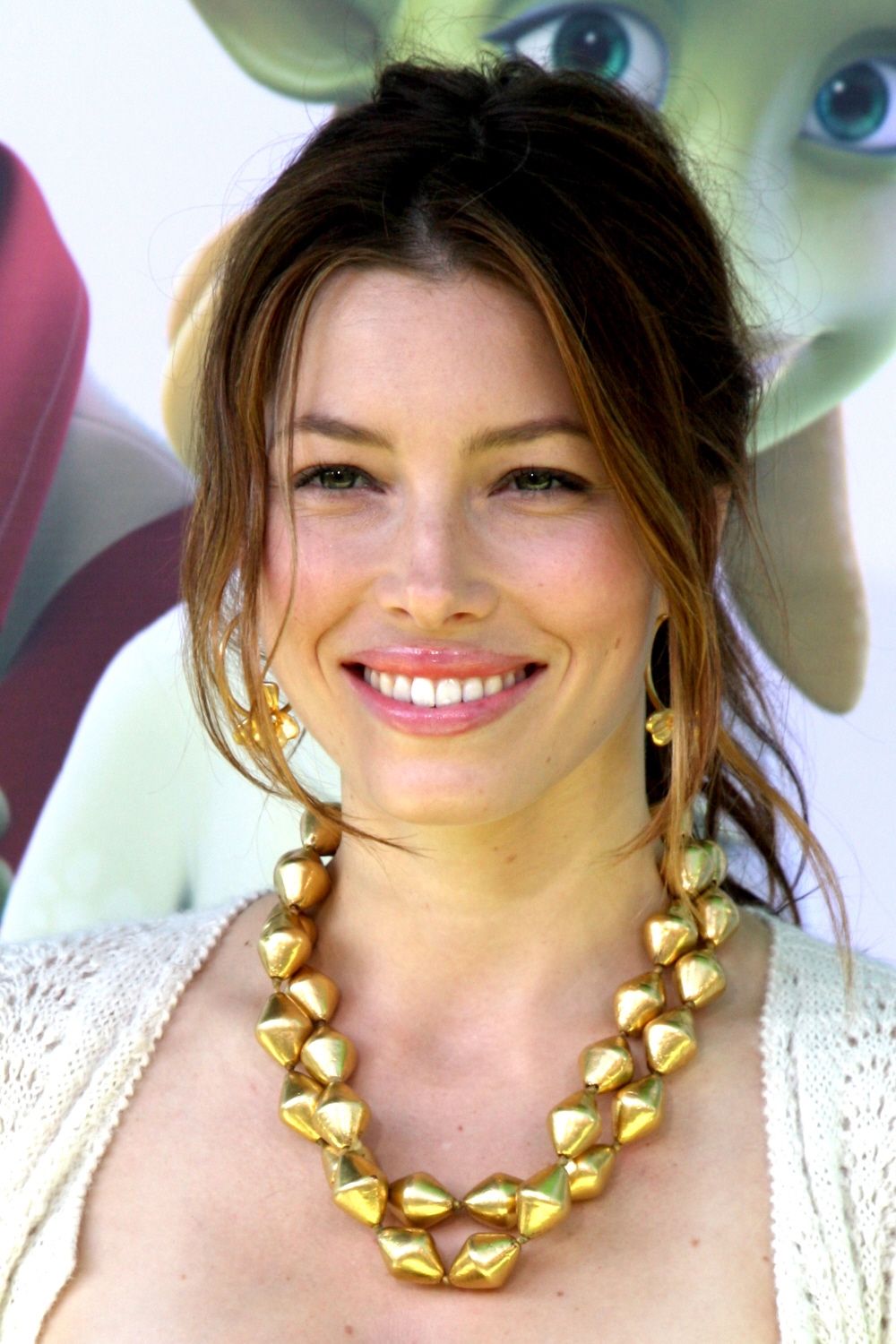 Mother of necklace! Look at this thing! These are photos of Jessica from this past weekend, where she walked the red carpet for the premiere of Planet 51. The outfit is sort of cute, but what's with the cheap, huge necklace. Actually, I bet it's not cheap. She probably paid a lot of money for that fug piece of jewelry.
Now, Jessica talked to Fox News Pop Tarts about her life and career, which is always a good interview. This girl can't speak to a reporter without farting out some nonsense about how gorgeous she is or how she's too beautiful to get the challenging work that she needs. In this interview, Jessica starts out talking about how she would "really like" to do a Broadway musical and find a way to "incorporate my music" into her acting career. Ha! Okay, I'll stop. Then Jessica talks about the struggles she went through growing up, fighting "overconfidence" and "insecurity". Yeah, I think she's dealt with that:
Could we possibly see a collaboration between Jessica Biel and her on again/off again beau Justin Timberlake? After all, the actress has strong intentions to return to her first love – singing.

"I definitely want to do it again, I've been dabbling here and there but I would really like to do Broadway or a movie musical, that would be a huge dream come true," Biel told Tarts while promoting her new animation flick "Planet 51." "I would love to incorporate my music naturally into my day job."

And despite spending her teen years growing up on "7th Heaven," it turns out that Biel herself was no angel.

"Being sixteen was so hard. You're changing physically; you're searching for who you're going to be as woman. You're fighting with this feeling of over confidence, but there is so much insecurity – how do you deal with boys? I was going through it, definitely pushing the envelope with authority and my parents," she explained. "I was scared to grow up, but at the same time I just wanted to grow up."

And although Biel gets to play at least the voice of a strong willed, moralistic teenager in "Planet 51," she's sick of the fact that there are pretty much no roles in Hollywood flicks that portray women in a strong, positive light and that can appeal to the whole family.

"It seems a lot of the time it is playing second fiddle to a male character which is never a bad thing, but where are the roles for the female experience from that (strong, admirable) point of view for the young college girls, mothers and grandmothers? A lot of actresses I speak to find the same thing," she added. "We're all scrambling for it when something good comes out that actually has a good female character."
[From Fox News Pop Tarts]
Okay, here's the thing: I know that when a celebrity or actress isn't getting hired for anything, she's supposed to go out to red carpets and give lots of interviews, all in an attempt to get her name out there and force producers to take notice. My problem with Jessica Biel is that when she does it, she always sounds so arrogant and delusional. I mean, she did a minor musical (Guys and Dolls) in Los Angeles, and suddenly it's like in her mind, she's the second coming of Julie Andrews. When she talks about her ideal roles, she doesn't say "Oh, I love to be in the Twilight movies, that would be so cool!" Instead, she gets on her high horse and says crap like "Well, I'm clearly familiar with the films. I haven't read the books, but I haven't seen any of the films yet so I'm not that familiar — I know the idea of what it's about. I mean, maybe [I'd be in the next Twilight film]. That would be lovely. I am not opposed to playing a vampire." I'll give her credit for not being riddled with insecurity, like so many celebrities – but I think Jessica's problem is that she thinks she's God's gift. And she's not.
Here's Jessica and her massive necklace at the premiere of 'Planet 51' on November 14, 2009. Credit: WENN.