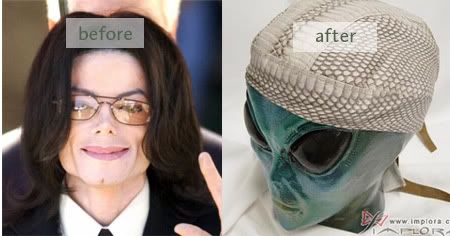 That's not really true. Starpulse ran a story today that Michael Jackson is planning to change his whole image to become a bald ripped rapper. The story is overhyped and based on an MTV interview with DJ Cool Kid, who hung out with Jackson in Bahrain and simply recommended an image makeover.
Kid DJs parties for the Bahrain royal family, where he met up with Jackson at the palace:
"You can't talk to Mike all fluffy like everyone does," he continued. "I got him to curse — he said 'sh–.' I told him he needs to cut his hair, get some million-dollar earrings, get a million-dollar watch and take all them spaceship clothes off. He said, 'I have to change my whole outlook.' He said he was trying to work out."
Kid also said that he wanted to arrange a collaboration between Jackson and 50 Cent, but he's just being kind and it's never going to happen.
Jackson has been living in Bahrain since he was acquitted of molestation charges last year. Neverland Ranch has been closed and most of the workers there have been laid off.
Meanwhile Jackson is still battling for custody of the two children he supposedly fathered with Debbie Rowe. A Judge ordered that the motion which Rowe made to terminate her rights to the children in 2001 be resubmitted, and said that the paperwork for the case is incomplete and not up to date.