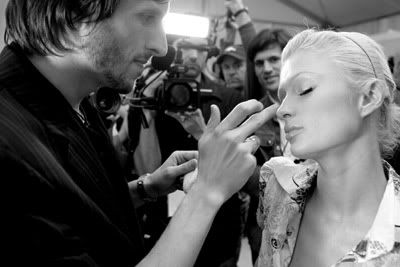 Three 6 Mafia just announced that they will be producing tracks for Paris Hilton's new album. The girl convinced them to work with her when they met up at the Winter Music Conference in Miami last weekend. It turns out all she had to do was ask:
"We ran into her at a William Morris Agency party and she said she liked our song 'Stay Fly' and asked could we work with her," Jordan 'Juicy J' Houston told the Memphis Commercial Appeal. "We let her listen to a dance track and she really liked it and plans to record it."
"We're just getting in the studio and putting together some more tracks for her." "From there, we'll see, but it will be a blast working with Paris Hilton. I mean she is Paris Hilton."
Maybe Paris is clever after all.
We have two sets of recent pictures of Paris. In the black and white photos taken at Fashion Week in LA she is shown backstage at Louis Verdad and also preparing for the 2BFree show. She is on the set of The Simple Life on 3/23 in the color pictures. [via]
Three more of Paris filming The Simple Life after the jump.