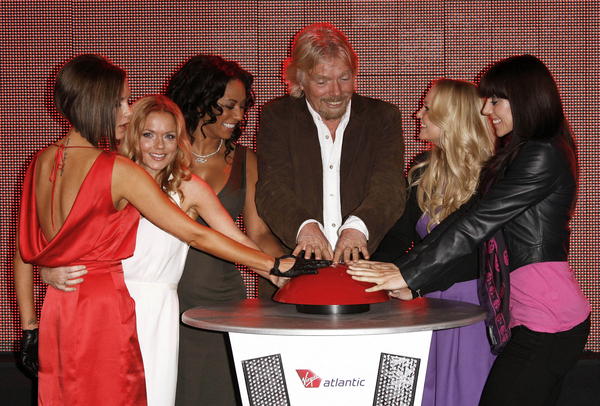 The Spice Girls must have the most restrained and logical concert rider in history. We recently reported on some of the crazy celebrity contract riders as mentioned in the book "The Little Red Riders Book: The Backstage Requests Of Rock 'n' Roll's Most Famous Artists" by Steve Lamacq. Among a few of the better ones were Mariah Carey's request for Cristal champagne, one box of bendy straws, one special attendant to dispose of used chewing gum, tea service for eight, a Honey Bear pack of honey, two air purifiers, a puppy, and kittens. And Mariah's request were certainly not the most outlandish. Marilyn Manson requested a bald toothless hooker (which we hope was simply a reflection of his dark sense of humor) while David Hasselhoff requests a life-size cutout… of David Hasselhoff. I'm assuming frozen in that dramatic beach rescue running pose.
By comparison, the Spice Girls don't exactly seem like the divas they used to be portrayed as.
All five have submitted a rider asking for a regular supply of light salads, steamed fish and fresh fruit. Geri Halliwell has asked for Evian and Melanie Brown will have sparkling spring water. [Melanie] Chisholm wants a kettle in her dressing room, Emma Bunton will have scented candles, slippers and flowers while Victoria Beckham's fridge will be replenished daily with edamame soya beans.
[From the Daily Mail]
The most lavish thing the girls have requested is a daycare to be installed at London's O2 Arena, where they're playing 17 sold-out dates. Considering all the kids and nannies they'll have in tow, it seems pretty reasonable.
The Spice Girls have had a creche [daycare] installed at the O2 ahead of their 17 nights of sell-out gigs.

The group – who, with the exception of Melanie Chisholm, are all now mothers – have requested the facility so their small army of child-minders can keep the children occupied during their two-hour concerts, which start tomorrow.

An insider said: "They all want their babies close by and looked after, so their nannies also come with the package."
[From the Daily Mail]
When I first started researching this story, I assumed it would head in the direction of "Spice Girls have crazy diva demands." I also assumed a creche was some type of fancy air ionizer or something. Since the article just called the arena the O2, I was thinking oxygen. So I was mightily disappointed – though impressed – that the girls were just asking for a quiet, fun place to put their kids. So far their concerts are getting pretty good reviews. Emma Bunton took a spill during a show last week and sprained her ankle, but has continued to perform, despite her leg being wrapped and hobbling around on crutches. Say what you want about their talent, but either they're keeping their petty differences to themselves, or the Spice Girls are – at the very least – consummate professionals.
Picture note by Jaybird: Header image of the Spice Girls (with Sir Richard Branson) opening Virgin Atlantic's new terminal at Heathrow Airport yesterday. Images thanks to PR Photos.