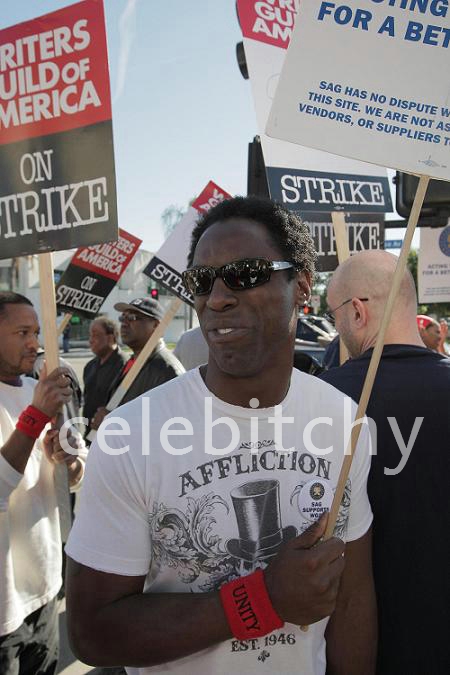 Talk about awkward. Former cast member Isaiah Washington joined the cast of Grey's Anatomy on the WGA picket lines on Wednesday. Washington was fired from the show after he "reportedly" referred to gay castmate T.R. Knight as a "f*g." According to pretty much everyone who was there and has talked about it, Washington was referring to Knight. According to Washington, he was referring to himself and/or Patrick Dempsey (depending on which of his interviews you read) in a derogatory manner. However he definitely repeated the word at the Golden Globes, leading to one of the most awkward cast interviews in history.
The WGA dubbed Wednesday "Diversity Day," and requested that writers and actors who are gay or a minority show up on the picket line. Washington is currently on NBC's "Bionic Woman."
Even without a script, the cast of "Grey's Anatomy" generated plenty of drama Wednesday when they showed up to support picketing writers outside the fabled Paramount Studios lot. Katherine Heigl, who plays Izzie Stevens, and T.R. Knight, who plays her on-screen love interest George O'Malley, were posing for pictures and giving interviews – when controversial former cast member Isaiah Washington showed up. Washington, who played Dr. Preston Burke, was fired from the show in June amid tension that began when he allegedly used a gay slur to refer to Knight and used the word again during a Golden Globes appearance.

He has since apologized, met with gay leaders and checked into rehab on the advice of his handlers. Grey's creator and writer Shonda Rhimes [who made the decision to fire Washington], considered one of the most powerful black women in Hollywood, was among those picketing at Paramount. Asked if Washington was with the Grey's group, Heigl, who had previously publicly criticized Washington told The Daily News, "He's not with me."

But Washington denied there were problems with his former co-workers. "They're former castmates. I've been in over 25 movies, I have lots of former castmates." he said.
[From the Daily News]
Sounds like a pretty awkward reunion to me. And while I'm sure Isaiah Washington has lots of former castmates, to my knowledge he hasn't referred to any of them with unsavory gay slurs. Frankly if I were in his shoes, I would try to keep a low profile for a few years and do my best to keep getting steady – but not attention-producing – work.
In other WGA strike news, there are some pretty loud rumblings that all of the late night hosts – including Jay Leno, Conan O'Brien, David Letterman, Craig Ferguson, and Jimmy Kimmel – will be returning to their shows in mid-to-late January. Though they all stood by their writers and refused to cross picket lines from the beginning, their shows have lost a massive amount of viewership and most of their staff and crew have been fired. No word on how they'll return. One would assume less or no monologues or sketches, so probably a mostly interview format. Here's a funny video about the strike starring Saturday Night Live cast member and writer Fred Armisen as fictional studio head/Alliance of Motion Picture and Television Producers member (they're the Writer's Guild's foes) Roger A. Trevanti.