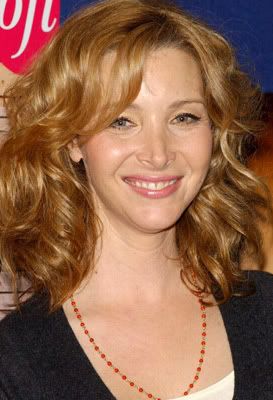 First aging alcoholic Kathleen Turner had everyone buzzing that a Friends reunion was in the works by saying that she was approached to reprise her role as Chandler's mom. Then Lisa Kudrow supposedly said that one of the guys was holding up a reunion. Now Kudrow is saying that's just a rumor and there was never a Friends reunion planned:
Lisa Kudrow has ruled out the possibility of the Friends cast reuniting any time in the near future.
The news puts paid to recent speculation that NBC was hoping to persuade the stars to return for a limited number of episodes later this year.
"It's not even a little bit true," Kudrow insisted in an interview for the Paul O'Grady Show. "Not even any part of it is true. It's just not possible."
A Friends reunion seems to be wishful thinking by fans, and it's too bad it's not happening. It seemed like it was being planned, but with all this conflicting information it may have been canned in the early stages.
Here is Kudrow last night in London to launch the 20th London Lesbian and Gay Film Festival. She was promoting her film "Happy Endings."
The film features Kudrow as a neurotic counsellor at an abortion clinic, who is blackmailed over an affair with her now-gay step-brother.