The world's most famous porn star Jenna Jameson was on Oprah Tuesday as part of a "very special" report on women and erotica. Jameson initially showed off her waterfront mansion and her cute seven month-old twin sons in a pre-taped segment. (Photos are below.) Her face looked very puffy and cat-like and I had a hard time paying attention to what she was saying because she looked so strange. During her introduction segment, she complained about all the waxing, shaving, and maintenance required of her as an adult film actress, which was ripe coming from her puffy lips and tight face.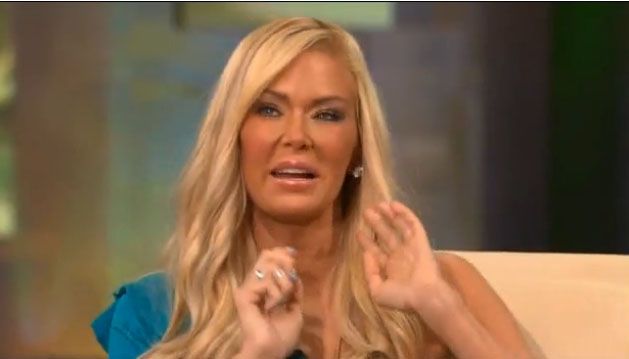 Jenna said with no sense of irony. "The most important thing [in the industry] was having a boob job. I've had my breasts done quite a few times. Don't do it. The biggest mistake I ever made. So, I got them completely reduced. Constantly having to tan and wax and shave and tattoo your eyebrows. It is a non-stop monsterization of your body." We can see that, Jenna. You could have stopped when you retired.
In her interview with Oprah, Jenna said that she sometimes wonders if she made the right decisions in her life, but that she doesn't have regrets. "This was something that I excelled at and I knew that I was going to make a lot of money." Oprah pressed Jenna to get into her feelings about it, and asked her about a moment in the taped segment where she got teary-eyed saying that she'd have to explain her past to her sons one day. She said "I do deal with a lot of women loving me, but secretly hating me. As a mother, I care about how they treat my children."
Jenna explained that she hadn't made a movie in over five years and that she's been retired for a while. She said that she's proud of what she's done and "I feel like I made it happen. I love who I am. I love that I can look back and say I did it my way." Jenna kind of glossed over her past and made it sound like she primarily did movies with her then-husband, which was true but not until 2000, when she had already been in the business for seven years. She was also doing a lot of films with women up until she retired:
Jenna didn't grow up dreaming of becoming a porn star. In fact, she says she always imagined having a career like Oprah's. "I always felt like I needed to be in front of an audience, and I wanted to touch people's lives," she says. "You know, I may be touching them in a different way."

As a young starlet in the adult film industry, Jenna says she set high standards and stuck to them throughout her career. "I wanted to be the number one porn star in the world, and I wanted to do it with dignity," she says. "I wanted to change things because this industry was run by men."

While filming explicit sex scenes, Jenna says she called the shots. "I really didn't understand how women could do something so incredibly personal and not be serious about it and say: 'Listen, I am not going to have sex with more than one man in a scene. I'm not going to do it in the back,'" she says. "I changed the industry for up-and-coming starlets."

At first, Jenna says she enjoyed filming sex scenes with different men, but then, she had a change of heart. "In the beginning it was new, it was fresh. I was young. I was crazy," she says. "Then, I ended up not really liking it, not having that connection [and] feeling kind of weird about it."

Jenna decided to take some time off. During that time, she says she fell in love, got married and founded her own company, ClubJenna, which she eventually sold to Playboy for millions.

From the time ClubJenna launched in 2000 until she officially retired in 2008, Jenna says her only onscreen male sex partner was Jay Grdina, her ex-husband and fellow porn star.

"That's a big misconception about me in the industry. They think, 'Oh, she's had thousands of partners. She's a slut. She's a whore,'" she says. "But in actuality, I had sex with my husband most of the time, and I think that that's why my movies sell so well. You can see love."
[From Oprah.com]
I'm one of those women who occasionally enjoys an adult film, and I'm familiar with Jenna's work. I don't know what she's talking about when it comes to the "love" in her films. I've seen her with several men who aren't or weren't her husband and it wasn't like she was this demure actress at all. Maybe that was her early work though and she tried to change her career afterwards. Her stuff with women later in her career wasn't all sweetness and light, either. There was some really rough play involved. She was a hardcore porn star, and she's trying to rewrite her past. At least she's come to terms with it in her own way.
I read her book when it came out and I came away with more respect for her and a good understanding of some of the horrific things she went through, including a gang rape as a teen. She did control her career as well as she could and she wasn't taken advantage of in the industry like so many other women. She's had a lot of hardships in her life, though, and it wasn't like she had a fantastic life and just chose to be an adult film actress and a stripper. She may live in luxury now and talk about her past as if she rode this great wave of porn success, but there's something that's still really troubled about her. Maybe I'm being distracted by her cat-like face, though. Hopefully it will settle. Her kids are cute, they really look like their dad, UFC champ Tito Ortiz.