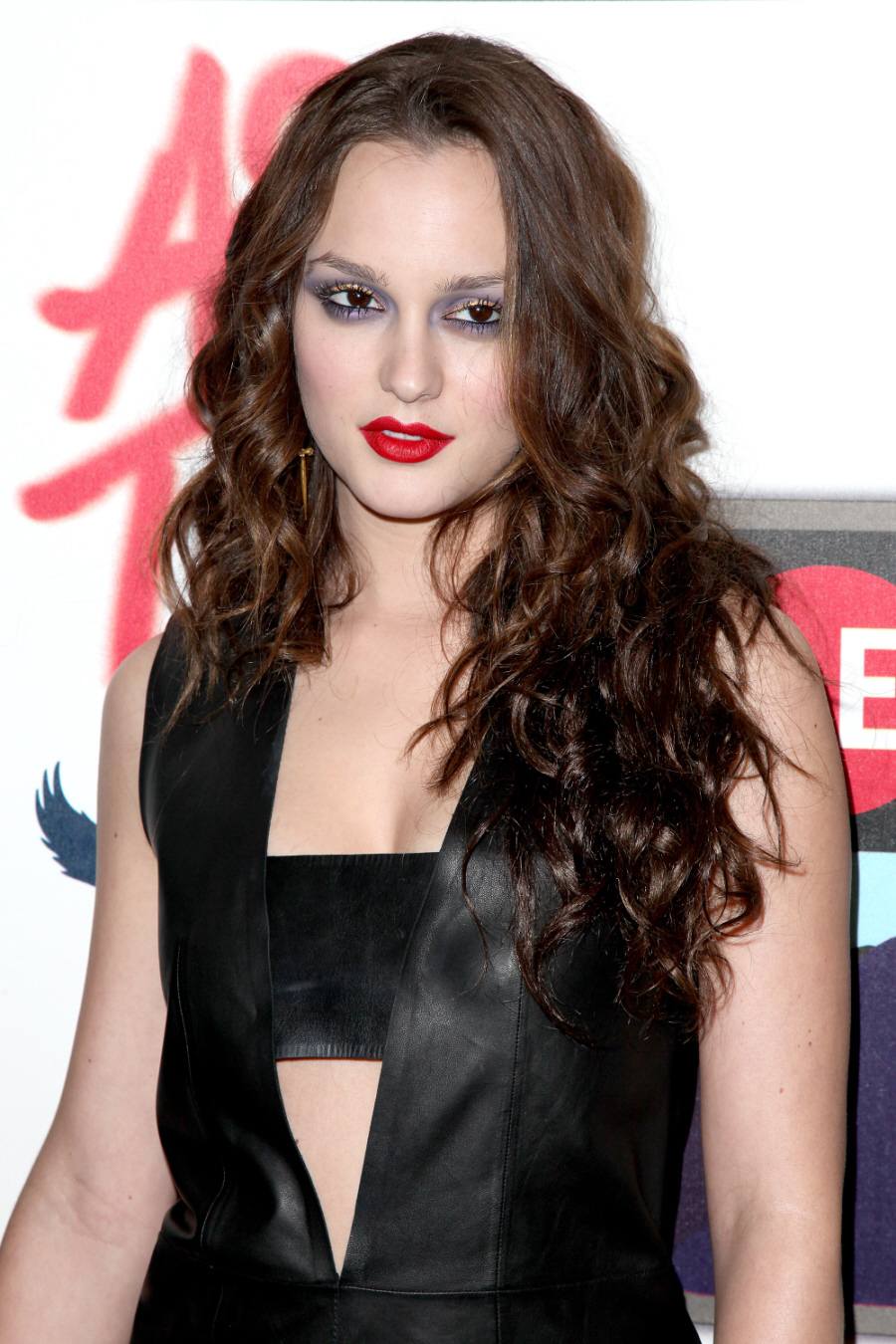 This is Leighton Meester at an American Eagle event two days ago. She looks… horrible. I have no defense of this outfit. I have no defense for the purple eyeshadow (really?) and the too-bright lipstick. I've always thought Leighton was so beautiful, in that adorable, dimpled, sweet way, much like Rachel McAdams. But Leighton tries too hard. I think she resents her dimples. I think she wants to be hardcore, like some vampy bombshell. And she's not. I mean, I'll buy that she's not some sweet-as-can-be little darling. But by trying too hard, she just looks desperate and sad.
But these photos aren't even the only time Leighton has tried to bang into our minds how hardcore she is. The girl also posed for GQ in a leather bustier and a vapid, drugged, trying-too-hard, glazed-over look. Oh, and her legs are spread too. Ugh. Leighton was declared GQ's "Obsession of the Year" in the December issue, and they even sat down for a little interview with Leighton. The writer notes that she "lunges for a strip of bacon" which actually makes me like her a little. But not that much:
Right, we know, we hear you: the girl from Gossip Girl? There isn't a single self-respecting male who watches the CW's lusciously bitchy comic soap about juvenile stylistas navigating the social spiderweb of New York's Upper East Side. Or at least that's what we hear it's about—because, of course, we have never seen this Gossip Girl, and honestly, we had to ask a young woman at work, because we're always riveted by Ultimate Fighting and chain-saw competitions.

"Guys are like, 'My girlfriend watches it, so I watch it,' " Meester says. "But sometimes they watch it on their own. Someone came up to me recently and said, 'I'm a Washington, D.C., police officer, and I tell everybody I'm busy on Monday nights—but I'm really watching the show.'"

If you're still pretending you don't, Meester, 23, plays the decadent heiress Blair Waldorf, whose acid bons mots ("Haven't you heard? I'm the crazy bitch around here") float in the air like the cigarette smoke she'd surely exhale if the CW would let her. Gossip Girl is a showcase of unnatural beauty, but the delicate Meester stands out.

In person, Meester is free of pretension, arriving for a breakfast interview at Manhattan's Chelsea Piers wearing a pair of thick glasses that Tina Fey might reject as being too clunky. This is the paradox of the Meester-verse—"Blair is so controlling and such a worrier; Leighton is relaxed," says co-star Ed Westwick—and it surely speaks to her un-Park Avenue origins. As the tabloids giddily reported last year, Meester was born to a mother who was incarcerated at the time on pot charges, and she has spent the better part of her life on earth shuttling, Gypsy-like, from cramped apartments to soul-sucking auditions. Gossip Girl is the first stable job she's ever had.

"I've finally unpacked," says Meester, who next year will appear as Steve Carell's babysitter in the romantic comedy Date Night. "I didn't expect anything. I'm always like, 'Is the show going to get canceled?' 'Am I going to have to move?' It's hard to have any kind of luck in this business."

Meester lunges for a strip of bacon. Another one of her Gossip co-stars, Chace Crawford, has declared she's a "guy's girl." Meester allows that she's "not high-maintenance," and while she won't bullshit you with a Super Bowl prediction, she can give you five detailed minutes on Ray Liotta in GoodFellas—well, maybe not the whole movie, but one very specific moment in Martin Scorsese's Mob classic. "It's the look Liotta gives Debi Mazar in the bedroom," Meester says. "He's just thrown his girlfriend onto the bed, and when she runs out, he gives this look to his girlfriend's friend—Debi Mazar—as he's coming off the bed…." Meester blushes and fans herself with her hand. "It's the sexiest thing."
[From GQ]
So, is Leighton really this down-to-earth and cool? Or is she trying desperately to change up her image with some trying-too-hard vampy appearances. I guess it's too much to ask that girls fall into either the "Kristen Stewart" or the "Megan Fox" categories. But doesn't it seem like Leighton is actually more Kristen Stewart, but she's trying to be like Megan Fox? That's just sad.
Leighton at the American Eagle Outfitters flagship store preview party in Times Square on November 17, 2009. Credit: WENN. GQ photos of Leighton courtesy of Huffington Post.