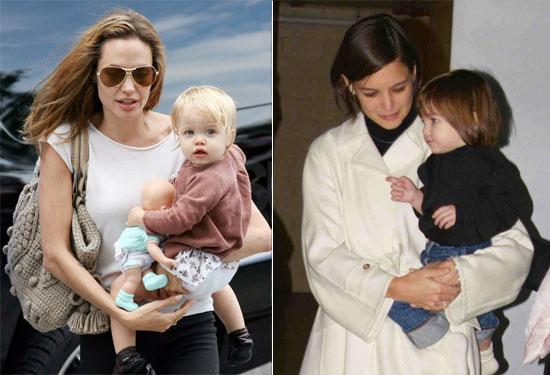 Forbes has just released a list of the most powerful celebrity babies, based on media exposure of the last year. Which is a shame, as I was hoping it was based on super powers. Unfortunately, being the child of Angelina Jolie and Brad Pitt only gives you the beauty gene, not the ability to leap tall buildings in a single bound.
Hollywood's Most Influential Babies

1. Shiloh Jolie-Pitt
2. Suri Cruise
3. Zahara Jolie-Pitt
4. Sean Preston Federline
5. Pax Jolie-Pitt
6. Sam Alexis Woods
7. David Banda Ritchie
8. Dannielynn Birkhead
9(tie). Romeo Beckham
9(tie). Cruz Beckham
While Shiloh might have topped the list for media exposure, I'm guessing that in reality Suri is more influential. She's got the whole cult of Scientology behind her! Head of photo agency World Entertainment News Network Jill Stempel also suggests that Suri is responsible for resuscitating Tom Cruise's career post-couch jumping, making him more human.
Of course, in twenty years I fully expect these babies to be dating each other and getting arrested in awkward circumstances. As the Hollywood Brat Pack of 2027 I'm sure they'll all continue to command a big media presence, but I'm not sure whether any of them will be independently successful as someone more famous than their parents. Particularly if Britney drops poor little Sean Preston on his head again. Then again, some people might have suggested that Angelina Jolie wouldn't ever be more successful than her father John Voight, and she seems to be doing okay for herself.