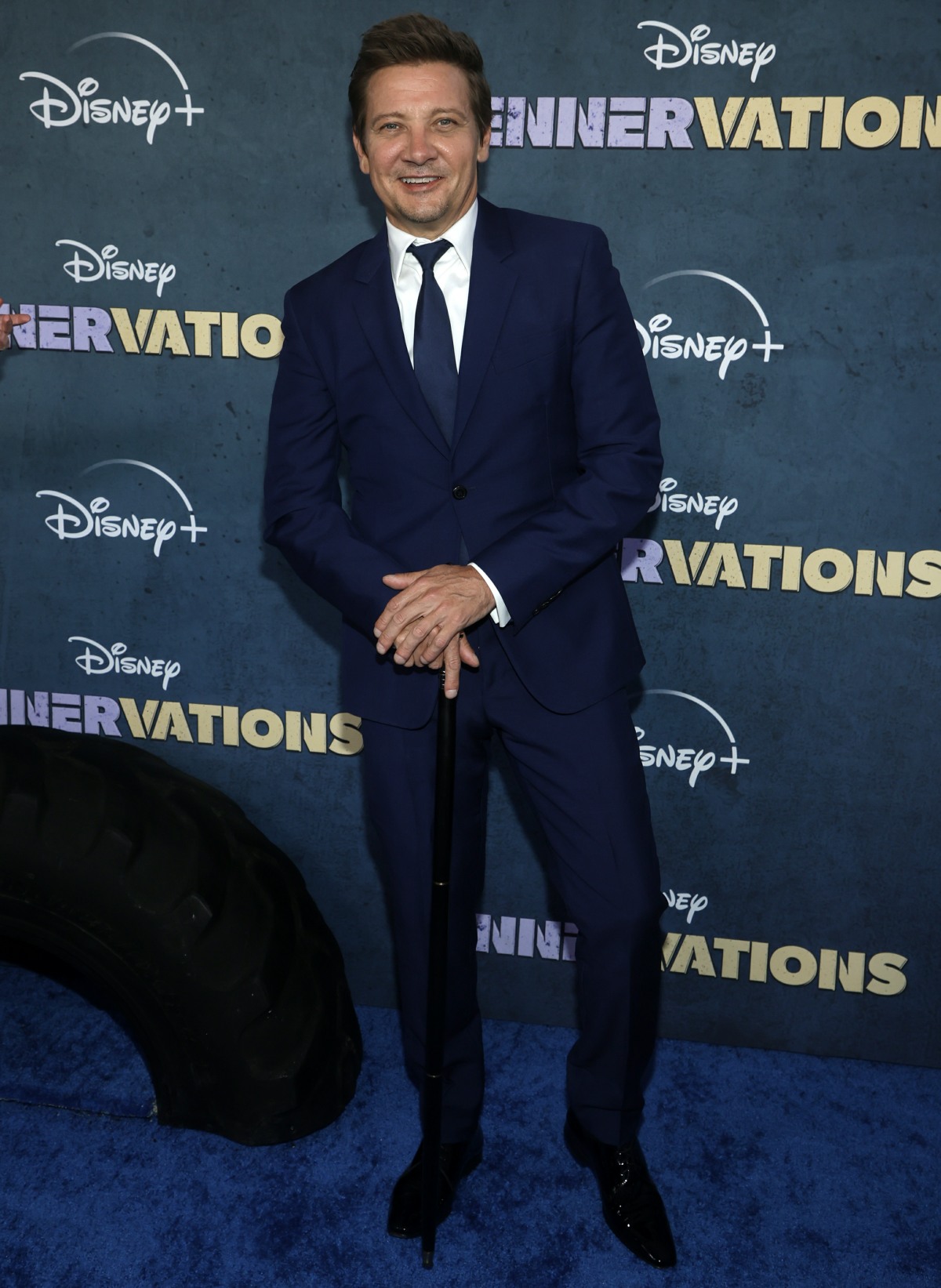 On New Year's Day, Jeremy Renner was trying to help out a neighbor in his Lake Tahoe neighborhood when he was crushed by a snow plow. Renner broke more than 30 bones in his body and for a while, it felt like his family was trying to prepare everyone for Renner dying from all of the injuries he sustained. He was airlifted to a hospital and doctors saved his life. For the past three months, he's been recovering, healing and rehabbing his body. He recently sat down for an exclusive interview on ABC/Disney to talk about everything that happened but I couldn't even watch it (I'm so squeamish about those kinds of body-trauma stories). In any case, Renner walked his first red carpet last night – it was the premiere of his new Disney+ show Rennervations. His daughter Ava was there, as were many of Renner's friends and family. He spoke exclusively to People at the premiere:
"I'm overflowing with gratitude and excitement unlike [anything] I've felt in a very, very long time, you know?" Renner, who was also joined by his family, told PEOPLE while on the red carpet. "Because it's not a movie that I'm promoting, It's not a show, it's my, it's my life, man, this is what I do. My breath is taken away by how honored I am that we're even here even talking about it, you know what I mean? We had people calling me crazy a good five years ago, like, 'What are you gonna do with all these trucks?' Like, 'Trust me, I've got a good idea,'" Renner said.

"I had a vision, but it took a lot of people to help me with the vision though you know? It seems so easy in my brain. Oh, yeah. Right. Yeah, the idea is easy," Renner said, while laughing. "The idea is the easy part, Geez Louise."

He pointed out that the event served as his "first time to kind of get out of my bed and out of rehab and, you know, to be on my feet and be out in the world. It's intense, you know, for me, it's a lot, but it's a step in the direction I want to be going, right? And this is exactly what I want to be doing and exactly where I want my life to be right now."

Asked how he feels to have his family by his side, Renner told PEOPLE, "I mean, it's everything. It's everything. They're the fuel behind a lot of things that I do, and it's nice to be able to share this with them and be a part of it."

He added that little Ava also plays an important role in the show. "My daughter is a big part of the design on some of these, on these buses and these ideas, she's been a big part of that narrative on the show, but also in the behind the scenes of it all. It's great to be doing something you love to do with people you love. That, to me, is like what Heaven is. That's the greatest dessert. That's the greatest, you know, thing I'll ever do. Right? Amazing."
I'm glad he's up and about, although I can't even imagine how much he's pushed himself to recover. If I broke 30 bones? Lord, I would be in bed for a year. I would be afraid to walk or breathe or talk. My guess is that Renner is still on painkillers to deal with what must be a great deal of daily physical pain. He made use of a cane and he seemed to have some kind of roller device on the carpet too. I think he has trouble putting weight on his left leg. Anyway, his recovery is nothing short of miraculous.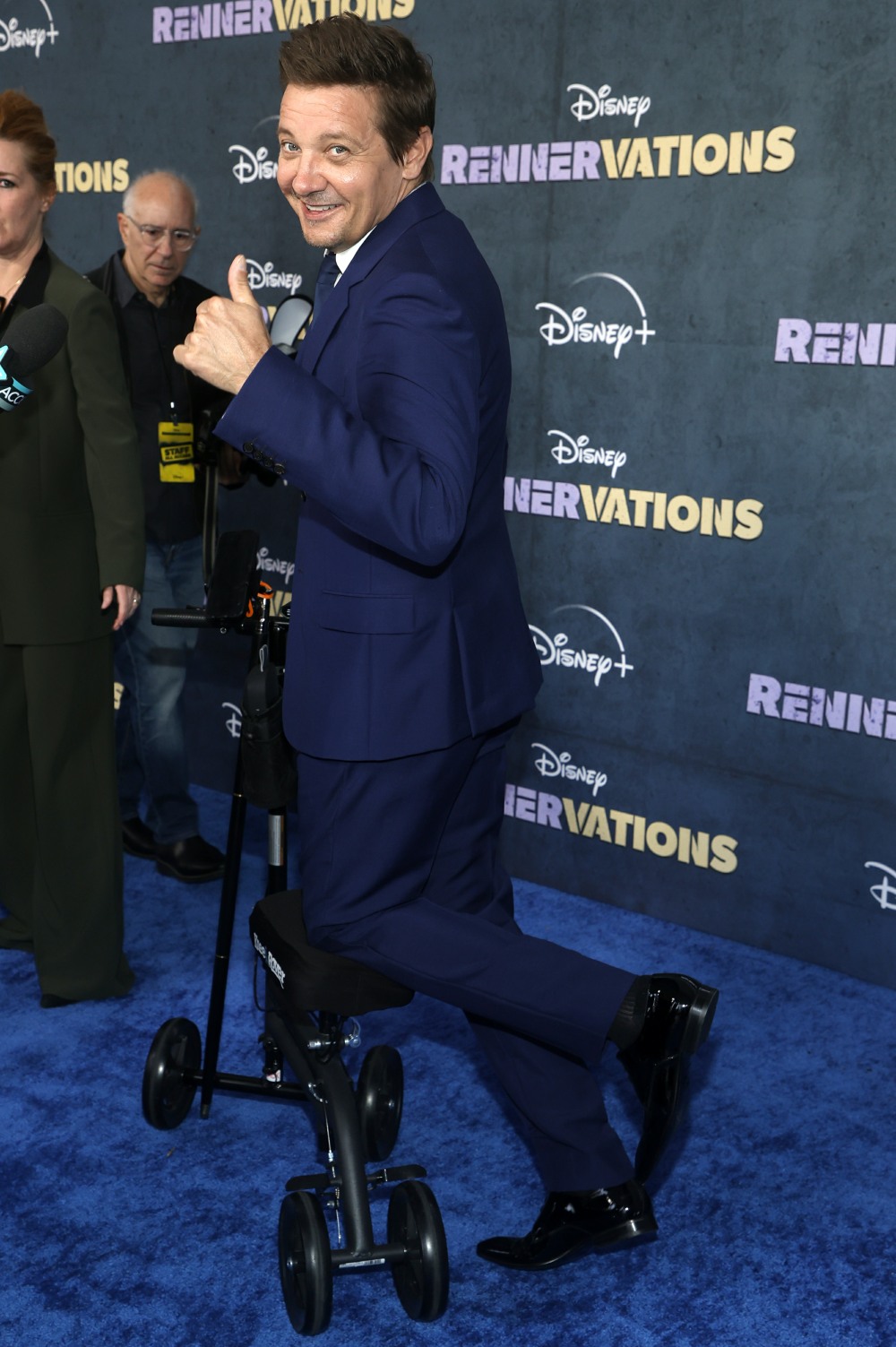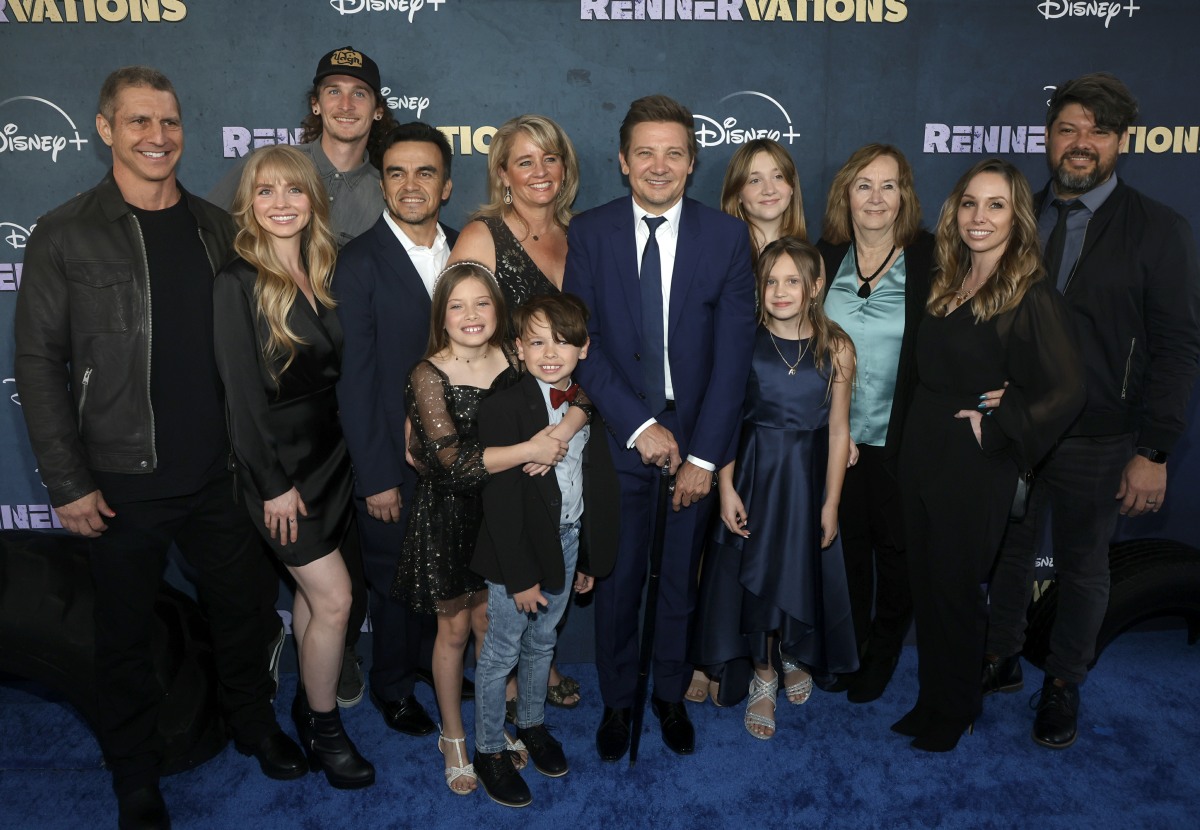 Photos courtesy of Backgrid, Cover Images.