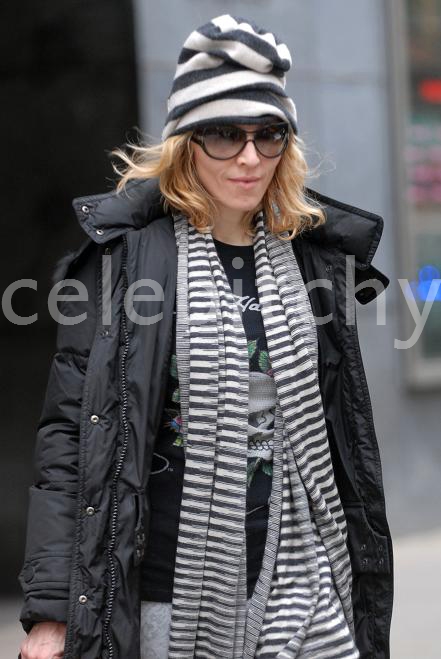 Madonna sounds like a really fun parent. I mean she rebelled like crazy, to the point that she built her reputation and her fame on it. So she's gotta remember what it's like to be young and have unnecessarily strict parents. Remember "Papa Don't Preach?" Yeah that's right; Madonna knows that if you're too strict a parent, your rebellious daughter will end up pregnant and keeping her baby. So she's must be cool, right? Nope, while Madonna may have made a name for herself by being a rebel, she's managed to do it with a Guinness -sized stick up her ass the whole time. Which means that – not surprisingly – she's a total nutcase when it comes to rules and discipline with her kids. The list of "no's" is pretty long – television, red meat, fun, laughter, merriment… in fact I think even childhood is on the list. A while ago we wrote an article about how husband Guy Ritchie said each of their kids only gets three Christmas presents. It turns out the reasoning has nothing to do with Madonna and Guy's involvement in Kabbalah – a form of Jewish mysticism. Apparently the problem is that Christmas is too commercial. Says the material girl. [Yes I stole that joke from Fark. It was too good not to use].
Here's a rundown of the Ritchie's slightly draconian Christmas festivities.
There won't be carols, brandy butter or television. There'll be hardly any presents, and most traditional, seemingly innocent festive fare has been banned. Indeed, a rather restricted version of Yuletide spirit will be in evidence in the $11 million London townhouse where Madonna, her director husband Guy Ritchie and their children Lourdes, 11, Rocco, 7, and David Banda, 2, will spend Christmas Day.

"The deal is that the family hasn't converted to Judaism, but they do celebrate Jewish festivals," a friend says. It's all bracingly pick 'n' mix for the Ritchies. Somewhat breathtakingly, the main reason for not exchanging gifts is that Madonna is very much against the commercialism of Christmas. This seems rather a cheek, given the way she has unblushingly flogged her image and her sexuality in the most commercial way possible for three decades.

The day's highlight will be a low-fat, macrobiotic feast prepared by their chef. (Neither Ritchie nor Madonna cook.) It is highly unlikely to feature turkey, as Madonna has issues with the rearing and slaughtering of poultry. Instead, the "feast" will be based on grains – such as quinoa – and vegetables. Friends of the family say there will be a small amount of unsalted meat for the children and for Ritchie, but salty, fatty treats such as stuffing are completely out.
[From News.com.au]
Lest you think Madonna is just a Christmas Grinch, don't be worried – she's a crazy disciplinarian regarding her kids all year long. Fearful that they won't be mercilessly tormented by their peers, Madonna has piled on the rules. I'm pretty sure when poor Lourdes leaves home, she's going to gain the freshman 50, all on nothing but cream.
Indeed, the festive season is seen by Madonna as no excuse to stint on her punishing health regimen. She has even hired a nutritionist to advise on her children's food. As a result, except for the very occasional ice cream as a treat, they have controlled amounts of dairy food, no cheese, no cream, no salt, no preservatives and no sugar.

"They entertain beautifully, but it isn't what you would call conventional," a friend says. "A housekeeper will set out a great big table covered in stuff, all macrobiotic, which no one dares eat unless Madonna tucks in. They're all terrified of her."
[From News.com.au]
I have to admit, I'm kind of afraid of Madonna too. My God, if she found out the things I said about her, she might stuff me full of quinoa. Seriously, having a healthy diet is great, but when you're too restrictive with food – hell with anything – it makes kids want it more. You have to give in enough so that yummy food doesn't attain this reverential status. Seriously, my mom was that way, and I gained like 40 pounds when I left home. It was donut city. I'm pretty sure poor Rocco is going to do nothing but eat Mounds bars the first time he has a week of freedom from his control-freak mom. Listen Madonna, I know that giant stick helped you attain commercial success, but applying the same principles of uptight rigidity might not be the most successful way to raise a happy family.
Picture note by Jaybird: Here's Madonna out and about in Manhattan on December 9th. Images thanks to Splash Photos.