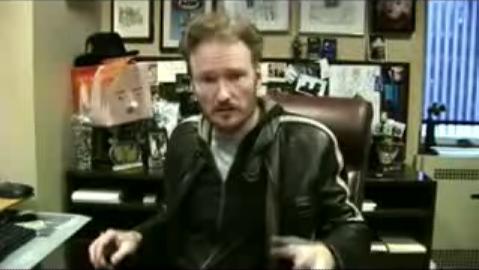 Last week we briefly mentioned that there was a possibility that the late night talk show hosts would return to work in the next few months. It's looking like that will definitely happen, and all five of the hosts are trying to coordinate their return so they all come back on the same night. Their hope is to avoid some of the ire of the WGA and skirt the criticism that Ellen DeGeneres and Carson Daly received when they returned to work. Ellen hardly stopped work at all – a week at the most – and Carson returned a few weeks ago. Jay Leno, David Letterman, Conan O'Brien, Jimmy Kimmel and Craig Ferguson are all talking with each other behind closed doors, trying to agree on a date when they'll all go back to work.
If the late-night shows go back into production before the strike is settled, at least some members of the Writers Guild will understand – the late-night comedy writers themselves. "We will never be able to repay [Letterman] for what he did for us," says "Late Show" writer Bill Sheft, who also serves as the show's union rep for the Writers Guild. "Dave Letterman on the air without writers and pissed off about it would be as powerful as anything we [union members] can do. He will rail nightly at the greedy pinheads that put him in this position.

"He made the right decision, and when and if he decides to come back, it will be the right decision," Sheft said. Letterman was the first late-night host who said he would continue to pay his staff out of his own pocket while the strike was on. The other late-show hosts soon followed when the networks began informing the idled late-night staffs that they would be laid off. "We understand the 'Late Show,' " Sheft says. "The fact that other shows fell in line after him is enormous . . . We can march in a circle all day and blog all we want, but, to me, he's been an off-air supporter. Maybe his greatest potential is as an on-air provocateur."

"Believe me, all these guys are going crazy," says one late-night talk show executive. "They've had to sit on the sidelines for the last six weeks and watch the world go by without having their soapboxes. It's hard for them, and it's getting harder "The fact is they're talking, but no one wants to be first or the only one, for that matter," says a knowledgeable network executive. "But I think their power will come in their solidarity. It's a hot potato."
[From the New York Post]
It actually does make a lot of sense that the late night hosts could be very vocal advocates for their writers if they choose to come back on the air. It seems like they've done the best job they could, and will have stayed off the air for several months in a show of support. A lot of crew and staff members lost their jobs, and most of the late night hosts covered their salaries themselves. If they're on the air and able to plug their writers every night, that could actually be a good thing. And considering how supportive all the hosts have been so far, I think that's a reasonable expectation.
In more lighthearted news, both Conan O'Brien and David Letterman have been showing off their "Strike Beards." Conan even made a YouTube video plugging the strike beard. That's really not fair, as a woman I can't show my solidarity by growing a strike beard. I'm trying to figure out what I could do instead… strike hairy legs? Yeah, I'm going with that. "No I'm not lazy, I'm supporting writers!" I will be so extra-dateable now.