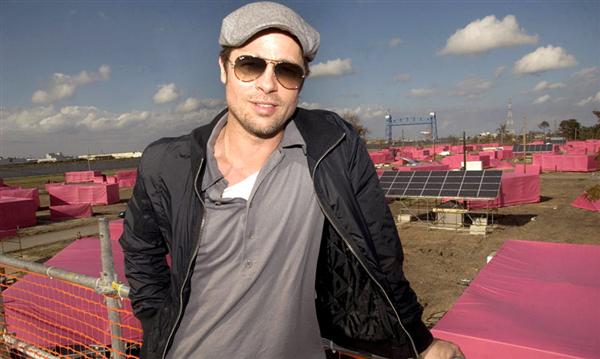 Although Angelina and Brad drive a Range Rover and the family routinely flies private jets and helicopters, they seem to be trying to change their emissions-heavy ways, at least superficially. Pitt may have been influenced by his work with Global Green because when German carmaker Audi asked Brad if he wanted a car and driver for the L.A. premiere of Oceans 13 he asked for a hybrid. Audi does not yet make a hybrid, but Pitt's request is said to have influenced them to create a low-emissions vehicle:
[Brad Pitt] convinced German car company Audi to go green, according to a source! In June, for the LA premiere of… Ocean's Thirteen, Audi offered Brad a car and driver. He requested a hybrid SUV, but the luxury carmaker didn't have one. But now, thanks to Brad, they are making amends. The Audi Q7 V6 3.0 TDI, which features an ultralow-emissions diesel engine, will hit car lots in late 2008.
[From Star Magazine, print edition, December 24, 2007]
Maybe Audi was going to make a low-emissions diesel engine anyway, as there's a definite demand for it, especially in the European market. It sounds convenient to say Brad influenced them to do it, but it could be true. Celebrities have a lot of pull with that sort of thing.
Brad is raising awareness for his "Make it Right" campaign to build eco-friendly homes in New Orleans 9th ward. He is raising money for the homes, which cost approximately $150,000 each to build and will house families displaced by Hurricane Katrina. The future locations of the houses are currently marked by bright pink tents to draw attention to the cause.
Pitt jokingly told a Newsweek reporter that he would do a nude calendar to raise money for "Make it Right," but since he's nearly ruled out future nude scenes in films, it sounds unlikely:

Are you handy with a hammer, or do you al­ways hit your thumb?
No, I'm all right. I'm pretty good.

Do you wear a tool belt?
[Laughs.] Where are we going with this? Yes, and I do it in the nude.

You could do a calendar.
Yeah, to raise money. If I get desperate that will be next.

And Chippendale's.
Oh, dear God.

If we go out for lunch, will I have to pay?
Give me a call next year and we'll see.
[From Newsweek.com]
Pitt is working hard for the cause, so you have to give him credit. He doesn't have to get nude to bring attention to his charity projects, but of course it wouldn't hurt. The tool belt could be strategically placed for modesty, and according to some reports it's not like he would need an exceptionally large hammer. (We've all seen it by now, so you know I'm sort-of kidding.)