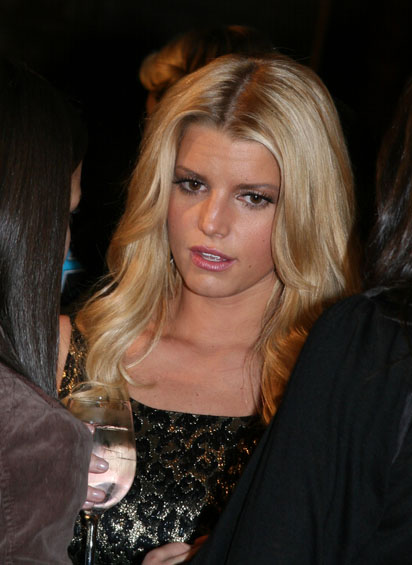 Update: Cara covered this same article, and she noted that Dallas was expected to easily win.
Here's Cara's take on it:
Jessica Simpson has officially earned the title of jinx. She has become the Yoko Ono of football thanks to a poor performance by Tony Romo during Sunday night's game against the Eagles. I believe I saw this coming earlier when Tony dumped Carrie Underwood to focus on his game.
"Sadly, having Jess in the stands was not exactly good luck for Tony, who not only lost the game, but also had his worst day ever as a starting quarterback."
She did her girlfriend duty by supporting her newly found man of the month. Jess watched the entire game with looks of distress at every dumped play. She even donned a pink #9 Cowboys jersey. But all the positive juju couldn't stop Tony and his bruised thumb from loosing the game 10-6.
Dallas was expected to easily overtake Philadelphia. The Cowboys boast a 12-2 season while the Eagles are last in the NFC East with a 6-8 standing. The fans began pointing the finger at Tony's lack of a touchdown (for the first time this season) at Jessica's presence. Fans held up signs reading, "Tony, Dump Jessica and Marry Me!" Several members of the Cowboy crowd let Romo know their discontent by shouting, "Worry about the game and not your girlfriend!"
We will have to see if the force field of Jessica's bosom can hold on to Tony. After getting rid of Carrie due to football, I am sure it is only a matter of time before Jess and her oblivious nature become baggage. As long as she doesn't feed her football player fetish by latching on to any Chicago Bears, I am kosher.
---
Original article by Celebitchy
: I don't pretend to have more than a passing interest or basic understanding of football. And by passing interest I mean staring at the guys' asses when a male family member forces me to watch the occasional game after a large meal. From what I understand they're supposed to take the ball and run to the side that's guarded by the opposite team. It's vastly more complicated than that I know, but I'm not really that informed about it and reading the
wikipedia
explanation of the rules only made my eyes glass over.
But even I can grasp the sheer level of failure that Jessica Simpson inspired her new boyfriend, Dallas Cowboys quarterback Tony Romo, to achieve. The guy played his worst game – ever – the first time Simpson was in attendance. The Cowboys lost to the Philadelphia Eagles 10-6 on Sunday, with Romo receiving the worst statistical rating of his career. Jessica was shown on the jumbotron with her trademark vacant expression and long curly extensions, doing her best to look interested while completely ruining her man's concentration.
Wearing a pink Cowboys jersey (with Romo's No. 9 on it) and mouthing his name, Jessica Simpson made a surprise appearance at Texas Stadium Sunday to watch her new Dallas Cowboys quarterback beau play the Philadelphia Eagles.

Not only did his team lose 10-6, the Associated Press reports, Romo's quarterback rating of 22.2 was also the worst of his career. He completed 13 of 36 passes for 214 yards with no touchdowns and three interceptions.

Tim MacMahon, who blogs the Cowboys games for the Dallas Morning News, wrote, "No wonder Tony Romo hasn't completed a pass. Jessica Simpson, wearing a white-and-pink Romo jersey, is sending him bad vibes from a luxury suite.

"Jessica Simpson owes it to her man to leave at halftime, although that would mean sacrificing valuable face time on national TV. Don't count on it."
[From US Weekly]
US also had the video below of Jess looking perplexed at the game. This week's In Touch notes that Romo brought his parents to the airport to meet Jessica when she made a quick stop in Dallaswith her dad. Romo also spent Thanksgiving at Jessica's family's house and is said to be a favorite of her protective dad, Joe. He seems to be really into her if he's introducing her to his family, but after she ruined his game how long is it going to last?
US Weekly mentions that Romo's second worst performance ever was when his then-girlfriend Carrie Underwood attended one of his games. It seems like a curse for the quarterback. Maybe he just can't concentrate when he knows that a girlfriend is watching him, and this could doom all his relationships. He probably values his multi-million dollar career more than any relationship, and is more likely to break up than jeopardize all he's worked for. The best course of action for Romo would be to tell his next girlfriend to stay home. And I'm sorry to word it like it's inevitable, but Jessica doesn't exactly have the best track record with keeping a man, and Romo doesn't seem the super loyal type.
Jessica Simpson is shown at the ACE awards on 11/5/07, thanks to PRPhotos.