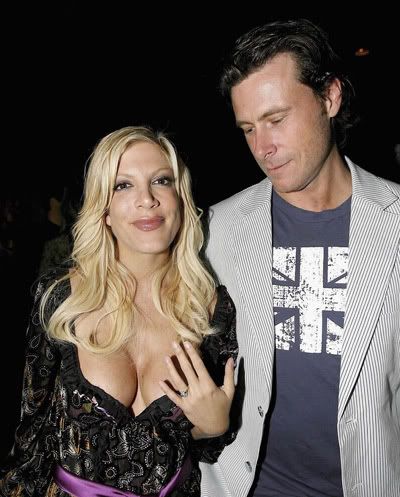 So we've all heard about Tori Spellings new psuedo-reality series on VH1, "So NoTORIous." The NY Times reports how Tori came up with the idea for the show and tried to sell it to different networks. She made a scrapbook of her most embarassing moments and described them to network executives in her pitch. Last year, NBC almost picked up the pilot for the Fall, but backed out.
She… showed them a scrapbook of her most embarrassing public moments, as captured by the tabloids, and seemed happy to go into detail about each incident. (No, she does not have cellulite, she told the writers, but yes, she does pick her nose.) Mr. Chessler said they were charmed. "It was very engaging and winning to hear somebody that self-aware," he said.
Armed with the scrapbook, Ms. Spelling went to the networks with the idea for the series, and NBC bought it. When the writing process began, the two writers and Ms. Spelling discussed the show's parameters: was anything off limits? Ms. Spelling said, "I was, like, 'Literally, anything you've ever read about me, true or false: go for it.' "
At first, Mr. Chessler and Mr. Alberghini said they couldn't believe she meant it. "Mike or I would pitch something," Mr. Alberghini said, "and Tori would go, 'Yeah, but, I think it would just be funnier if we said I have buggy eyes.' And we'd be, like: 'Wow! O.K.!' "
After NBC decided not to run the show, VH1 picked it up as its first scripted series.
We didn't know the show's history and that's great that Spelling came up with the idea to mock herself. We have more respect for her now and hope the new show is a success.
Here's Tori at the So NoTORIous party in LA on 3/28 with her branded fiance, Dean McDermott.
Pictures [via]
And here's a promo for her show.