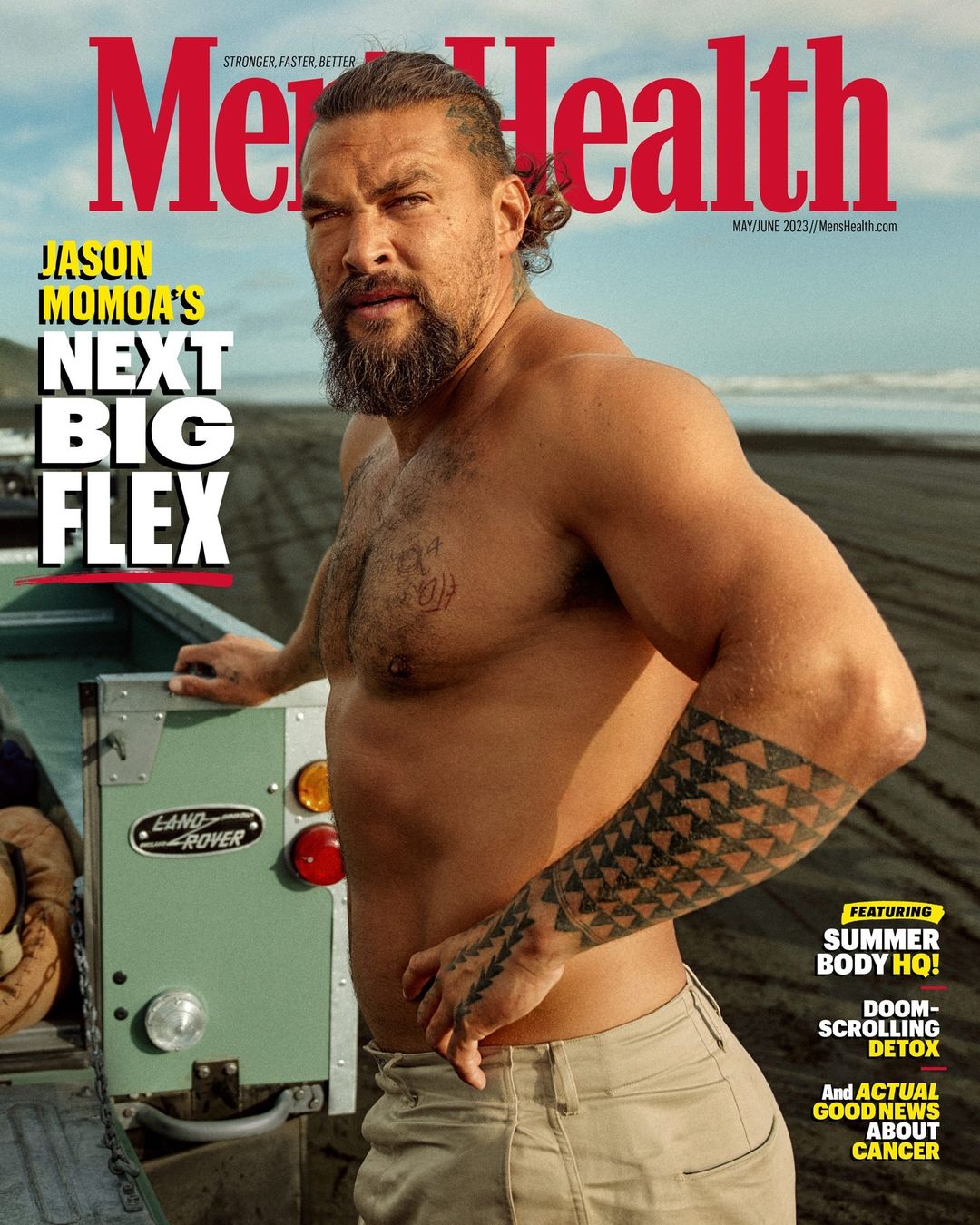 Jason Momoa covers the latest issue of Men's Health, mostly to promote Fast X, where he plays the latest villain of the enormously popular Fast & Furious franchise. He does talk about that movie, but mostly he uses this interview to talk about all of his other projects, including his new AppleTV+ series Chief of War, which he pitched to Apple himself. It's a show told through the Indigenous perspective of the native Hawaiian people. He also talks about environmentalism and tons of other stuff, but nothing about his split from Lisa Bonet. Apparently, he asked the magazine if they could skip getting into "the nitty-gritty" of what happened there. Some highlights from the magazine:
He is now famous enough to get projects greenlighted. "Now it's wonderful, because it wasn't handed to me. It was a very, very, very hard road. For a good 20 years, no one knew who I was. I worked on TV shows and wanted to be on something better. I gotta help the world. This sh-t weighs on me."

'Chief of War' is his holy grail project: "It's like my Braveheart or Dances with Wolves. I never thought it would be this big. It's the hardest, most challenging, most demanding thing I've ever done. It's the last big dream I have left. Everything else is just kind of 'actor for hire,' but this is my homage to my people. We have so many beautiful stories in Hawaii that no one knows about. All I care about is just doing right by my people." Momoa adds that the series is also "for Indigenous kids growing up, understanding that we were warriors and what we come from and understanding there was a language that was stripped from us. Like most Indigenous tribes, everything's taken from us. It's like rebuilding and building these bridges back."

He was surprised that people loved Aquaman: "Well, to be perfectly honest, I was absolutely baffled that Aquaman was received so well. I've done things that are amazing that no one sees and no one gives a sh-t about. You just don't know in this business." He's quick to add, "I don't go do things and think, Oh, I'm gonna get $1 billion on this one. I go in and do my best job."

He wants to ban single-use plastic bottles. "We're just killing our planet. We're choking our planet out. Why the f–k are you drinking out of a plastic bottle of water? It's crazy, 'cause it's easy to change. Like drink a can of Coke, beer, or sparkling water."

Harrison Ford recently sent him a letter to applaud his conservation work. "Han Solo! Indiana Jones! Bro!" What Ford wrote about—gulp, the meaning of life—resonated with him. "He said he's been doing conservation work for 30 years, and he says it's the most positive work he's been doing. It's really cool to be up here as an actor, but this is not what I wanna do for a living. It's just a moment in time. I wanna go back to making art, to painting, to writing, you know, raising a family, and then making significant environmental change. I'll do movies just to entertain."

On 'Faxt X': "I saw the first Fast and the one that was in Brazil [Fast Five], and they're amazing—they always are. I talked to Vin and said, 'Yo, Daddy-o, I'm here to support you, but I'm going to do it my way. I'm going to be a bad man, and you're going to want to take me out!' It felt really good to go there without some ego competition, like, 'Who's this?' and 'Who's that?' I'm like, 'No, dude, you got ten movies under your belt. It's an honor to be here. I'm down to go down.'"

He did some of his stunt work: "I'm riding in Rome on a Harley ripping through centuries-old cobbled streets. I had an amazing stunt double, Joe [Bucaro], and he did some cool stuff that would kill me. But the other half of the time, I'm riding at top speed through Rome—that's me. I couldn't believe Louis let me do it. He was like, 'Wow, that guy really looks like Jason?' They're like, 'That was Jason.' And he's like, 'Are we insured to let him do that?' And they're like, 'He just does this in his normal life—that's what he does.' It was surreal, dude. C'mon, bro."

What he teaches his kids. "That's the thing I try to teach my children right now,. There's nothing worth doing if it's not gonna be hard and it's not gonna be a struggle. It's okay to fall. You fall, you get back up and do it again. They wanna be perfect and they're afraid; they think if you fall, it's bad. But I'm like, 'No, falling is great, man. Falling is great 'cause you're gonna succeed if you keep doing it.' I would never teach acting, but the one thing I could teach is climbing. It gives us this massive bond, and we go outside and do it. It's the ultimate thing for me."
I think it would be very easy to just dismiss Momoa as a sweet himbo with little substance, but he cares deeply about many things and he has chosen what he'll fight for. He wants to be a great representative for native Hawaiians and Indigenous people. He wants to be a strong environmental activist. He wants to be a big-name actor. And he achieved all of those things. I also think that teaching kids to fall or fail is such an important thing, but so many parents just… don't want to teach their kids that.
Photos courtesy of Men's Health.