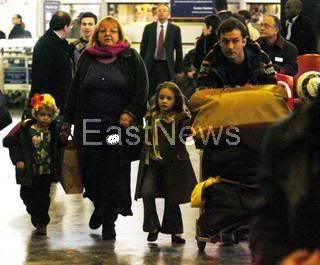 We only found one source for this, so take it for what it is, but Jude Law is rumored to be considered for the role as Batman in the upcoming sequel to "Batman Begins":
The latest casting rumour regarding the anticipated 'Batman Begins' sequel is that British heartthrob Jude Law is being considered by producers for a role in the next blockbuster.
Interestingly, the 'Closer' star was considered for the lead role as the caped crusader for 'Batman Begins' but lost out to 'American Psycho' actor Christian Bale.
Rumour has it that Law is being touted for the role of D.A Harvey Dent in the sequel which, should it prove true, would also see him reprising this role in a second sequel as he would have to complete the transformation into Dent's evil alter ego, Two Face.
Law would make a decent Batman if he bulked up a little.
Law was said to have sworn off women when he rebuffed a blonde at a party last week, but we pointed out that he has most likely reconciled with his ex, Sadie Frost.
Here's Law catching a train in London yesterday with his kids and nanny in tow.
Pictures [via]
Four more after the jump.