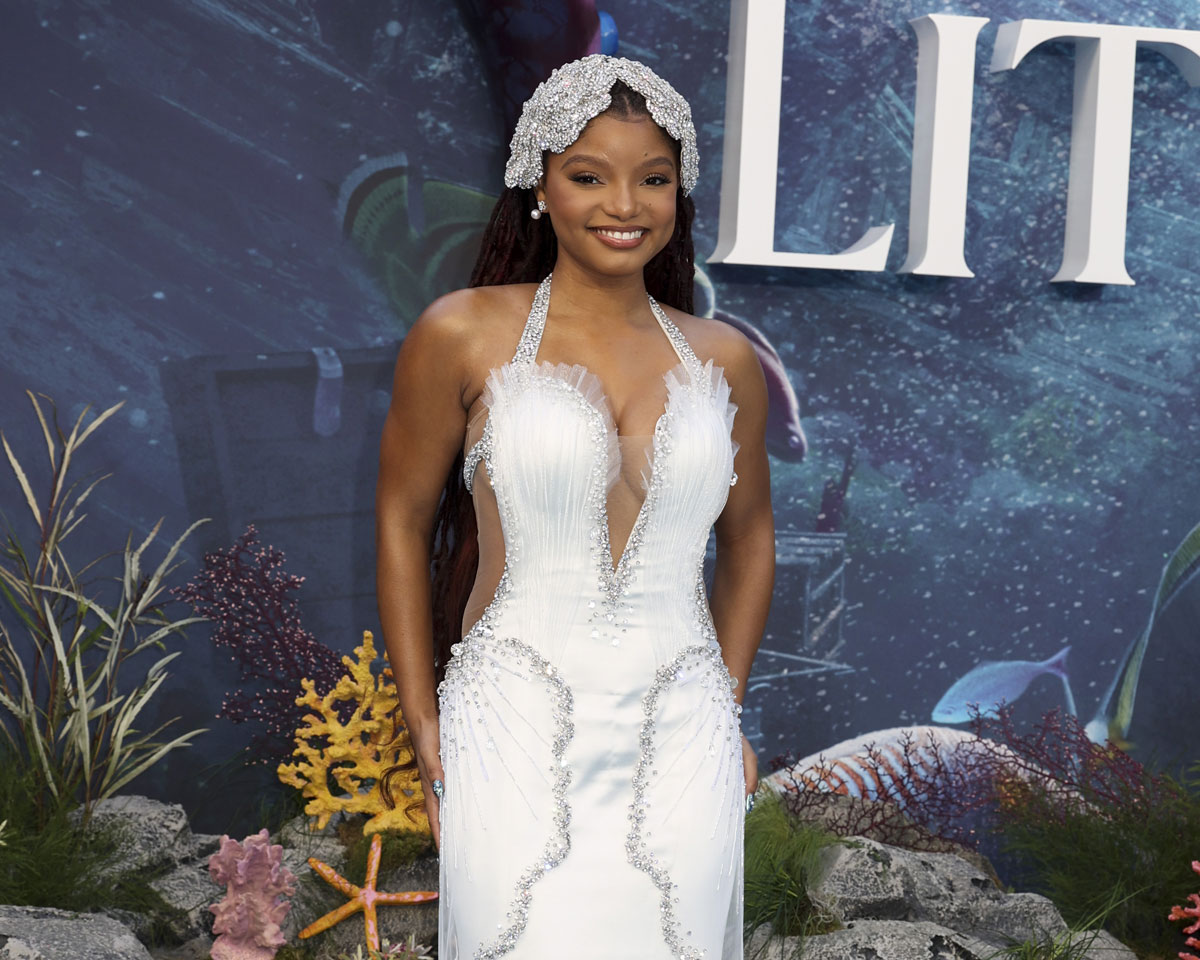 The live action Little Mermaid premieres at the end of next week and the cast is making the rounds, attending premieres, and doing interviews. So far Halle Bailey is getting great reviews for her acting and singing performances, while also inspiring little girls around the world with her portrayal of a Black Ariel. Halle spoke to theGrio about taking the role and what it meant to her, as well as what it was like to sing the songs for the role.
A new Princess Ariel has arrived!

Halle Bailey's highly anticipated turn in "The Little Mermaid" live-action film is just weeks away, and theGrio caught up with the vibrant young talent, breaking down the opportunity to make the beloved animated role her own, what it was like to work with Disney legends like Alan Menken and how much the project means to her.

As for Bailey, she tells us the opportunity — not only to play Ariel, but to be this representation for a generation of little girls who look like her — "feels amazing."

"I just feel overjoyed," she shared, "and I'm so grateful to even be a part of this readaptation of this iconic film that we've all known and loved for so long."

"It feels amazing to be able to take on this character that has lived in my heart forever," Bailey said, recalling watching the original on a VHS tape while growing up. "It's truly a dream come true. To see it all come together and the finished product of the hard work that we did … it's incredible."

In addition to Bailey putting her own stamp on hits from the original "Little Mermaid," like "Part of Your World," the new version also features new music from the project's acclaimed original composer, Alan Menken, and Lin-Manuel Miranda, the Tony Award-winning composer of "In the Heights" and "Hamilton."

"We were so excited to take on these songs because they have such a nostalgic place in all of our hearts," Bailey said, "as well as the new songs. I was fan-girling with Alan Menken! I just was, like, freaking out that I even got a chance to meet him, and the fact that he was just so kind to me about me re-creating his songs was just a really cool blessing."

The singer-actress also shouted out Jodi Benson, the original voice of Ariel, for giving her such a solid template to work with.

"These songs have such great bones already, and Jodi Benson did an iconic job of bringing this Ariel to life," Bailey gushed, "so I just wanted to live up to hers and also just put my own spin on it. I was so grateful that I was allowed that freedom to do certain riffs and nuances and add Halle to Ariel's character."
I'm not surprised Halle feels overjoyed — her having this role is a big deal, iconic, and will have such a positive impact for young women of color. It's nice that she's grateful, but we are the ones who should be grateful to her for the positive representation and also her grace in the face of the initial backlash. She's awesome! Since she's quite young, I was also slightly relieved to see she mentioned watching it on the original VHS, which was how I watched it every single weekend while my mom did my hair. Anyway, I am interested to hear the new songs and the new takes on the old favorites. The version of "Kiss the Girl" that appeared in the clip during some awards show was… not great, but I imagine the songs Halle sings will be much better than that one. Again, very excited to see this movie!
Also, Halle has been killing it with her premiere fashion. She's on theme without being too on the nose. In London, it was a silver and white coral-inspired Miss Sohee gown with a sparkly headpiece. On point.
🥹🥹💕💕who i do this for🥹💕💕 pic.twitter.com/pwKB8kft6z

— Halle (@HalleBailey) May 16, 2023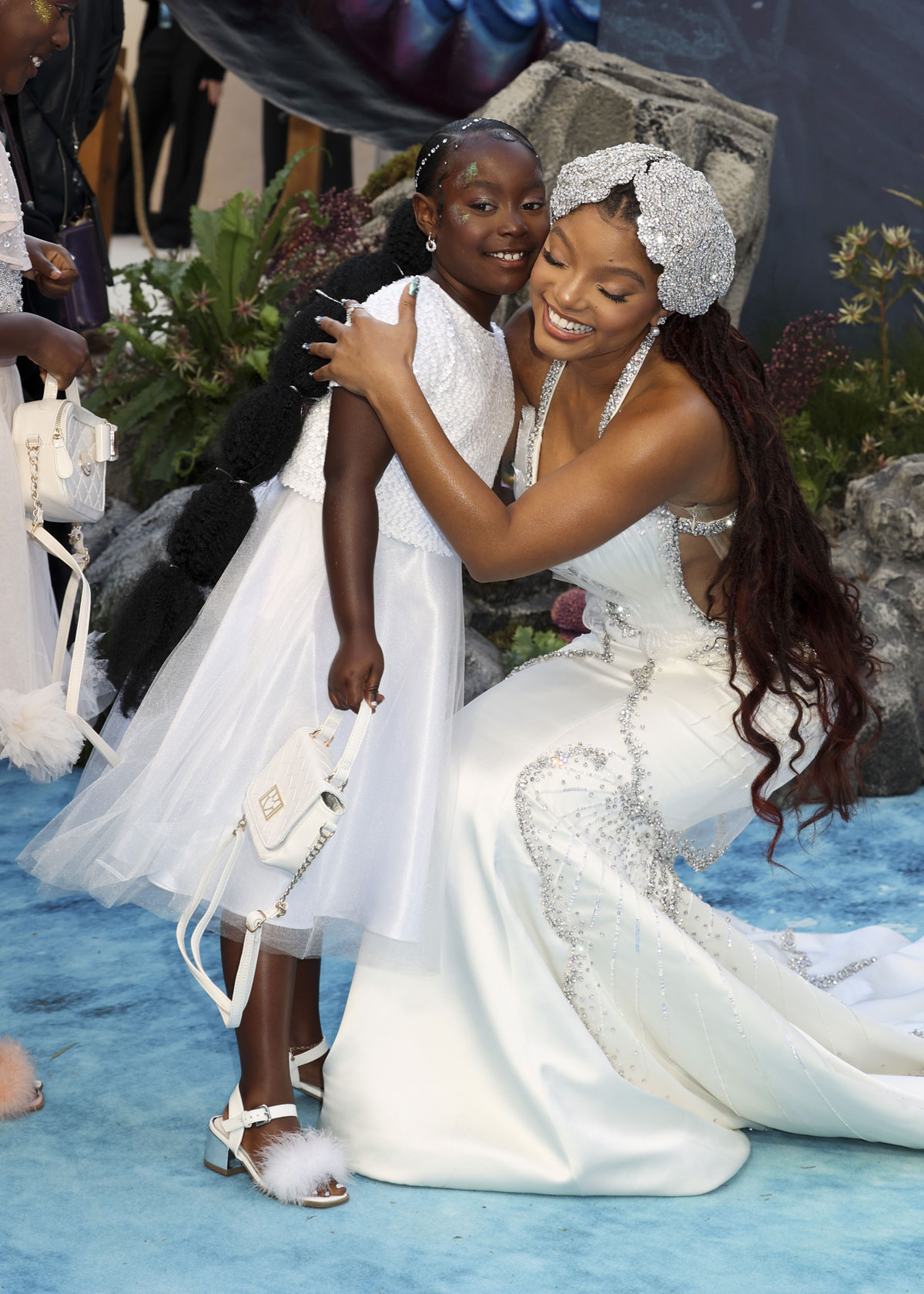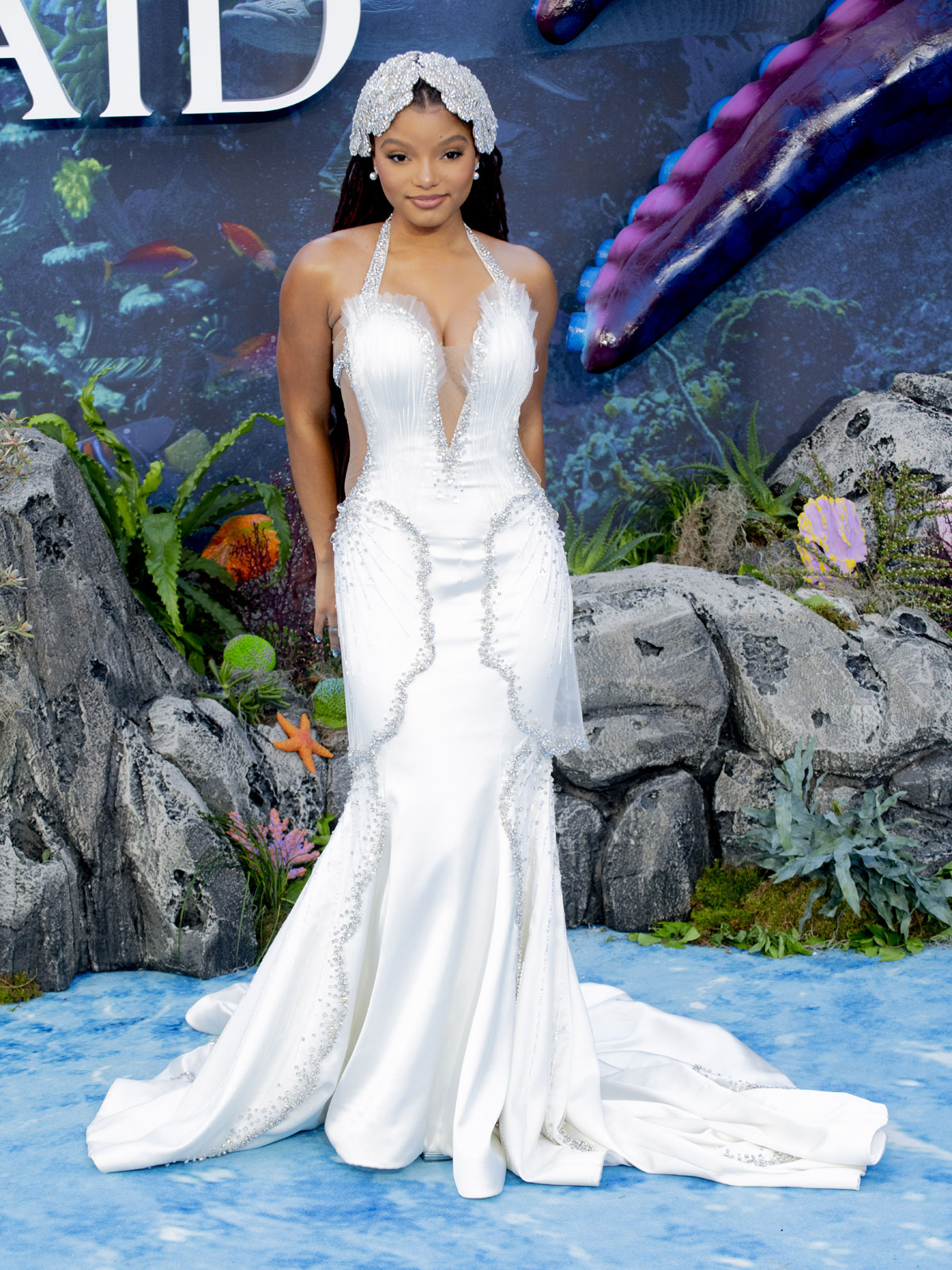 Photos credit: Cat Morley/Avalon, JW/Bang Showbiz/Avalon