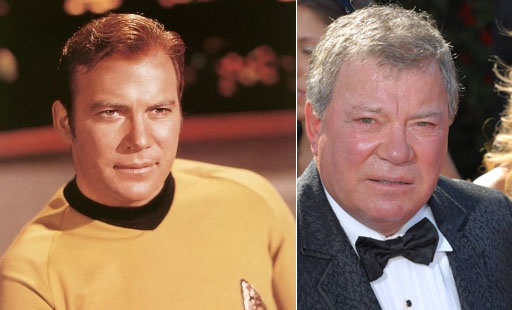 William Shatner isn't happy that he isn't going to be featured in the next Star Trek Movie, even going so far as to question whether the movie could be a success without him.
"It wasn't really hurt as much as it was a case of, 'How can you not put one of the founding figures into a movie which is resurrection? I was there at the birth and I wanted to be there at the rebirth. I would love to have been, but I don't think I can take it personally it's when they're telling the story, and they couldn't include the character, well that's too bad and doesn't make good business sense. I've become even more popular than I was playing Captain Kirk. Am good Box Office and I get publicity like this, we're talking about the movie, which is publicity for the movie. I could have done a good job for them but they're going in a different direction and it will be a wonderful film."
It turns out there's a reason that William wasn't included in the film, when even Leonard Nemoy will be featured as an older Spock. Movie co-writer Roberto Orci says the reappearance of Captain Kirk is unlikely.
"There are two things," Orci said in an interview in November. "One, from our point of view, we are still hoping to find a way. Secondly, one of the difficulties that was brought up and discussed with Shatner when we all met him and pitched him ideas is that Trek fans are sticklers for their canon. [And,] unfortunately, Shatner's Capt. Kirk was killed in Star Trek VII [1994's Generations]."
Actually, I can't believe that this philistine is allowed to write this movie. Doesn't he know that while Captain Kirk was killed in 1994's Star Trek Generations movie, he was found alive and sucked 150 years into the future? If you can make that storyline is believable, surely you can manage to bring Kirk back again.
My suggestion – as someone who has never, ever watched any Star Trek – is that a Captain Kirk lookalike should be found in the future again, this time practising law with a Boston firm. He leaps into his filing cabinet and comes out dressed as Captain Kirk, and turns out to be his illegitimate child fathered during the mysterious time that he was missing in action. Then, William Shatner still gets to be in the movie, put in a plug for his television role, and the integrity of the Star Trek franchise is maintained. Sort of.
Note by Celebitchy: I have watched some Star Trek in my day thanks to my brother Mike. Captain Kirk was kind of a blow hard but he was also pretty hot I have to admit. He's an old guy now, but he could make an appearance as some kind of descendant of Kirk if it takes place 150 years into the future. Vulcans can do this thing where they implant their essence into someone else, and a quick glance at Wikipedia reminds me that Spock died in The Wrath of Khan but was able to cheat death by implanting his soul into McCoy, after which his body was revived and his essence removed from McCoy and implanted back into to. If Captain Kirk is dead and it's 150 years in the future it's not likely he's going to make an appearance in the new film. Vulcans have a life expectancy of 250 years so it's possible that Spock is still around.