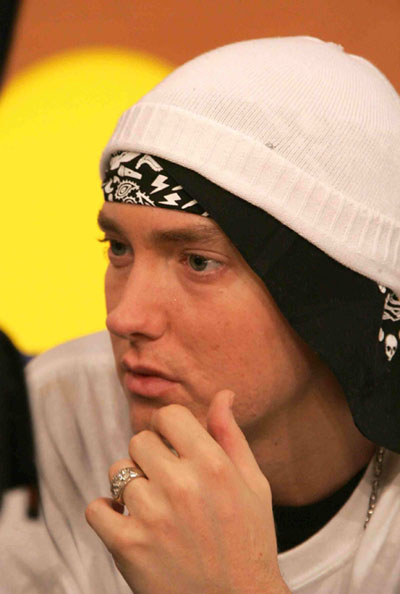 Eminem's mother has written a book about the rapper, and in it she claims he is a manic depressive and his trailer park past is a sham. Debbie Nelson says she has written the book, titled My Son Marshall, My Son Eminem, to tell her side of the story, after years of abuse from Eminem's fans.
In the introduction she writes, "After his first album, Infinite, flopped, he reinvented himself as white trailer trash with a crazy welfare mom. I was shocked when I first heard the lyrics, but he constantly reassured me it was all a big joke. I went along with it for Marshall's sake."
She also says her son is manic depressive, and his condition was aggravated by the birth of his daughter and his divorce. She is hoping the publication of the book will help him.
A source said: "(Debbie) just hopes he'll read (the book) and realise how loved he is. She fears she'll end up burying him unless he gets help…We all see him teetering on the edge of self-destruction."

Eminem and Nelson have been involved in a feud for years. Nelson hit her son with a £3.5 ($7) million lawsuit in 2002, claiming defamation.

However, the rapper reportedly agreed to foot the medical bill of £100,000 ($200,000) when his mother was diagnosed with breast cancer.
Somehow, I just don't think writing a book calling your son a liar and a fraud, suggesting to his daughter Hailie (who is 11-years-old and able to read) that she was a catalyst for her father's mental issues, and adding that he was too drunk or drugged to remember marrying his ex-wife Kim, is going to be helpful to him.
Deborah Nelson says she wrote the book (or had it ghostwritten by Annette Witheridge) to set the story straight, and that her son "never intended me to become an object of hatred."
Given Eminem's habit of writing hate-fueled lyrics about his mother, I'm guessing that the book and the revelations contained within will give him plenty of material for his next album, which he is currently working on.
The book is currently on sale in the UK, and will be available in the US next year.
Note by Celebitchy: According to Crazy Days and Nights and the November 18 edition of Life and Style, Eminem is dating a new woman named Marni Bright. She is a music studio manager and used to be a hairdresser and left her boyfriend of four years to be with him. She better be perfect or he'll vilify her in his music.
Eminem is shown on BET on 106 and Park on 12/4/06, thanks to WENN.