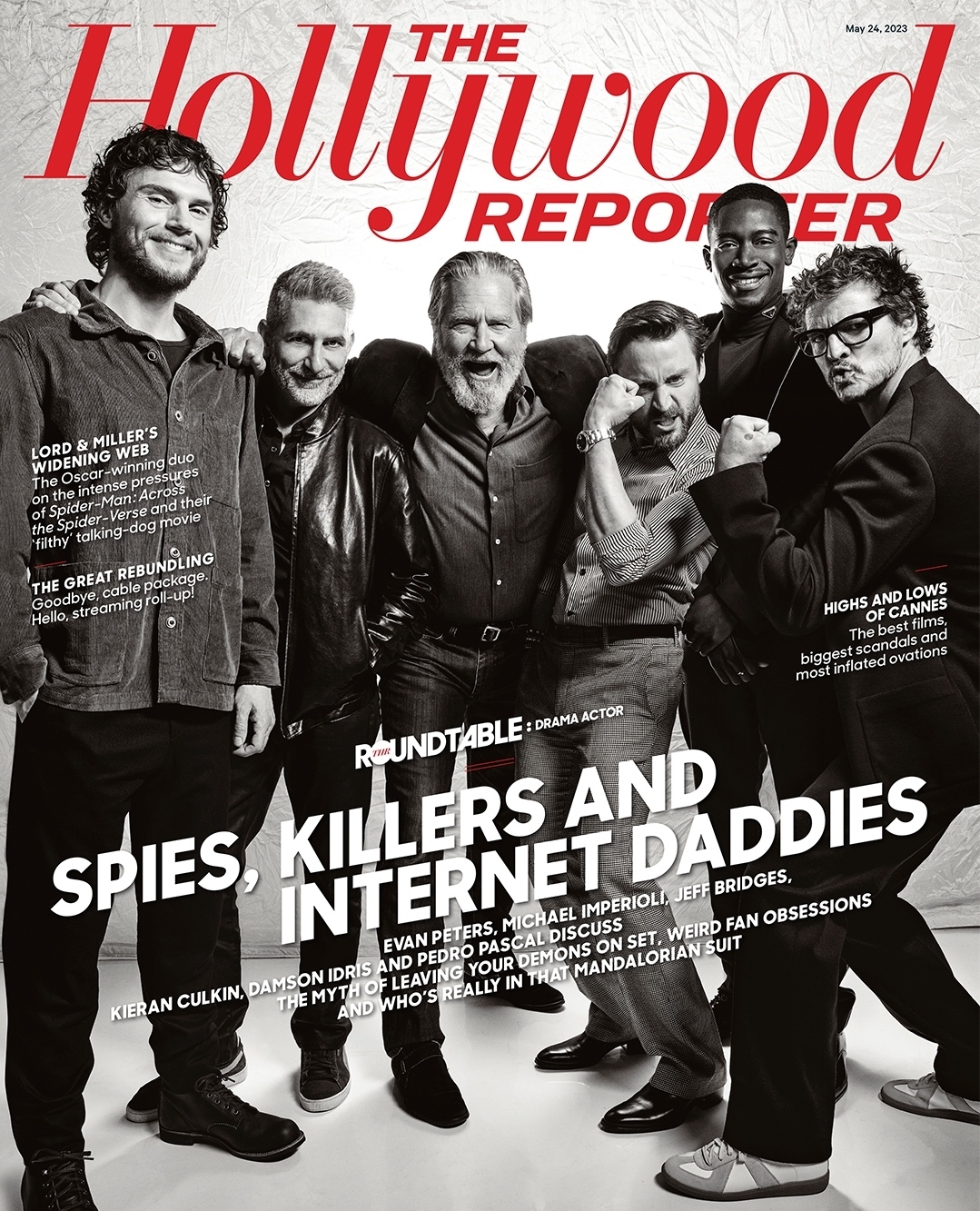 Last week The Hollywood Reporter released the video for their male actors' roundtable, a conversation with 6 actors (Jeff Bridges, Kieran Culkin, Damson Idris, Michael Imperioli, Pedro Pascal, Evan Peters) THR believes to be leading candidates for Emmy nominations in the drama category this year. As Kaiser covered, the runaway hit of the video was Kieran and Pedro playing off each other. The camaraderie started right off the bat when moderator Lacey Rose asked the men to describe their fan encounters. Kieran opened with fans being too comfortable with touching him (in one instance he was pushing his kid in a stroller and snapped at the too-tactile fan "No touchy!"). And then Pedro upped the ante:
Pedro Pascal… sat down with fellow actors Jeff Bridges, Kieran Culkin, Damson Idris, Michael Imperioli and Evan Peters for a roundtable discussion with The Hollywood Reporter on Wednesday to discuss drama acting.

The group's conversation turned to fan encounters they've had with their viewers, to which Pascal seemed to top.

Pascal recalled that after "Game of Thrones" fans saw his character Oberyn Martell's brutal death in Season 4, fans began to recreate the scene in which Martell's eyes were gouged out during a fight to the death with Gregor "The Mountain" Clegane (Hafþór Júlíus Björnsson).

"People were super into taking selfies with their thumbs in my eyes," Pascal shared. "And at first, I was so earnest and happy about the success of the character in the show, I'd let them."

That all came to a halt, he said, explaining, "And then I remember getting a bit of an eye infection."

"Succession" star Culkin responded, "Wow, that's a lot of trust."

Pascal went on to other popular roles, including HBO hit "The Last of Us" and Disney+ show "The Manalorian."
So let's get business out of the way first: people should keep their hands to themselves. If they simply must, they should at least ask the actor first. They should also assume, under any and all circumstances, that if they are permitted to touch, that does not include the eyes. Kapish? Look, I get that this particular homage was specific to the character, but come on.
But of course what really matters is how adorable Pedro is. He has the relaxed energy of someone who's worked towards this career for a long time and is clearly enjoying the moment. And his playful energy is just infectious. By contrast, I've loved Evan Peters in everything I've seen him in, but when the moderator asked what fans say to him on the street, all he had was "can I take a picture." You can do better than that, Evan.
Photos credit: BauerGriffin/INSTARimages, JPI Studios/Avalon and via Instagram