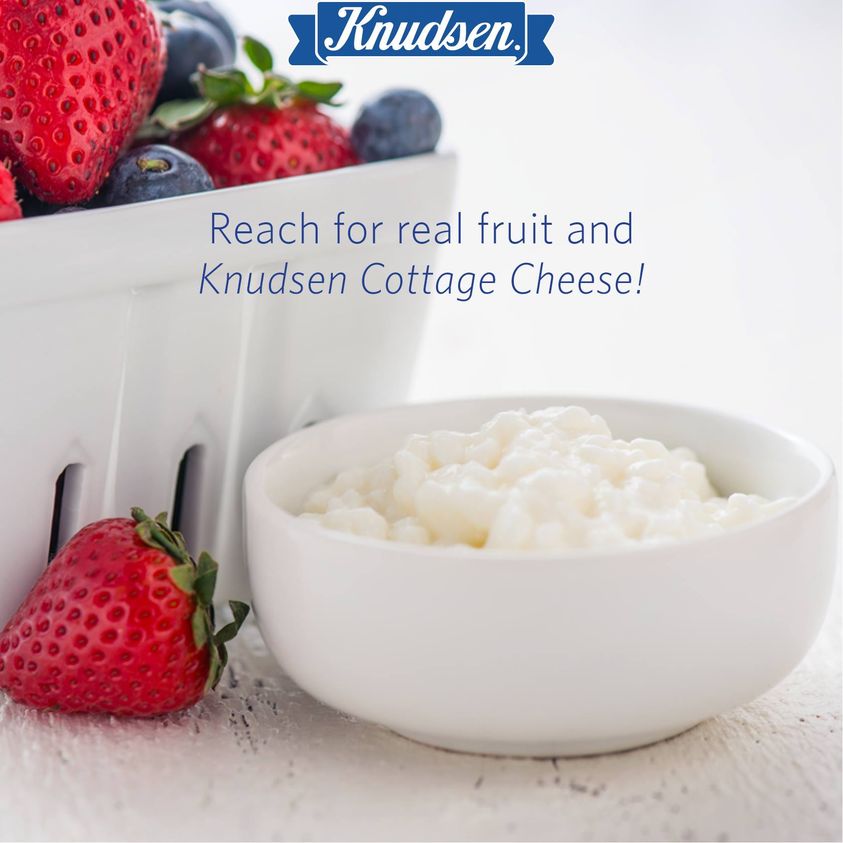 Of all the things to make a comeback this year, I never would have put cottage cheese on the bingo card. Thanks to TikTok it's having a resurgence, and what a resurgence it is. Cottage cheese is on its way to being the Gen Z version of avocado toast: the food trend that suddenly takes over and becomes loaded with symbolism about an entire generation. I can just feel it. Soon, there will be a think piece in The Atlantic about how Gen Z's love of cottage cheese is actually a symptom of extended adolescence and is destroying the housing market. Until that day comes, we have this much more factual report from Yahoo. They give us a rundown of cottage cheese's rise and fall and rise again, and theorize why it's become so popular on TikTok all of a sudden. They also talk to influencers on the platform who use cottage cheese in unusual ways, including blending it and turning it into "ice cream," and believe me, I have some thoughts about that.
Cottage cheese used to be cool: Between 1950 and 1975, cottage cheese was all the rage, according to a 2015 NPR segment titled "The Fall Of A Dairy Darling: How Cottage Cheese Got Eclipsed By Yogurt." At the time, cottage cheese was often used as a base for fruit like pineapple or peaches, and eaten for breakfast. In 1970, Americans ate a whopping five pounds of cottage cheese per year — but despite its initial popularity, the product was eventually eclipsed by its dairy cousin yogurt.

No one knows the exact reasons for this shift, but one possible explanation is that it's difficult to get consistent quality when it comes to cottage cheese, while another suggests that cottage cheese simply seems too "old-fashioned" for marketers to invest in, per NPR. Of course, that was before the TikTok crowd discovered it and made it cool again.

It could be popular again because it's high in protein: The popularity of cottage cheese today seems connected to the rise in high-protein diets. While social media didn't start the high protein trend, high protein recipes trend regularly on social media platforms, and cottage cheese is a macro winner in that regard. A one-cup serving of low-fat cottage cheese has 185 calories and 25 grams of protein.

Bethenny Frankel and Katie Couric are cottage cheese influencers now: There are dozens of ways people are using cottage cheese, proving that it's a pretty versatile snack. Bethenny Frankel, who calls herself a cottage cheese "expert," shared on TikTok that she likes her cottage cheese on a cracker with salt and pepper…Katie Couric also acknowledged the trend and took to her website in May to share her own recipe for avocado toast with a base of cottage cheese.

If the consistency of cottage cheese doesn't sound super appealing to you, well, you're not alone. In fact, many of the more popular cottage cheese recipes of 2023 involve blending cottage cheese first, so that it resembles more of a cheese sauce — allowing anyone who is curd-phobic to enjoy the cheese.

People like it because it's a way to make indulgent foods healthier: While cottage cheese certainly has fans for its taste, many people also love it because it's seen as a way to healthify favorite foods. Lainie Kates, of California, is a longtime lover of cottage cheese, but is really into it now thanks to certain brands coming on the market that "have better ingredients, are organic and add probiotics to cottage cheese, which I really love." Kates shares cottage cheese recipes on social media and uses the product in everything from pizza toast to scrambled eggs — but her favorite is "cottage cheese ice cream and cottage cheese McFlurrys."
The article lists some of the things people use cottage cheese for, including "ice cream", lasagna, cheesecake, a replacement for Alfredo sauce, and as a replacement for cream cheese on a bagel. Growing up I always ate cottage cheese with halved cherry tomatoes, fresh cracked pepper, kosher salt, and Fritos. I know it sounds random but try it, it's really good. I don't eat it currently, because I can't find Knudsen full fat cottage cheese where I live. Growing up in Southern California, it was always available, and the full fat version is creamy, mild, and never watery. Every other brand I've tried since I moved out of state has been disappointing. I love Nordic baking culture, and there are some Finnish baking recipes that use cottage cheese that I'd like to try out. But I have to say this: I can't imagine blending it and eating it as ice cream. I don't think there's enough fat in it–even in my beloved full fat Knudsen–for it to have the creamy, smooth quality of frozen yogurt or ice cream. Calling it "ice cream" seems like…a scam. If anyone has tried this format and liked it, please tell us about it in the comments because I'm morbidly curious.
I suspect there's another reason why people are into cottage cheese right now that has nothing to do with blending it up into fake ice cream or protein cheesecake. The article didn't touch on this but it was the first thing that popped into my head when I saw this story. Compared to other protein sources, especially animal proteins like chicken or beef, cottage cheese is relatively inexpensive. With high food costs continuing even as inflation has eased since last year, cottage cheese might be an appealing option for people looking to save money.