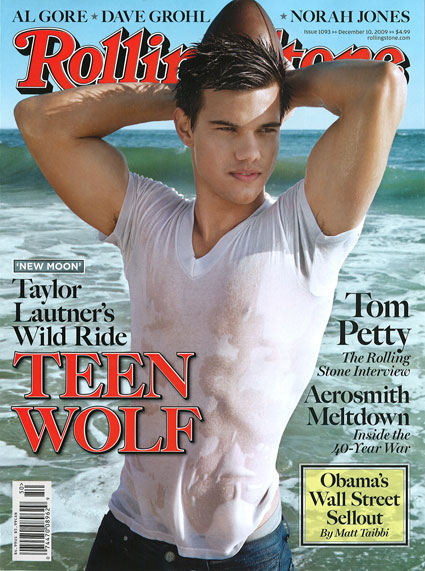 Good boy Taylor Lautner is working his chiseled abs for the cover of Rolling Stone. Now because he's a good boy, Taylor's not shirtless (this time) – he's modestly covered himself up with a wet t-shirt. That's right, the 17-year-old is no Miley Cyrus, "accidentally" taking backless photos. Well, I assume – Rolling Stone has only released the cover and not the inside photos, so for all I know Taylor could pull a Levi Johnston. I feel so lecherous for even joking about that.
Moving on… so Taylor's still very much working the "good boy" image. He says he's never smoked cigarettes, never tried pot, and has even managed to keep away from the cocaine. I have no idea how he has that kind of restraint. He also says sweet things about his relationship with Taylor Swift. Awww….
Taylor Lautner's body is a temple. The 17-year-old New Moon star with the eight-pack abs and tan, chiseled face tells Rolling Stone's Neil Strauss he's never smoked pot, never tried cigarettes and never snorted a line of cocaine in our new issue dated December 10, 2009, on stands tomorrow.

What Lautner has done is turn his love of martial arts into superstardom as werewolf Jacob in the Twilight series. "This could have happened to anyone who played Jacob," Lautner tells RS. "It's Twilight. It's not me personally." But his hard work is inescapable: he started learning karate at age six and moved on to Xtreme Martial Arts, relocating with his family to Los Angeles to pursue acting and stomaching the bullying that came along with it. He put on 30 pounds of muscle between the first two Twilight films. He found time to shoot the upcoming Valentine's Day with Taylor Swift, with whom he "instantly clicked," he admits. "Aside from being beautiful, she's extremely funny, charismatic and fun to be around."

But as Strauss discovers, Lautner is quiet and guarded, more of a Zac Efron than a Lindsay Lohan, as far as young stars go. "He's so picky. I was the first person who got him to eat sushi," New Moon costar Kristen Stewart tells RS. "He's very set in his ways. But that is very informative of his personality. He's very steady. He has a really solid sense of himself."
[From Rolling Stone]
I gotta say, if I were a guy I'm not sure I'd appreciate being compared to Zac Efron OR Lindsay Lohan. Talking about a rock and a hard place. Nonetheless, I really like this kid. The hotness doesn't do much for me one way or the other – there are a billion hot guys in Hollywood. But you do really get the impression that he's a genuinely good, caring guy. And that is super attractive. Okay the hotness doesn't hurt, I'll admit that.
And the kid can probably afford to buy a few dry t-shirts as well. According to E! News, R-Patzz and Kristen Stewart may have made as much as $12 million each for "New Moon" – and while Taylor probably didn't make that much, he got a sizable increase from his "Twilight" paycheck.
Here's Taylor at the "New Moon" premiere on November 16th . Images thanks to Fame Pictures .