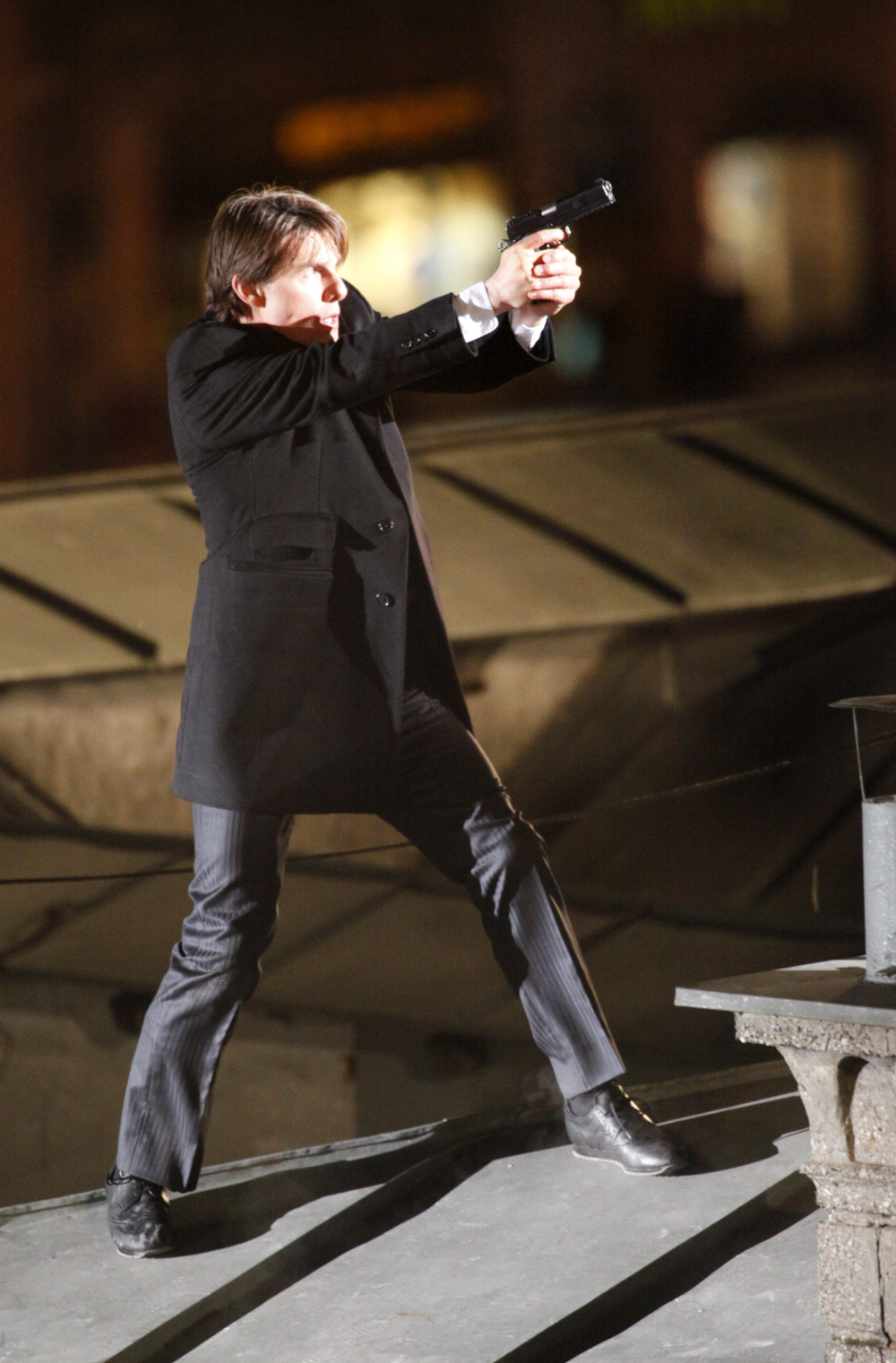 There's not really anything new and exciting happening in the world of Xenu (except for In Touch Weekly's cover story that Katie Holmes somehow "moved out"). I just wanted to look at pictures of Tom Cruise running around on the set of his film Knight and Day, which was formally known as Wichita (also starring Cameron Diaz). Now, there's not anything inherently dramatic about these photos, other than a 47-year-old disciple of Xenu is doing his own stunt work. For which I applaud Tom – that's one of the few cool things about him, he does a ton of his own stunt work, no matter how dangerous. The only other slightly interesting thing is that Tom Cruise can't give up with wedges. Look at the heels on his little shoes! As far as I've seen, Lainey Gossip was the first to point out the wedges – sometimes white, sometimes black, but always with at least a two inch lift.
That little Midgey, he's in his element, isn't he? Running around Europe shooting action sequences involving daredevil feats and manly man stunts, pointing a gun, clenching his jaw, delivering the most intense oneliner as if his life depended on it, followed by a toothy insane cackle…

Tom Cruise is currently in Austria continuing to work on Knight & Day with Cameron Diaz. They gave him a gun and he's running after the bad guys in his… high heel wedges?

I see some wedges there. Can you?
[From Lainey Gossip]
I can, especially when the light hits his shoes, when he's shooting at someone on the roof. The shoes aren't as high as he usually gets them, and the camouflaging is a bit better, but I'd say he's got a good two extra inches with those puppies. He probably has them because his costar Cameron Diaz is so much taller than him. And his wife is taller too. Who isn't taller than Tom, really? His being short is the least of his problems, it's only funny because he thinks he's fooling us with his little wedges.
Tom Cruise on the set of his new movie 'Knight And Day' filming a scene on the roof of Hotel Stein in Salzburg, Austria on November 23, 2009. Credit: Bauer-Griffin and WENN.