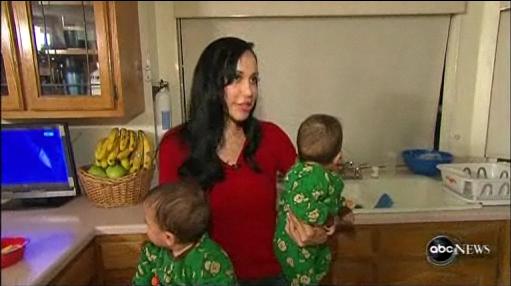 Octomom Nadya Suleman says she might have more kids one day. Well, first she said she wouldn't talk about it, and then she kept talking. And eventually said yes, she'd consider it. She said it with the caveat that it would have to be if she ever got married and started a new chapter in her life. I think that was supposed to be some sort of reassurance to the rest of us that she doesn't have any embryos tucked away in the back of her freezer next to a hardened bag of peas. I hope.
"Good Morning America" did a seven minute piece on Nadya and the octuplets this morning, and I was all prepared to be angry at her and hate her. Unfortunately they showed waaaaay too much footage of adorable big-eyed babies, so I'm all squishy right now. I'm trying to get myself back to that angry place so I can write this properly.
The segments starts off by showing clips from Octomom's upcoming documentary – with one of the older kids (we don't see who it is) throwing a screwdriver at Nadya. It hits her hard in the face. Instead of punishing the child properly, she just whines and complains, then a bit later yells, "You threw it at my face! You don't do that!" And she says it in the same voice as a complaining 5-year-old. Not exactly a powerful repercussion there.
Octo-Mom Nadya Suleman said she might have more children someday, as Good Morning America caught up with the mother-of-14 at her La Habra, California home on Tuesday.

"If I wanted to do it the traditional way and get married," she said, "That's like another chapter."

Suleman, looking slim, said she's reliant on projects with various media outlets to support her large family, though she "tries to limit it."

"I'm damned if I do and damned if I don't," she said, adding that her monthly help expenses — which include four people assisting her on a daily basis — add up to more than $10,000.

She said raising her children is a "day-by-day, hour-by-hour" task.

According to Suleman, she said she doesn't regret having all of her children, contradicting previous statements she made right here on RadarOnline.com. When asked if she had contemplated putting any of the children up for adoption, Suleman said "that's not appropriate for me."
[From Radar]
At one point GMA shows footage from the documentary where someone asks Nadya if she regretted having all the children, noting, "Nadya stands by her decision to carry all the octuplets to term." Then they show Nadya playing at the park with her kids, and she says, "No, because, which one should I have murdered? Noah… Isaiah… Jonah? That's why." She does a good job throughout of answering, "That wasn't an appropriate decision for me," when questioned about adoption or donating her unused embryos. That probably would have been a better answer to the selective reduction question.
Octomom still drives me nuts, and watching her interact with her older kids – and the discipline issues – really worries me for the younger ones. Nonetheless, I will be absolutely glued to the TV when they air her special in December.
We can't embed the video, but you can watch it on Good Morning America's website here.