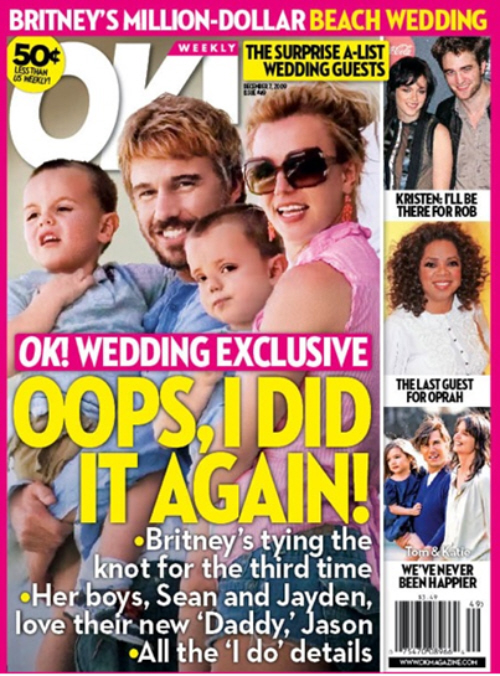 This is OK! Magazine's rather boring cover story for this week. Britney Spears is getting married… again. This time we hope the guy's not a douche bag. The crux of the story seems to be that Britney told her sons, Sean and Jayden, that she wants to marry Jason Trawick, and she asked for their blessing. Now… I totally don't mean to be cruel or mean or anything, but what the hell? Those boys are four and three years old. She asked for their "blessing"? These boys still suck on pacifiers and have night terrors about Mommy's pink wig of doom. Speaking of, I wonder if Britney asked the pink wig for its blessing as well:
Oops… She's going to do it again!

OK! has learned that Britney Spears is telling friends she's ready to marry her boyfriend Jason Trawick. And all it took was her boys' blessing to convince her to move ahead with plans for her third wedding in five years.

"Britney said she does not have a doubt in her mind that she wants to spend the rest of her life with Jason," a source close to the couple tells OK!. "She has already discussed marriage with him, and they are both excited about a romantic wedding."
[From OK! Magazine]
Britney's first wedding (in Vegas) was in early 2004, right? So that means this wedding would be her third in less than six years, but over five years. Very tricky, counting up the months, OK! Magazine.
So I'm really just using this whole thing as an excuse to put up these gorgeous pictures of Britney, Jason and her sons in Australia two weeks ago. Britney looks so happy and so "not crazy", I'm getting a little misty. Plus, it looks like Jason has really bonded with her sons, and he looks incredibly sweet with them. I'm saying a prayer that mean ol' pink wig never comes back.
OK! Magazine cover courtesy of CoverAwards. Additional photos of Britney Spears, Jason Trawick and Brit's two sons playing in Sydney, Australia on November 16, 2009. Credit: Pacific Coast News.