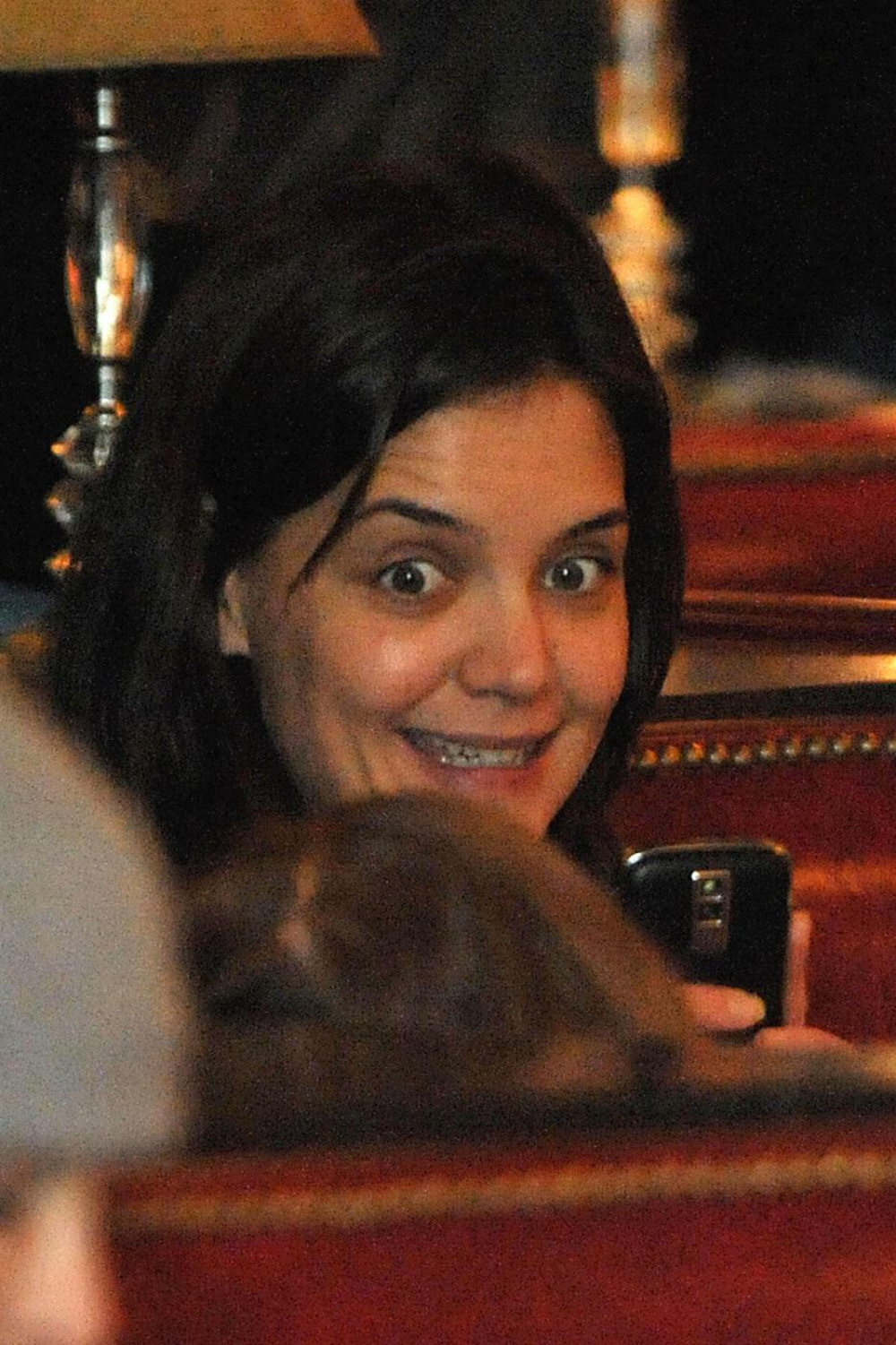 These photos and this story make me love Katie Holmes. The photos are from the weekend, when Katie and her "girls" went out to eat in Manhattan, and Katie had several glasses of wine. Her "girls" are her mom, her daughter Suri, and her stepdaughter Isabella. Ten bucks says that Isabella had a few glasses of wine too. Either that, or Bella promptly called her dad after dinner to narc on her step mom. Anyhoodle, I love when Katie looks animated. Anything to get her out of her morose, robotic Xenu stupor. Now, for this story – apparently, Katie and two girlfriends went to an actual movie theater to see New Moon. And then they talked through the whole thing! Hahaha! I bet the Twihards were about to kill Katie.
She may seem shy and reserved next to larger-than-life husband Tom Cruise, but it turns out Katie Holmes doesn't know how to keep quiet when it counts.

Eyewitnesses tell Fox411 that Katie and a group of her girlfriends stopped by a movie theater near her Manhattan apartment Saturday to catch the latest installment of the "Twilight" series "New Moon" where they proceeded to ruin the film for moviegoers.

"Katie came into the movie theater with two of her girlfriends in a great mood," sources tell Fox411. "They bought tickets in advance to see 'New Moon' like all the rest of the Twihards. They checked out the snacks and then they took their seats and kept talking."

All that would have seemed rather normal, except for the fact that they kept on gabbing throughout the entire film!

"Katie talked through all of 'New Moon.' It was unbelievable – they talked nonstop about the movie and everything else. Some people wanted to tell them to be quiet, but when they realized who it was, they stayed silent. No one wanted to shush Katie."

After the chatty escapade, Katie spent the rest of the weekend with her step-daughter Isabella and daughter Suri (once again spotted in cold weather with no coat). The three girls were spotted shopping Saturday, where Katie seemed completely unaware that she ruined "New Moon" for a few die-hard "Twilight" fans.
[From Fox News 411]
"No one wanted to shush Katie." Probably because when they realized who it was, they thought to themselves "that poor girl… she probably never gets to speak at home." That's what I would think. Honestly, though, I hate when people talk in a theatre. It pisses me off to no end. That being said, if I went to see New Moon in the theatre, I would probably talk through it too. I would be yelling "Sparkles!" and "Oh, for the love of God, just do him!" So I give Katie a pass on this one. It's good to see signs of life in her, isn't it?
A very animated Katie Holmes, having lunch (with a lot of wine) with her mom, Suri and Isabella Cruise in New York, on November 22, 2009. Credit: Pacific Coast News.