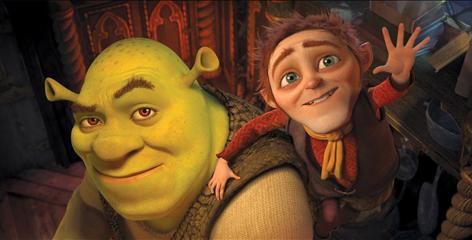 I don't think I'm alone when I say that Shrek The Third sucked. Shrek was fabulous, Shrek 2 was meh, and Shrek 3 was like they tried to cram in every gag and plot point they could squeeze out of a focus group full of eight year olds. I don't even think I've ever seen the whole thing and my standards are so low that I've watched Alvin and The Chipmunks a couple dozen times. (I have a five year old.) A fourth and gratefully final Shrek is coming next May, titled Shrek Forever After, and it will predictably be in 3D. The movie will clean up at the box office even if it's worse than the last one, so it really doesn't matter how bad it is. There's some new stills from the movie and it looks even more visually stunning that its predecessors, but whether moms and dads will enjoy sitting through it remains to be seen. The plot involves Shrek going through some kind of mid life crisis:
The once-upon-a-time spoofing that began with 2001's Shrek will conclude when Shrek Forever After, the fourth computer-animated comic adventure starring the hygiene-challenged ogre — and the first in 3-D — arrives May 21. A trailer premieres Dec. 18 at showings of Avatar.

"All that was loved about Shrek in the first film is brought to the final film," promises Bill Damaschke, head of creative production at DreamWorks. Mike Myers, Eddie Murphy and Cameron Diaz are back as the voices of Shrek, sidekick Donkey and ogress wife Fiona.

The premise is the Brothers Grimm meetIt's a Wonderful Life: After rescuing a princess, getting hitched and fathering triplets, Shrek is feeling over-domesticated. "He has lost his roar," says director Mike Mitchell (Sky High, Deuce Bigelow: Male Gigolo). "It used to send villagers running away in terror. Now they run to him and ask him to sign their pitchforks and torches."

To regain his ogre mojo, he strikes a deal with Rumpelstiltskin, the wee troublemaker who popped up briefly in Shrek 2 and 3.

Though certain websites wrongly, and somewhat bizarrely, list Paul McCartney as the voice of the vile schemer, it is actually non-Beatle Walt Dohrn, the film's head of story, who does the honors.

Of course, the pact goes awry and Shrek must confront what life would be like in Far Far Away if he had never existed. That translates into Donkey being forced into cart-pulling duty, fat and lazy Puss in Boots trading his sword for a pink bow and the underhanded Rumpelstiltskin ruling the kingdom.

No Shrek outing would be complete without new characters, and there are a bunch. Comedians Kathy Griffin and Kristin Schaal (Flight of the Conchords) are witches who hunt ogres. On the side of good is an underground resistance group led by Jon Hamm of Mad Men. "He is the best-looking ogre you've ever seen," Mitchell says.

So does Shrek Forever After wrap up with everyone living happily ever after? "I hate to give away the ending," Mitchell says, "but yes."
[From USA Today]
The best news is that Kathy Griffin will voice a character. She's a lot of fun and I hope that they give her a decent role. Despite my skepticism over how tolerable this film with be, there are plenty of other kid-oriented movies that are appealing to both kids and adults. Wes Anderson's The Fantastic Mr. Fox is opening in the US for Thanksgiving and it's supposed to be amazing.
The trailer for Shrek Forever After will premiere during showings of the much anticipated James Cameron film, Avatar, out December 18 in the US.
Here's the trailer for The Fantastic Mr. Fox. I'd love to see this now but it's not out in Germany until next May.