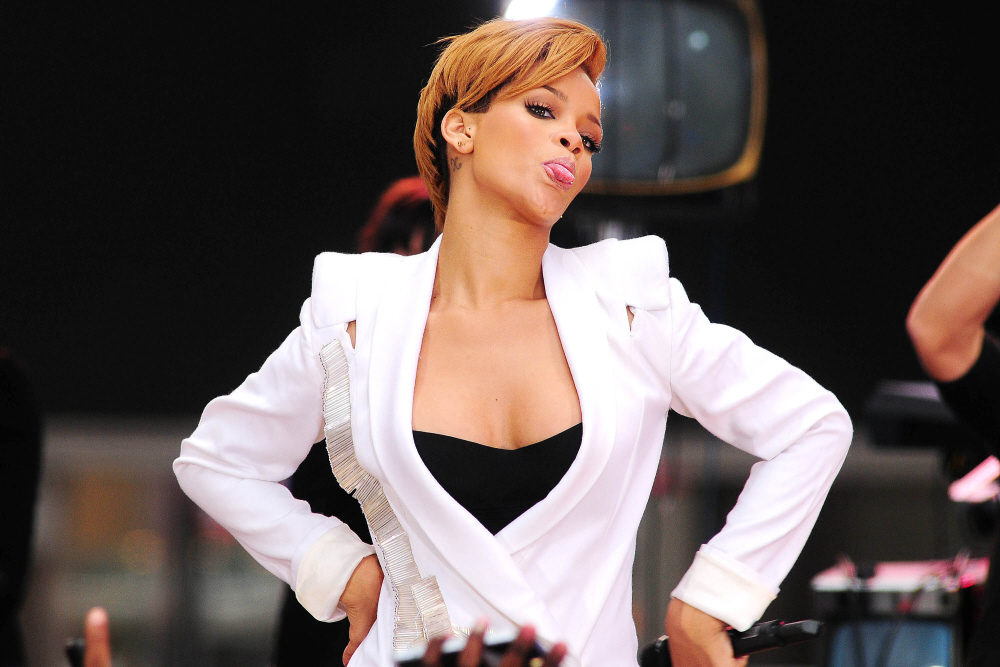 These are photos from Rihanna's performance on Good Morning America yesterday morning. First of all, this girl is a ham. In half of the pictures from her performance, she's making a silly, funny face. She's so cute. Secondly, this girl's style is so crazy. I don't think it's even an act anymore, like it's a trying-too-hard subversive fashion sense. I think she really does have some avant-garde (re: tacky-crazy-high fashion) taste. Anyway, I missed this, but Rihanna busted out of this dress before her performance, and claimed it was because she was "too fat". Her exact words: "My dress! I'm a little too fat right now. The zip busted in the back. They're like, 'You're a minute late!' I wanted to stitch it up but I couldn't." Uh… honey, you're not fat. Your clothes are just poorly made.
In other Rihanna news, she was interviewed by the New York Times this week, and she comes across as… weird. Like, after her interview with Diane Sawyer, I thought Rihanna had made some kind of breakthrough, and that she was a relatively intelligent young woman with stuff to say. Well, in this NYT piece (complete article here), Rihanna talks more about the Chris Brown incident and aftermath, but mostly she talks about music and fashion. She sounds… vapid. Sometimes. Not "oh my God, I hate her" vapid, but just "oh, she's not as smart as I thought she was" vapid. Here are the highlights:
Rihanna on how "barf" is a compliment: "Barf!" Rihanna squealed, at the sight of a pair of pale pink satin Brian Atwood stilettos. In her world this is a compliment. "Usually it's 'ill' or 'I want to throw up on it. But barf is the worst," meaning the best. "Barf is 10 out of 10."

Rihanna on the aftermath of the Chris Brown incident: "As traumatic and as terrifying as it was, and sometimes I wish it never happened, my whole life changed in the most amazing way after I went through that. If I didn't go through that, I swear, you would've been interviewing a completely different person."

On her early career: "In the beginning, everything was a little more manufactured. It had to be safe, and in order for it to be safe, it had to be done before, which made no sense to me." Her appearance, down to her lipstick color, was monitored by the label, she said. "I was like, 'What do you mean, I can't cut my hair? It has to be long and blond, like every other female singer in the game? No, I'm not doing that.' "

On her new album "Rated R": "It was exactly what I tried to stay away from. When I was about to start the record, that was the first thing I said: 'I don't want no sad songs. I don't want no songs about love.' I turned away eight ballads: 'I don't want to do that, that's totally expected.'"

On why she didn't get therapy at first: "Everyone wanted me to see a therapist to just talk about it, and I refused," she said. "In Barbados we don't do that. We keep it in our family, and figure it out and move on. I just put my game face on and went on with my life. But deep down inside I had some things to get past, and it came out in the music."

Rihanna on her "artistic" inspirations: "Jean-Paul Goude is amazing," she said. "Helmut Newton is by far my favorite, because not only is everyone almost always naked, but they look good naked, and a lot of them have weapons in their hands."
[From The New York Times]
In one last piece of Rihanna news, it seems she's making serious bank. Page Six reports that Rihanna will play her first-ever performance in the Middle East – for New Year's. She's going to the Emirates Palace Hotel in Abu Dhabi, and she's getting paid $500,000 for the performance. I bet that's a killer party, actually. New Year's in Abu Dhabi… so romantic!
Rihanna performing on 'Good Morning America' on November 24, 2009 in New York. Credit: WENN.