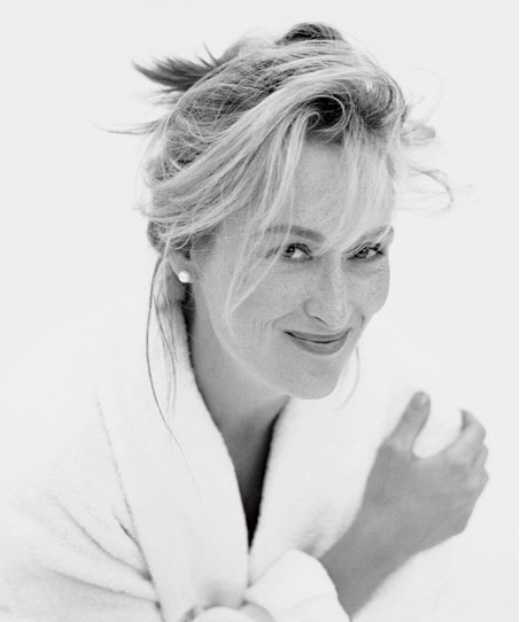 Sixty-year-old Meryl Streep is the "cover girl" for Vanity Fair's January issue. My guess is that Meryl is promoting her two roles this year – It's Complicated, with Alec Baldwin and Steve Martin, and Julie & Julia, in which Meryl will likely get her bajillionth Oscar nomination for playing Julia Child. I don't care for the cover image they used of Meryl – she's such a beautiful woman who is aging so, so well. So why did they chose an image that makes her look washed out and… shall I say it… old? It's like Vanity Fair is trying to say, "Look, we have someone other than a twenty-something twit on our cover! Meryl is so old!" Inside the magazine (and online), Vanity Fair does include some gorgeous portraits of Meryl throughout the years, all done by Brigitte Lacombe (slideshow here). For Meryl's part, she tells Vanity Fair: "I can't remember the last time I really worried about being appealing." Here's Vanity Fair's cover story preview:
Hollywood is no place for older women—or is it? In the cover profile of Vanity Fair's upcoming January 2010 issue, Leslie Bennetts investigates the mystery of how, at age 60, Meryl Streep has become the industry's "new box-office queen."

The evidence is indisputable:

• Her 2008 screen musical Mamma Mia!, Bennetts writes,"has grossed $601 million worldwide, despite some cringe-worthy reviews (for the movie, not its much-lauded heroine)."
• The Devil Wears Prada, also from 2008, in which Streep played a demanding fashion-magazine editrix, has raked in $324 million around the world.
• And Nora Ephron's Julie & Julia, released earlier this year, has earned $121 million and counting.

Producers hope for comparable results from It's Complicated, a Christmas release featuring a love triangle between Streep, Alec Baldwin, and Steve Martin. All this unexpected success has had the effect of exploding several long-standing myths:

• There is no life after 40 for women in Hollywood. Au contraire! "It's incredible—I'm 60, and I'm playing the romantic lead in romantic comedies!" Streep says to Bennetts. "Bette Davis is rolling over in her grave." And while Streep's success is no guarantee that other actresses will fare any better than they traditionally have, it's a step in the right direction. "She broke the glass ceiling of an older woman being a big star—it has never, never happened before," says Mike Nichols.

• Talent of Meryl Streep's caliber should be reserved for dramatic roles. Who says? Sure, she made her name jerking tears in prestige dramas and has accumulated more Oscar and Golden Globe nominations than any other actor, male or female, but she's always had a lighter side too. (Bennetts unearths a Time-magazine quote from 1989 that reads, "Surprise! Inside the Greer Garson roles Streep usually plays, a vixenish Carole Lombard is screaming to be cut loose.") And it turns out that the same meticulous approach that made her a great dramatic actress works in comedy as well. Ephron, who directed Streep in Julie & Julia, says, "I would love to take credit for that amazing performance, but the truth is that she had read everything about Julia Child, she played the cooking tapes over and over between setups … and she even suggested that I cast Stanley Tucci as her husband."

• There's no money in making movies for women, particularly older ones.
Regarding Mamma Mia! and its aforementioned box-office haul of more than a half-billion dollars, Streep says, "It's so gratifying because it's the audience that nobody really gives a sh-t about."
[From Vanity Fair]
I guess what Vanity Fair and I are trying to say is something along the lines of "Meryl is a goddess who should be worshipped with grapes, chocolates and lithe young men." No, I get it. Meryl is awesome, and her recent box office victories are really important for Hollywood and for women. Maybe I'm totally wrong about this, but I think Meryl is one of the few over-40 actresses who has a significant male fan base, too. My dad loves her. My mom loves her. I love her. She brings generations together. Plus, she's just really cool and she's the best actress to ever work in films. Bold statement, yes, but I stand by it. Meryl is better than Bette Davis. She's better than Elizabeth Taylor, and Sophia Loren, and Ingrid Bergman and whoever else they want to throw at her.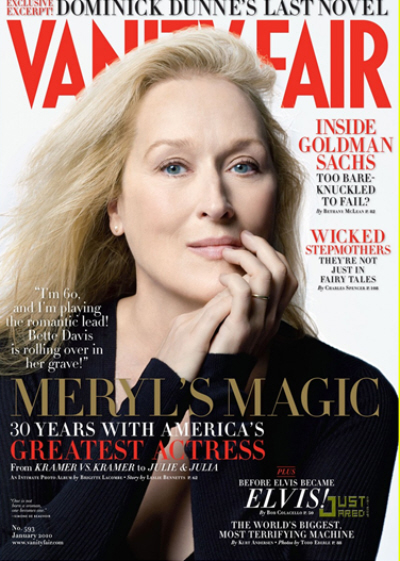 Vanity Fair's cover and Lacombe portraits courtesy of Vanity Fair online.