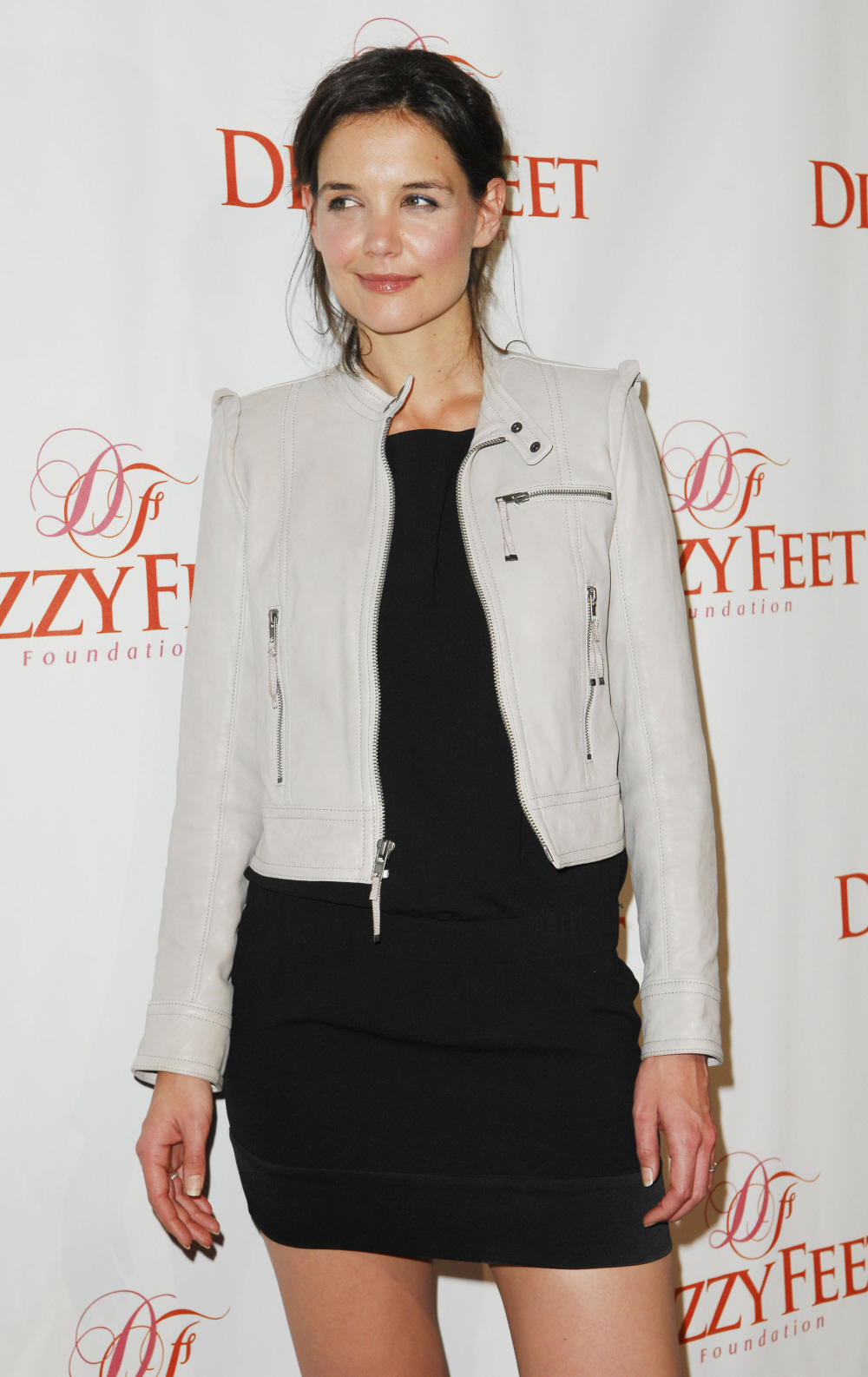 These are photos of Katie Holmes attending the Dizzy Feet Foundation's Inaugural Celebration of Dance at The Kodak Theater in Hollywood last night. Katie wore a really cute outfit to the event. "Cute" being relative, of course, but the look still surprises me. A short dress paired with a cute motorcycle jacket. Her color is great, she's smiling and animated in almost every picture. There is no hint of zombie. There is also no hint of Tom Cruise. Katie went to the even solo, which I'm sure will be the main point of several tabloid stories this week.
Katie's been involved with the Dizzy Feet Foundation since this summer, when she danced on So You Think You Can Dance? The Dizzy Feet Foundation is a nonprofit that "provides assistance to talented underprivileged youth." It's a nice cause for Katie to be involved with, and you can tell she really cares about it. She cares so much she left her film in New York to fly to Hollywood for a night, just for a charity event. Of course, Katie is also a producer on her film, so she probably got people to work around her.
Katie Holmes has been hanging out with her dancing pals in Hollywood. She hit the red carpet outside of the legendary Kodak Theatre ahead of a special dance gala for the Dizzy Feet Foundation, an organisation the actress has helped found alongside So You Think You Can Dance judge Nigel Lythgoe, director Adam Shankman and Dancing With The Stars judge Carrie Ann Inaba.

"It's so good for kids to have this outlet and to have this opportunity," Katie told local news channel ABC 7. "There are so many deserving kids out there that need the help, and it's really rewarding to be a part of something that can give it to them."

Nigel explained how they'd already awarded scholarships to underprivileged students to attend the Juilliard School, the American Ballet Theatre and the Debbie Allen Dance Academy.

"It means so much to all of us, today is going to produce scholarships for at least 10 new dancers next season, plus we'll be able to back the nine dancers we've given scholarships to this season," he said. "We're just growing and this is our first show, it's just so exciting at the moment."

A host of famous dancing names came out to either their lend support or perform, including Dancing With the Stars' Lance Bass, Lacey Schwimmer, Dmitry Chaplin, Cheryl Burke, Derek Hough and Mark Ballas. So You Think You Can Dance's Cat Deeley was also there to give her backing, along with Nigel's fellow dancing panel friend Mary Murphy.

DWTS judge Carrie Ann Inaba said she and her fellow co-founders have some clear goals they're determined to achieve.

"Dizzy Feet is all about giving that opportunity back to future generations… We're going to create more and more baby dancers!"
[From The Press Association]
I'm sure people will criticize Katie for her solo appearance, and for wearing such a low-key outfit to the event (Entertainmentwise is already calling her "disheveled") but I think she looks cute as hell. She looks her age for once! I hate when she works that older, zombie-trophy-wife look. By putting on a miniskirt (sort of) and a cute jacket, she seems to be telling us "Xenu who?" Epic.
Katie Holmes attending the Dizzy Feet Foundation's Inaugural Celebration of Dance at The Kodak Theater in Hollywood on November 29, 2009. Credit: WENN