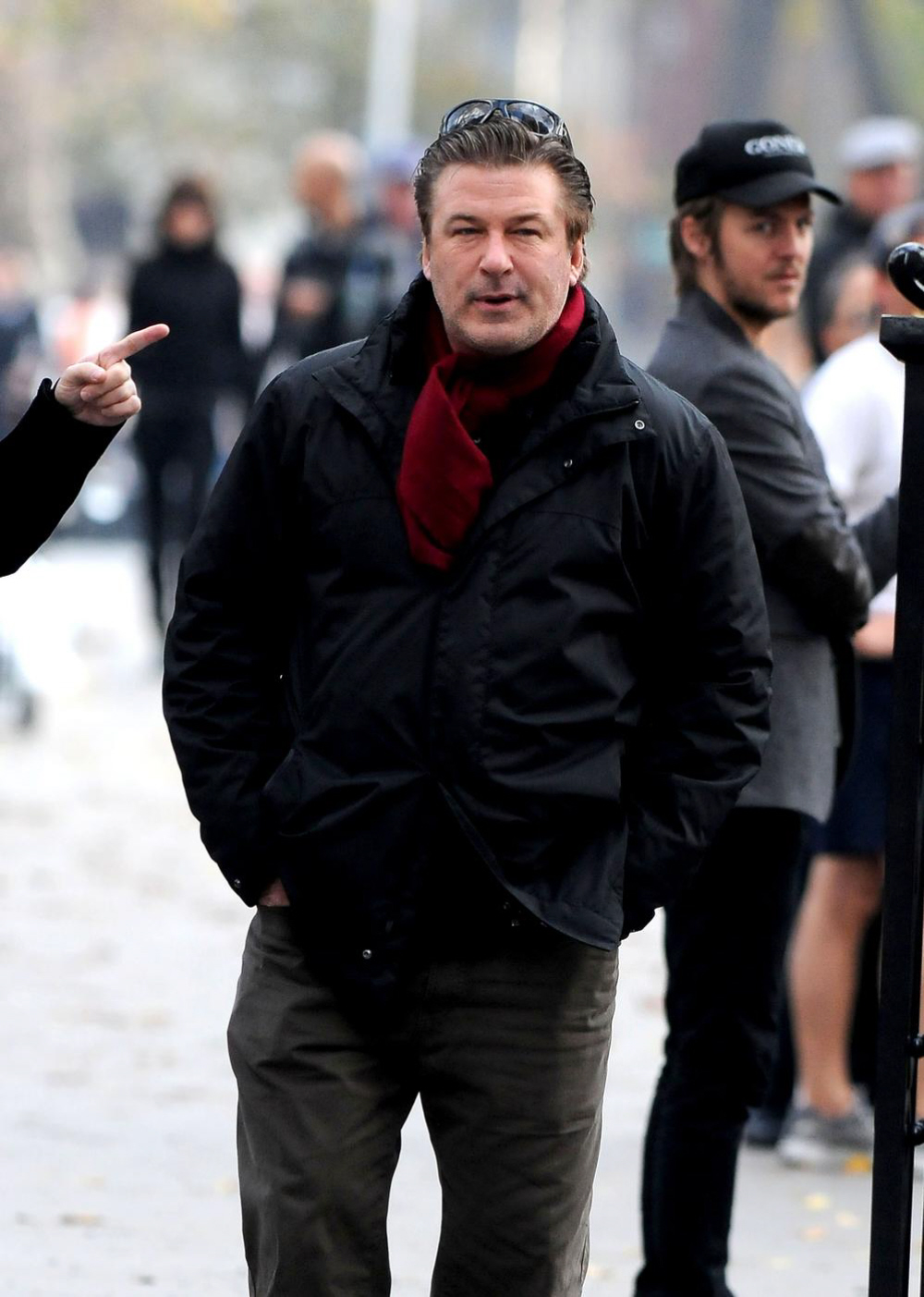 I have mixed feelings about Alec Baldwin. I love him on 30 Rock, yet when I read any interview with him or mentally revisit the "rude, thoughtless little pig" incident, I get sick to my stomach. He can seem really abusive, sanctimonious, and douchey in print, or in taped messages to his daughter. But, yeah – brilliant comedic actor. Anyway, Alec gave a new interview to Men's Health Magazine where he goes in detail about his career, and how it's "over". Alec claims that when his 30 Rock contract is up in 2012, he's quitting the acting profession. Which means that I won't have to have mixed feelings about Alec after 2012. I can just let my hate-on flourish, I suppose. Alec also talks about the infamous message left for his daughter ("I feel the consequences of that every day") and how he recently broke up with his girlfriend of seven years ("I'd rather be lonely than wrong."). Here's more:
Alec Baldwin says he's quitting showbiz after his "30 Rock" contract is up in 2012.

"I don't have any interest in acting anymore," the two-time Emmy winner from Massapequa, L.I., said in an interview for the upcoming issue of Men's Journal. "Movies are part of my past. It's been 30 years. I'm not young, but I have time to do something else."

Baldwin, 51 and famously opinionated, has frequently mused about running for office. He has one more movie coming out: "It's Complicated," with Meryl Streep and Steve Martin, which opens Christmas Day.

Despite his critically acclaimed 1990s performances in "The Hunt for Red October," "Glengarry Glen Ross" and "Miami Blues," Baldwin said he has been unsuccessful.

"It's a difficult thing to say, but I believe it: I consider my entire movie career a complete failure. I'll tell you why. The goal of moviemaking is to star in a film where your performance drives the film, and the film is either a soaring critical or commercial success, and I never had that."

He said he tried to quit his NBC show, a critical darling now in its fourth season, in 2007 after the humiliation of a nasty voice mail he left for his daughter – he called her a "rude, thoughtless little pig" – being made public.

"I feel the consequences of that every day," he told Men's Journal.

Baldwin, who has warred with ex-wife Kim Basinger over access to his daughter and wrote a book about parental alienation, says he considered suicide at the time. "I was going to put the hose in the most noxious of the cars I own, a Jeep, take some sleeping pills, and take a nice nap in the front seat of my car in the garage," he said.

Baldwin's battles with Basinger also led to a recent breakup with his girlfriend of seven years. "I don't mind," he said. "I'd rather be lonely than wrong."
[From The New York Daily News]
Alec is giving this interview to promote his role in It's Complicated, the film Meryl Streep is also promoting in Vanity Fair. Meryl and Alec play a divorced couple that might be reconnecting. The catch is that Meryl's character is also dating Steve Martin. So it's a romantic comedy for adults. I'd imagine that Alec and Meryl have a lot of chemistry together, and that they might even be a really hot onscreen couple. Personally, though, I want Meryl to do another film with Jack Nicholson. And Robert DeNiro. Those men can hold their own with her, and they seem to adore the hell out of her.
Alec Baldwin on the streets of New York on November 26, 2009. Credit: Pacific Coast News.