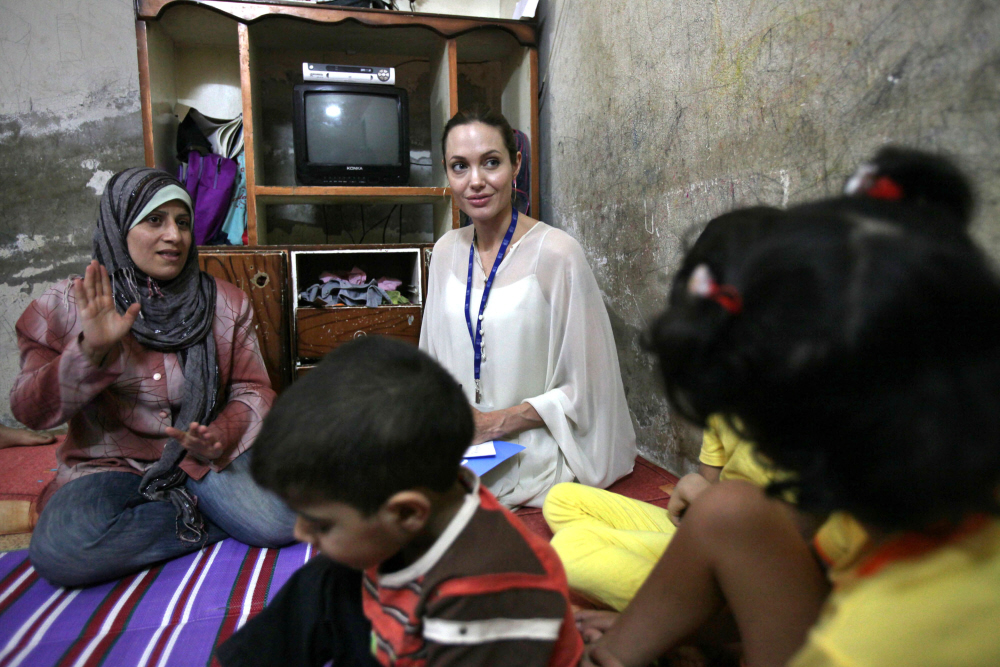 So last week, Us Weekly ran an "exclusive" report based on an unnamed source's claims that Angelina Jolie said she "hated" President Obama. Now, I didn't believe it at the time, not because I didn't believe the particular criticism Angelina alleged leveled at the president, but I had qualms about Angelina voicing any favorites or dislikes with regards to any politician or party. Simply because she's never voiced her opinion before – why would she start now? And through an unnamed source, speaking to Us Weekly.
In any case, the whole "Angelina Hates Team Obama" thing wasn't really the point of the tabloid story. The point was that Angelina and Brad are fighting forever and ever, and they're not going to make it another week in Tabloidville, and their latest fights are about politics. Since everyone knows Brad is a big Democrat, the tabloids have cast Angelina as the fire-breathing, homewrecking, baby-stealing conservative. Something like that. Now Fox News has taken the lead away from Us Weekly, and their sources go even further, putting even harsher criticisms of Obama in Angelina's mouth:
Brad Pitt and Angelina Jolie can be like their warring, married characters in "Mr. and Mrs. Smith" when it comes to presidential politics, sources tell Fox411.

"[Jolie thinks] President Obama is a great communicator but not interested in issues outside the United States," says a Hollywood insider close to the Oscar-winning actress. "Angelina has worked very hard to get first-person accounts of what is going on in the world with her briefings from the UN, [while] Brad is a 'Johnny Come Lately.'"

Jolie even thinks Obama will only last four years in the nation's highest office, says the insider, because of "a subtle arrogance in his delivery, [and] not living up to his promises."

A second source who has worked with the couple says that Pitt, 45, is more knee-jerk when it comes to supporting the administration's policies, but that Jolie, 34, has not thrown in the towel on the Illinois Democrat – yet.

"Brad's been a lot more automatically supportive of the President since he was elected," the insider tells Fox411. "Angelina is waiting to see how he delivers on campaign promises and world affairs during his [first] term."

Emails and calls for comment to reps for Jolie and Pitt were not immediately returned.

"Brad Come Lately" has indeed come calling to the White House more than Angelina since Obama took office. Recently released White House documents show that Pitt visited the White House sans Jolie twice since the President was elected.

Maybe he's just boning up for his next political sit-down with the missus?

"Angie and Brad have in depth political discussions and they do disagree and argue," says the pal. "[But] Brad credits Angelina with educating him greatly on world issues he was not a part of before they met."

The source says Jolie (whose father Jon Voight, with whom she recently reconciled, is a staunch Republican) sometimes even out-lefts her famously liberal lover.

"Angelina is far left in some beliefs, but then she sees many sides from the right [hand point of view]," says the pal. "She believes in hard work and teaching people how to make their lives better. She also believes in lifting people in need up with support through food, money and education so they can succeed."

And the parents of six both put their money where their mouths are. Together, the couple donated $6.8 million to charity in 2008 alone.
[From Fox News]
Because Glenn Beck is writing Brangelina Fox News Entertainment scoops now, right? "A subtle arrogance" in Obama's demeanor? Seriously? What's next? "Angelina Jolie agrees with Beck, calls Obama a racist"? Now, as far as the whole "Johnny Come Lately" thing – well, that's kind of true. I mean, I don't know if Angelina actually calls Brad that, but if she did, she wouldn't be wrong. Brad's heart seems to be in the right place, but I often wonder if he's as engaged in these issues as he pretends to be. Maybe he thinks he'll pick up foreign policy ideas through osmosis. Through sex with a certain saintly neoconservative vadge.
Angelina Jolie on a UNHCR mission in Syria, October 2, 2009. President Obama, his daughters Sasha and Malia, and a turkey named Courage at the White House turkey pardoning on November 26, 2009. Credit: WENN