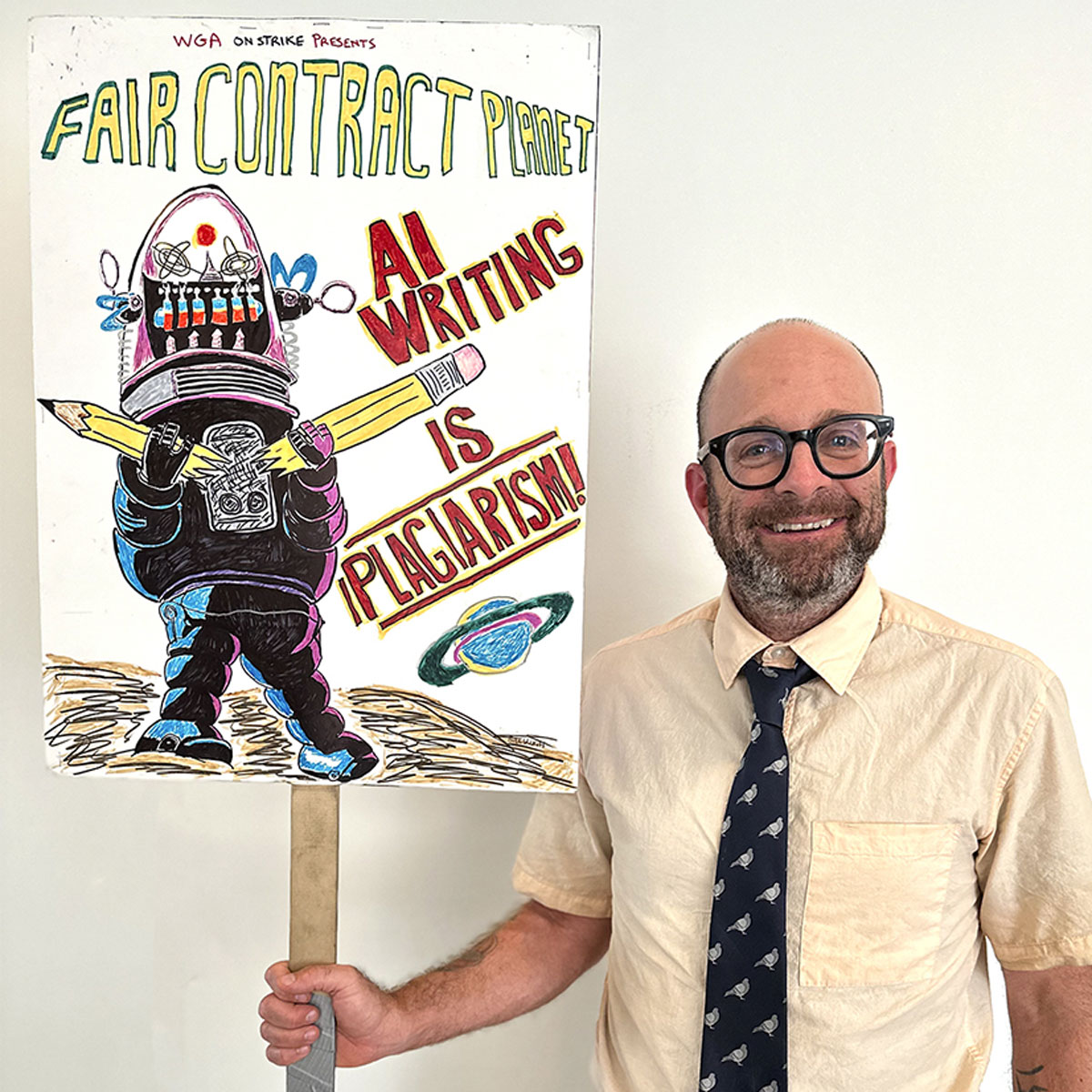 The writers have been on strike since early May, a full 2.5 months before the actors joined to make it an historic double strike. With their amplified visibility, SAG-AFTRA members have been effectively publicizing the problems with AI and residuals, issues that have left both unions at a disadvantage. Even though the strike has had a real boost with SAG-AFTRA coming aboard, the reality is that this is still a financially precarious time for most union members. So the WGA has launched a nifty "WGArage Sale" to help out. Over 100 film/tv related items and experiences have been donated and can be bid on through August 6, with all proceeds going to the Entertainment Community Fund:
Sold for $8,200: Have a character in the next Michael Connelly novel named after you!

Being the namesake of a Connelly character is just one of 111 offbeat items up for auction as part of the "WGArage Sale," which started Thursday and ends Aug. 6. All proceeds from the online auction will benefit the Entertainment Community Fund, which provides financial support to entertainment industry workers amid financial hardship posed by the WGA and SAG-AFTRA strikes.

Anyone can bid, offer their own items or donate directly to the fund in support of the guild members currently on strike. The 100-plus rare auction items range from autographed sway to show props and memorabilia.

Here are the standout items:

Stewie and Brian strike sign with original art by Seth MacFarlane: Joining the strike-art category is a signed Seth MacFarlane original featuring "Family Guy" partners-in-crime Stewie and Brian striking a "pro-WGA pose." The current top bid for the artwork is $3,000.

"This Is Us" private Zoom watch party: Fans of the family drama "This Is Us," which concluded in May of last year, have the chance to watch their favorite episode of the show with cast members and show creator Dan Fogelman over Zoom. With exact cast members still undisclosed, this private watch party (one of many up for auction) is going for $2K.

"Seinfeld" finale autographed script: Donated by Andy Ackerman, who directed "Seinfeld" from 1994 to 1998, and signed by all series regulars, this script from the 1998 series finale currently has a top bid of $2,250.

Bottle of rosé with Helen Fielding, creator of "Bridget Jones": Helen Fielding, who wrote the "Bridget Jones" novels and co-wrote the fan-favorite film series based on them, is offering to share rosé with the highest bidder at Shutters on the Beach, a luxury hotel in Santa Monica. The top bid is $530.

Kristin Chenoweth sings "Happy Birthday" to you: For "Wicked" fans and music enthusiasts alike, Kristin Chenoweth is offering to sing (and record) a rendition of "Happy Birthday" to a person of the highest bidder's choosing–a Cameo-inspired listing that is currently going for $350.
This is a great marketing/fundraising idea and I hope it continues to grow. Last week we learned that SAG-AFTRA Foundation President Courtney B. Vance was asking for donations to help lower-income members during the strike, and that Dwayne "The Rock" Johnson really stepped up to the plate. It's nice to see the solidarity extended here with actors donating so many items to help out the writers.
A few updates: as of this writing there are now 114 lot packages listed with only two having been sold already, and prices have gone up on all the packages listed above. At $350 I was kinda sorta tempted to bid on Kristin Chenoweth to sing Happy Birthday to my mother, who adores her, but that bid has blown past my budget and is up to $525 now. Not that either Kristin or my mother aren't worth it! The Simpsons donated a good number of pieces, but mostly it's an eclectic mix. You can bid on a "pig pot" handmade by Busy Philipps, "assorted wood items" from Nick Offerman & Megan Mullally, or a 19th century swivel chair once owned by Hollywood heavyweight producer Robert Evans. Currently the item with the lowest top bid ($70) is a Lena Dunham signed Girls poster. No comment.