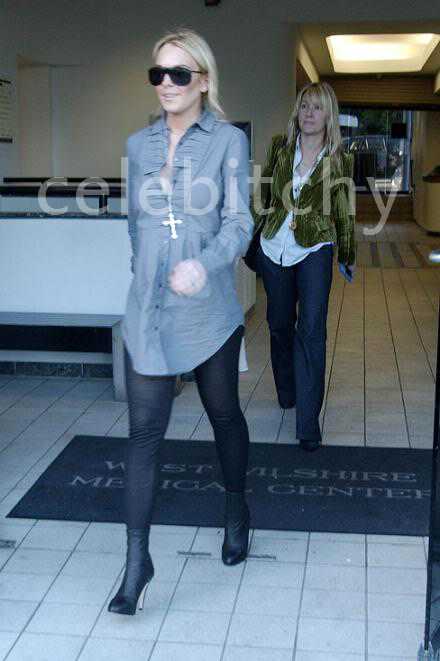 Lindsay Lohan has very strict requirements when it comes to dating. First, they must have drugs. Second, they must be willing to trade drugs for sex, since she's normally broke. Third, they must be totally and completely skeezy. Luckily for Lindsay, ex-boyfriend Riley Giles completely fit the bill. The two hooked up at the posh Cirque Lodge rehab clinic in Utah, where it became readily apparent to everyone but Lindsay that Riley probably had nothing but dollar signs in his eyes. They broke up right after Thanksgiving, and not surprisingly, Riley cashed in within a month. He recently sold his story (and some slutty photos) to the always-upstanding tabloid News of the World. Here are a few delicious tidbits from his interview:
"Lindsay's definitely a nymphomaniac. She's wild in bed. We'd have sex a couple of times in the day and then go to it through the night.

"We once did it four times in a row straight. That was crazy. Lindsay was insatiable. She'd demand sex again and again. We'd go at it for hours. She'd have worn out most guys."
[From News of the World]
Wow, thanks Riley. News of the World put that quote under the heading "Potent." Kiss ass much? Riley, 24, says he met Lohan when she slipped the "ski-slope hunk" a note in rehab which asked for his number. According to Giles, Lindsay started calling him right away. I'd like to think he was flattering himself, but Lohan is all sorts of desperate and crazy, so I tend to believe it's true.
"From that moment it was on… the chemistry between us was so strong we couldn't help ourselves." But once they left the Cirque Lodge— after 60 days on the program—they moved into a romantic log cabin in the nearby mountains. They locked themselves in and were at it like rabbits.

Riley revealed how Lindsay used orgasm after orgasm as a potent substitute for the huge chemical hits she was used to while partying. He explained: "When you orgasm, your endorphins shoot up and it becomes a massive natural high. If you have an addictive personality like Lindsay you need that to replace the highs you got from taking drugs all the time. Sex became a key part of her recovery. And we didn't get out of bed for days. It was the perfect place—roaring fires with amazing views over the Sundance ski resort. The first time we had sex I couldn't believe I was looking down at Lindsay Lohan naked. We'd barely gotten through the door when we just ripped each other's clothes off. Lindsay is so hot. She has a great body. Her backside is fantastic, perfect, all plump and round. She has great curves but her belly is nice and flat and toned. We couldn't get enough of each other."
[From News of the World]
That's all sorts of disgusting. I really don't need to know Lindsay Lohan's unique, messed-up, addiction-based psychological issues for having a lot of orgasms. In fact I really prefer to think of her as doing blow – and nothing else – all the time. She so skanky that even the thought of her having sex can give a person several previously undiscovered STDs.
Riley also claimed that Lindsay told him she loved him, and that he said it back – and apparently that's quite the compliment to Lindsay, as he doesn't say that to just anyone. Wise move dude. And I bet you really did love her with all your heart, considering how quick you were to sell her out. He's also deeply concerned for her, and doesn't think she'll be able to maintain her sobriety with her "extremely addictive personality." He also disclosed that Lindsay once almost accidentally killed herself after taking a lot of Xanax and alcohol to relax. She then passed out in a bathtub and was rescued in the nick of time by her assistant.
As important as maintaining her sobriety is, it seems to me that Lohan need to focus just as much on ridding her life of douche bags. That would include her mother, father, and 95% of her friends. And she should truly stick with that AA rule of not dating for at least a year. And because she's Lindsay Lohan and tends to do everything to the extreme, she should probably just consider not dating at all. Ever. Because she's clearly just dating users and publicity seekers. Daddy issues anyone?
Picture note by Jaybird: Header image of Lindsay leaving the Acona Day Spa in Santa Monica, CA, after spending the day running various errands and appointments. According to Riley Giles, she gets her hair done every single day, and has a spray-on tan twice a week. He's diagnosed this behavior as unhealthy. I'd just call that lucky. Except that she also has to be Lindsay Lohan, which isn't so lucky. Images thanks to Splash Photos.