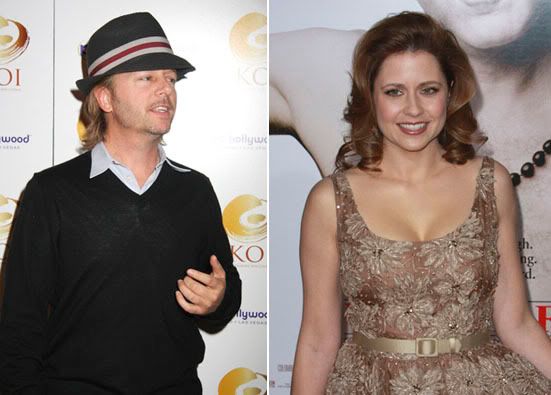 I never got the appeal of David Spade, because the few times I watched that terrible "Just Shoot Me" show I found him incredibly annoying. Somehow he's managed to score with Hollywood babes including Kristy Swanson, Lara Flynn Boyle and Heather Locklear, so maybe he's fun to be around. The latest conquest of the height-challenged comic is said to be newly separated star of "The Office," Jenna Fischer.
The 43-year-old comedian… is now seeing The Office's Jenna Fischer, 33! "When Jenna separated from her husband… in September, she didn't expect to start dating right away, but she met David at a party, and he made her laugh so hard that she decided to accept his dinner invitation," a friend tells Star. Their relationship is "just light and fun," adds the pal.
[From Star Magazine, print edition, December 31, 2007]
Jenna Fischer plays the second wife of singer Dewey Cox in the comedy Walk Hard, which is currently out in theaters. She said that she completely ripped off Reese Witherspoon's character in Walk the Line for the role. She blogged about the film on her MySpace right before its December 21 release date, and said that working on it was a "dream come true." As for the content of the film, she praises her co-star John C. Reilly professionalism and warns that the film "is very raunchy and sexy and the humor is hard core," and that "ladies, we have penis."
I so want to make a crack about Spade's manhood now, it would perfectly wrap up this story, but instead I'll talk about how into Christmas Jenna Fischer is. She said she loves decorating and baking and that she has three-step Christmas cards she bought at Target. As of December 21st, she was still working on some of them. Maybe she has a new guy to kiss on New Year's too
Update: Fischer blogged on her myspace that she's never even met David Spade and suggested that we pair her instead with other actors she's never met such as Orlando Bloom, Colin Farrell or Jake Gyllenhaal. I think I speak for all of us when I say that those guys should be so lucky. Our apologies for repeating this completely inaccurate story:
Over Christmas, I saw a report in Star Magazine that I'm dating David Spade. Imagine my surprise as… I'VE NEVER MET David Spade! What a milestone! My first TOTALLY 100% UNTRUE tabloid report! I've always been very cynical when I hear celebrities say that a story is fake. I figure SOME part of every story must be true right? NO WAY! I have no idea how they are allowed to get away with stuff like that! My publicist said that no one ever called to check the facts of the David Spade story. Which seems strange to me. I have a minor in journalism and I was told to never run a story without 2 reliable sources to back it up. But, while we are on the subject, some other people I've never met are: Orlando Bloom, Colin Farrell, Jake Gyllenhaal, and Brad Pitt. Maybe I can fictionally date some of those guys too?
[From Jenna Fischer's myspace]
Jenna Fischer is shown at the premiere of Walk Hard with John C. Reilly on 12/12/07. David Spade is shown at the opening of Planet Hollywood Resort and Casino in Las Vegas on 11/9/07, thanks to PRPhotos.