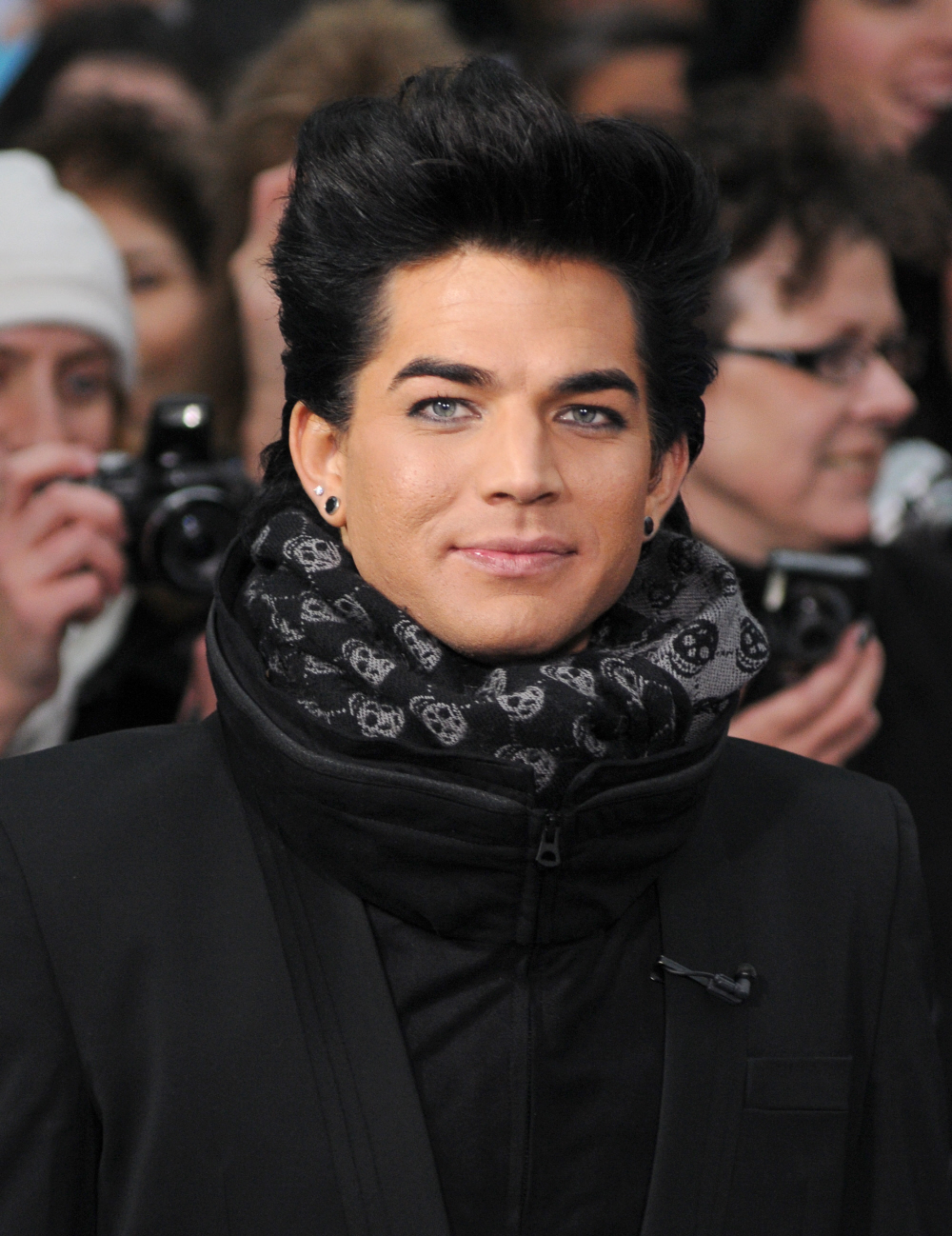 Adam Lambert is still out there, doing the publicity rounds like he's still the story of the week. Sorry, Glambert, but the tabloid press has moved on to Tiger Woods. But still, Lambert still wants to tell us what he thinks about the aftermath to his boy-kissin', crotch-grabbin', oral-sex-portrayin', bird-flippin' AMA performance that launched a million head-shakes. Personally, I did find the performance to be inappropriate for network television, and I think Lambert should have had a better explanation/apology than "they're attacking me because I'm gay". Of course, Lambert's critics and the networks totally overstepped the appropriateness issue when they did, in fact, make it about Lambert's gayness, revealing a sort of knee-jerk homophobia that was just unpleasant. Anyway, Lambert went on Ellen to talk in greater detail about his performance and how he thinks maybe it's all about "the taste level".
Among the people who weren't thrilled with Adam's Lambert's controversial American Music Awards performance: His dad.

"My dad was like, 'Maybe you should apologize, Adam,'" he says on The Ellen DeGeneres Show Tuesday "I was like, "You know, dad, I don't feel like I did anything wrong. It just wasn't maybe the right judgment call. It's a taste thing more than an obscenity thing. I think it's just a taste level.'"

During his performance, he smooched another guy, simulated oral sex and flipped off the audience, Looking back, "maybe that wasn't the best first impression to make again," Lambert, 27, says. "I mean, I had fun up there, I had a good time, my dancers had fun and the band had fun."

Still, he said he felt people walked away from his performance "feeling disrespected. I would never intend to disrespect anybody. So that was not my intention."

He said that "people aren't used to seeing gay man portrayed that way on TV. The gay male image in the media tends to be very cliche and safe … I think I got up there and put more energy … I was putting on a character, putting on a persona, being this kind of rock star, kind of dangerous kind of guy. After seeing one of my favorites Lady Gaga tear it apart on stage … I don't know something came over me, and I got caught up in the moment and maybe went a little too far."

As for being canceled on ABC's Good Morning America, Lambert says he isn't upset at the network.

"I don't blame them," he says. "They gave me a great opportunity to close the AMAs, and I would never want to smack that gift horse in the mouth. I think they were taking a leap of faith having me do that, and it unfortunately didn't work out as we all thought it would."
[From Us Weekly]
In total, I think the entire incident was a wash. No one came out ahead, really, although I'm sure Adam Lambert enjoyed being the hot topic for a week, and maybe he got some added record sales with that. And what did the networks really learn? Don't let Lambert perform live? That it's okay to confuse systemic homophobia with simple appropriateness levels? Whatever.
In other Lambert news, he gave an interview to some Sirius show where he talked about how he used to be heavy. He told the interviewer: "I suffered from a little bit of an ugly duckling complex in my early twenties. When I was in high school I was 250 pounds and that creates some stuff…some body image stuff, some confidence issues and I got a lot of my confidence from the validation I got as a performer." The Huffington Post's headline on this story? "Adam Lambert, Former Fatty". For goodness sake, ease up, HuffPo.
Here's part of Adam's interview at Sirius:

Adam Lambert performing on the CBS 'Early Show' on November 25, 2009. Credit: WENN.