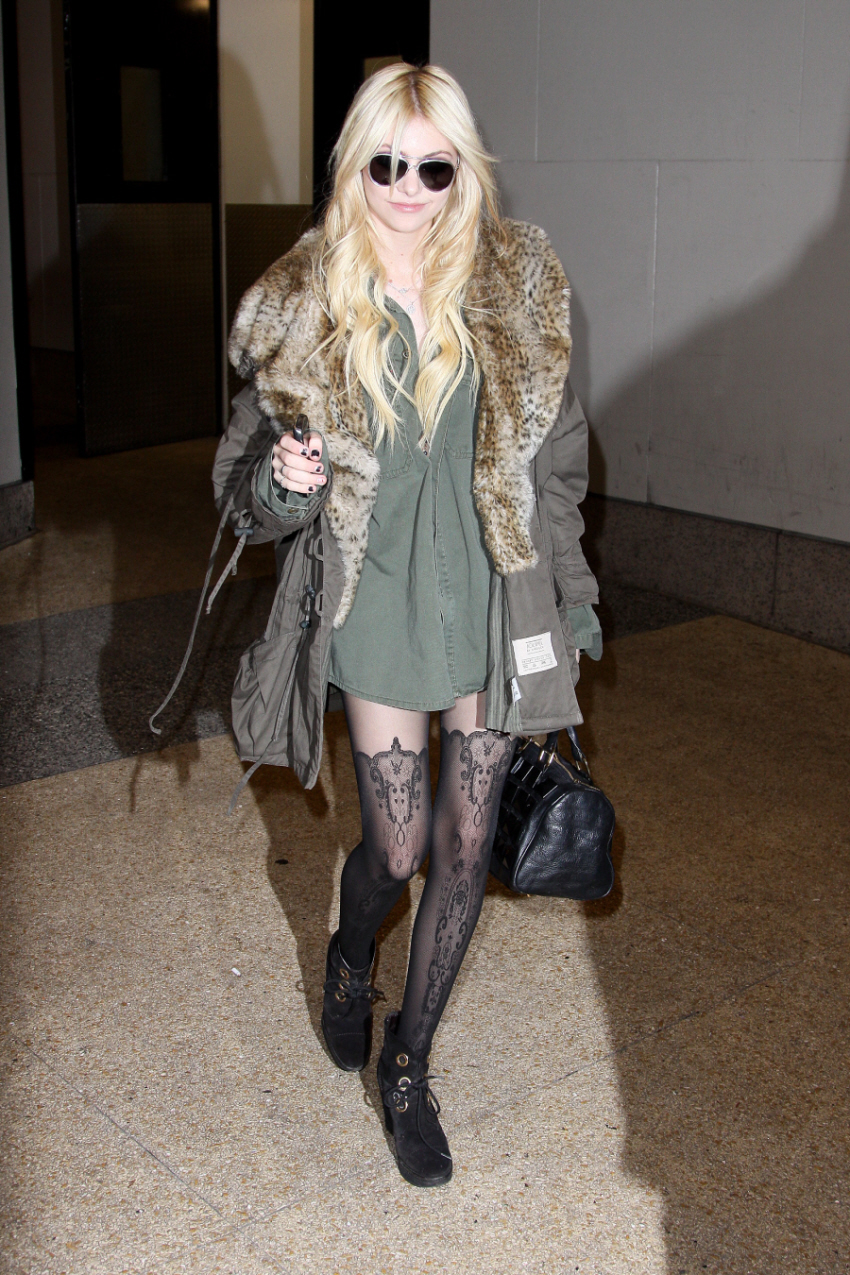 This girl is 16 years old! Not to sound too much like an overbearing harpie mother, but how can Taylor Momsen's mom let her out of the house like this? My mother would have smacked me silly. I once wore a pair of jeans my mom thought was too tight, and she wouldn't let me leave the house until I changed into a pair of pants where, in my mom's words, she "couldn't make out every detail of your cooter". I'm not sure if you can make out every detail in this horrific outfit, so I'll give you the lowdown: no pants, lacey hooker tights, ankle booties, oversized men's shirt unbuttoned to her navel, exposing a black bra, comfortable-looking fur-lined jacket, and sunglasses. Who dresses like this when their last name isn't Olsen or Lohan?
Anyway, Taylor Momsen is predictably vapid. She recently complained publicly about her hit show, Gossip Girl, and how the producers haven't used any music from her band, The Pretty Reckless, while the producers have used two songs from Leighton Meester's album. Nevermind that The Pretty Reckless hasn't released an album – this sketchy little girl should just be thankful she's got a job.
What do you get when you take two young, hot starlets, put them on the same hit television show, but only give one of their albums play on that show? Lots of behind-the-scenes tension!

Gossip Girl stars Taylor Momsen, 16 and Leighton Meester, 23 are not only rivals on the show, their competing music is making them rival rock stars as well.

Sources tell HollywoodLife.com exclusively, "Taylor is not happy that Gossip Girl has been playing Leighton's music on the show, and they have never asked to play any of her songs. It's creating a lot of tension on set."

Gossip Girl used Leighton's songs "Good Girls Go Bad" and "Somebody To Love" during two episodes this season, and the CW show even premiered her music video for "Somebody To Love." They have never used any of Taylor's songs.

Taylor's grunge band "The Pretty Reckless" has not yet released an album, but is signed to Interscope. Leighton's solo album, with Universal Republic, includes songs with Cobra Starship and Robin Thicke, and is slated to debut in early 2010. Both girls have already released singles online and performed concerts in NYC in the past year.

So why the favoritism towards Leighton's music? Our source doesn't know for sure, but one insider said, "Leighton's pop music fits the theme of Gossip Girl more than Taylor's punk rock songs."

A rep for the CW told HollywoodLife.com, "The show will support Taylor and her music when the time is right, but her music is not ready yet."
[From The Hollywood Life]
Ugh, sometimes I hate young Hollywood. So many of them – from Miley Cyrus, to Lindsay Lohan and Megan Fox, all of them come across as such intemperate, unprofessional, nasty little brats. I need to seek out new young Hollywood girls to admire – like Emma Watson and Saoirse Ronan. Those are my kinds of girls. They'd never wear this outfit. Right?
Taylor Momsen is photographed outside of MTV's studios in New York on November 30, 2009. Credit: WENN